Republic of Ireland defender Diane Caldwell has sensationally slammed the management of Vera Pauw, insisting that their historic run to a first-ever Women's World Cup was due to the players.
In a hard-hitting press conference ahead of the side's Nations League clash with Northern Ireland at the Aviva Stadium on Saturday, the experienced FC Zurich player took aim at Pauw - who wasn't offered a contract extension post World Cup - over a number of issues.
Eileen Gleeson has been appointed interim head coach and Caldwell believes there is plenty of room for improvement following Pauw's exit.
In an interview with RTÉ after her exit, Pauw claimed some of her staff turned on her in the final weeks of her tenure. She also strongly criticised the FAI's process when conducting a review into the team's World Cup qualification campaign, and performance at the tournament itself.
The FAI responded to those claims, with chief executive Jonathan Hill saying that Pauw's exit was due to a "fundamental" difference in approach between her and the FAI.
Caldwell's comments will intensify the debate even further, given how openly critical she was of her former manager on the same day that Katie McCabe had argued that player power had not played a part in Pauw's future.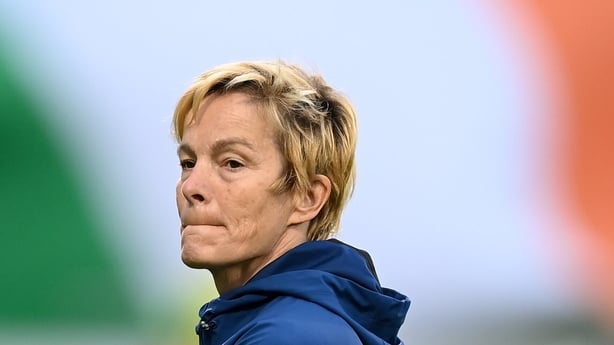 "I think there were many areas that could have been better, yes, under her tenure," Caldwell replied when asked about the professionalism of the set-up under Pauw.
"I think our preparations for games could have been better, physical preparation, opponent analysis, match tactics, in-game match tactics, changes, systems of play.
"I think a group of players that were destined for success came together at the right time," she added.
Caldwell said that the players approached Pauw over a number of issues but were unable to find a resolution.
"From my position as a pretty experienced player, I don't think it was up to the standard expected at international level.
"I think the results, performances that we got, were in spite of Vera being coach."
"I think the results, performances that we got, were in spite of Vera being coach.
"We approached her many times about professionalising many aspects, but it was hard to get change.
"She obviously made myself a part of the leadership group that she created a long with a few other players so she gave us that position to use our voice and to try and talk on behalf of the team.
"I think we tried to do that, as a group, the best that we could but obviously at the end of the day she is the coach and she controls everything. You can only say and try to change so much."
Caldwell also revealed that she spoke former FAI High Performance director Ruud Dokter about their concerns after the unsuccessful Euro 2022 qualifying campaign.
"After the European campaign, myself and Katie also reflected with Ruud Dokter at the time about certain aspects of things that needed to be improved, changed, but ultimately that fell on deaf ears and she got a contract extension."
We need your consent to load this YouTube contentWe use YouTube to manage extra content that can set cookies on your device and collect data about your activity. Please review their details and accept them to load the content.Manage Preferences
Also on Monday, McCabe had said that player power was not responsible for the FAI's decision not to offer Pauw a contract extension.
During the World Cup, the manager's relationship with her captain came under the microscope after the pair had an on-field row during the 0-0 draw with Nigeria.
"I feel like there have been a few unfair headlines," said McCabe. "This thing of 'Katie v Vera' is not a thing. We have spoken and she has wished us well. I will always be grateful for what Vera has given to Irish football."
Caldwell understands the furore surrounding the situation, but she said the team has always been programmed to strive for better – citing their threat of strike in 2017 – and said that she wasn't prepared to stay silent.
"I think we're used to that (pressure) as a group," she said.
"We've put ourselves under tremendous scrutiny by threatening strike action, I think that was the most pressure we've ever felt as a group because it was us out on the pitch, we had to go out there and back up everything we were asking for.
"I think it was a little bit like that and I think we've grown as well with that pressure since that period of time.
"Now we've backed it up with results, we've shown that we can contest with the best. That gives you inner belief and an ability to deal with those expectations and those pressures."
On the Northern Ireland game and the chance to work with Gleeson, Caldwell is confident that the side can continue to move up the football pyramid.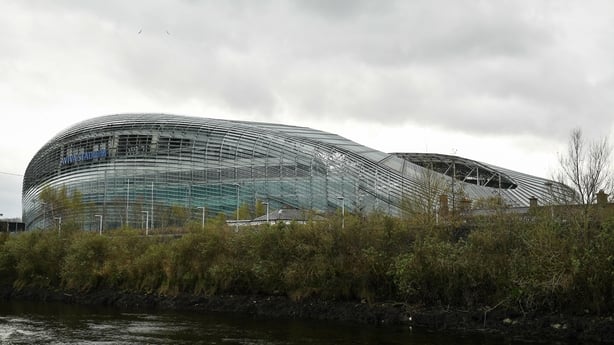 The fact that the game is being held at the Aviva Stadium rather than the usual base of Tallaght Stadium is a further sign of the side's progress with a crowd of 30,000 being hoped for by officials as the team play their first-ever game at the venue.
"It's going to be phenomenal," Caldwell, who made her Ireland debut in 2006, said of the upcoming occasion.
"We've come a long way. When I was starting off my senior international career, it was probably just friends and family and 400 in the stands, but we've grown so much from those days.
"Now to be walking out finally in the Aviva, having a women's football match there for the national team with hopefully a big crowd, is going to be something really, really special for us all."
Watch Republic of Ireland v Northern Ireland in the UEFA Nations League on Saturday from 12.30pm on RTÉ2 and RTÉ Player, follow a live blog on RTÉ.ie/Sport and the RTÉ News app or listen to live commentary on RTÉ 2fm
Listen to the RTÉ Soccer podcast on Apple Podcasts, Spotify or wherever you get your podcasts.