Captain Sean Welsh has told his Inverness Caledonian Thistle team-mates they have to believe they can pull off "a miracle" in what will be the biggest game of his career this Saturday.
The cinch Championship side are big underdogs for their Scottish Cup final showdown with Celtic, who are bidding to complete a domestic treble.
Welsh knows it will take a huge effort to pull off an upset at Hampden but the 33-year-old is adamant his team have a chance.
"It ranks at the very top for me," said the former Partick Thistle and Falkirk midfielder when asked about the size of the game in the context of his career.
"It's not very often you get to play on an occasion like this, especially at my age getting to the latter stages of my career. I am thoroughly looking forward to it.
"We've got to believe, I've said that to the lads all week. We've got to believe we can pull off a miracle.
"We don't just want to go there for a day out and get caught up in the occasion.
"We know it's a massive challenge in front of us, but we've got to have belief in ourselves.
"We know we have a good group and we know we are going to be up against it at times in the game but we've got to stick together and have that belief that we can do it."
Celtic won only two of their closing six Premiership matches as they had the title wrapped up with time to spare, but Welsh dismissed any notion that his team can draw encouragement from the champions' recent form dip.
"I don't think you can look too much into that," he added.
"They wrapped up the title early doors and then had a few results they probably weren't happy with but you saw at the weekend (when they beat Aberdeen 5-0) they can turn it on when they need to. I'm sure they'll be right up for this.
"It's not going to make much difference to us, we know how hard the challenge is going to be."
Inverness will have gone more than four weeks without a competitive game by the time they run out at Hampden on Saturday.
Although Welsh admits it is "not ideal" in terms of maintaining match sharpness, he feels the month-long break has at least allowed them to banish any lingering disappointment after they lost to Ayr in their final Championship fixture and missed out on the play-offs.
"It was good to get some time to get over what happened in the last game of the season," he said.
"That was a difficult night and we were all very disappointed to miss out on the play-offs so the time away was good for us to clear our minds and get over it.
"We didn't want that lingering going into this massive game.
"We've come back in refreshed and excited and we're looking forward to it."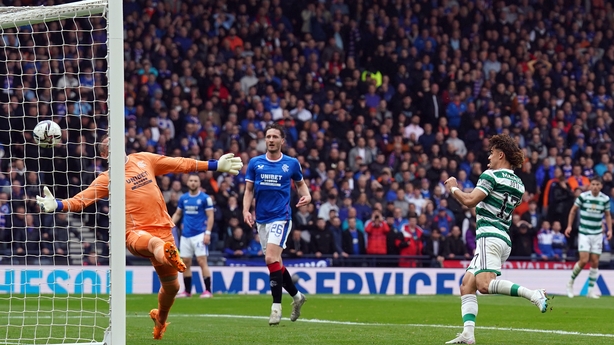 Jota described Celtic as a big club with "a lot of soul" as he looked forward to the final.
The 24-year-old Portuguese winger is looking to help the Hoops to a domestic treble against the Championship side after winning the cinch Premiership title for the second year in a row and beating Old Firm rivals Rangers in the Viaplay Cup final.
Jota who signed from Benfica on a five-year deal last season after a loan spell at the Parkhead club, has become a fans' favourite and he told CelticTV: "This is such a big club with a lot of soul.
"I see clubs with soul and that is what I want for my life and my career and Celtic is no different.
"We are probably one of the best clubs in the world in terms of passion, in terms of soul and our fans speak for themselves.
"That's what I want to do, every time I step in Celtic Park or away game I feel the extra push from the fans.
"It is just an amazing feeling that not a lot of athletes can have and I just want to get the best from it."
Jota, who scored the only goal of the game against Rangers in the semi-final at Hampden Park to take his tally to 14 for the season, is "very excited" about the final where the Hoops are overwhelming favourites to beat the Highland club and complete the clean sweep.
He said: "It is something that we have been working hard for since day one.
"We wanted to win the championship and be in the two cup finals so one is done (final) so another one to go.
"So we go strong, again, definitely."