Republic of Ireland striker Heather Payne is heading for a defining summer as her American adventure reaches a crossroads.
The Ballinasloe 23-year-old will graduate with a degree in dietetics from Florida State University in May after four years of crossing the Atlantic to combine her studies with a flourishing international football career.
Payne has been playing with the university's Seminoles team but will have to weigh up returning to Europe or staying in America after the World Cup in Australia in New Zealand.
Already Denise O'Sullivan has been jokingly trying to lure Payne to her NWSL outfit North Carolina Courage, but staying in the USA wouldn't be straightforward. Payne would have to enter the annual NWSL draft which takes place every January.
Right now she's in Ireland camp in Marbella, tuning up for next Wednesday's friendly against China that will act as a precious chance to cement her status as Vera Pauw's go-to striker for the World Cup.
After that, she'll try to lock in her club future.
"I know that I will make the right decision."
"I'll have to make decisions on what I want to do then but I have a couple more months left. I try not to rush into anything," Payne said.
"My main focus is the World Cup and making that final 23-player squad. Hopefully if that goes well for me, I'll have options as well. I just want to take it day by day at the moment. It's still only February. I'm just trying to keep all my options open and figure it out when the time comes.
"Denise loves the Courage, so she always says that I am welcome there. But that is not really how the system works in America, because you have to enter a draft system and you don't really have a choice in where you go in that regard.
"I've just been speaking to everyone really, trying to get a view on what everyone thinks of different places, keep my options open so when I have to make a decision, I know that I will make the right decision."
Payne has just one Ireland goal to her name but she is a firm favourite of Pauw's due to her incredible appetite for hard work and ability to work the channels incessantly.
It's telling that Pauw has opted to have a look at Philadelphia-born attacker Marissa Sheva in this camp. The Penn State graduate was a track and field star who excelled in the 3,000m steeplechase. So she has the capacity to run - just like Payne.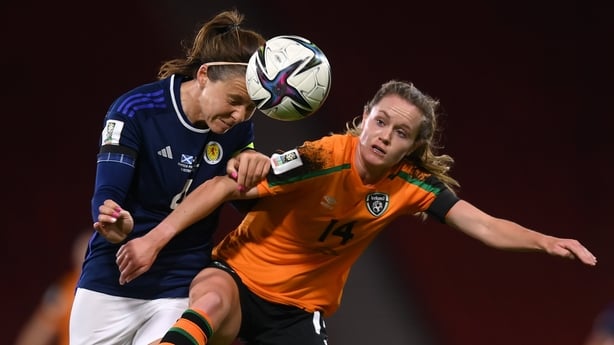 "She's been doing good, she's clicked with everyone," added Payne. "There are a few of us that have been to college in the States it's been easy to talk to her. She's been good - no complaints so far!"
"We've only been in for two days' training so it's hard to tell what you see in players yet, but she's had a great attitude so far and she's been doing great. As the week goes on I'm sure we'll see more of everyone - the past players and the new players. We still have a long way to go in the camp."
Payne is taking nothing for granter in terms of her selection for the World Cup but she is, barring injury, nailed on to make the plane.
Ireland are up against co-hosts Australia, Canada and Nigeria in a daunting Group B, and there could be a couple of old college pals waiting to greet Payne Down Under: Canadian Gabby Carle and Onyi 'Joe' Echegini of Nigeria.
"I actually have a couple of teammates from Canada and Nigeria - just a couple - so hopefully as long as they get picked for their squads and I get picked hopefully for this squad then I might be playing against them in the group stages, which would be quite exciting to see," she revealed.
"I haven't spoken that much to them about it yet because it is still so far away and we are all fighting to get into our squads first, we don't want to be getting too far ahead of ourselves.
"It's more just the excitement of us all having the opportunity to possibly go to the World Cup, especially when we all qualified. But we are all focussing on on making our own teams at the moment."