Athlone Town boss Tommy Hewitt says he won't rest until he brings the Women's Premier Division crown to the midlands, despite the "huge challenge" newly-formed Shamrock Rovers will pose in the coming season.
Hewitt's young side took the league by storm last year, completely blindsiding the established big guns as they came within a whisker of winning the title and made it to the FAI Cup final.
Shelbourne pipped Athlone to both the league and the cup but that has only deepened Hewitt's hunger for glory.
He's convinced his team can go again, despite losing Melissa O'Kane and centre-half Jessica Hennessy to Rovers, with star striker Emily Corbet looking unlikely to stay on for another year.
"From the minute the cup final finished, I was fighting fires all over the place trying to keep players," said Hewitt, who has been nominated in the Women's Personality of the Year category at this Saturday's SSE Airtricity/Soccer Writers Ireland awards.
"Your brain never stops because you want to improve and I think I said it after the cup final that we were going to come back a different animal this season and that's still the plan, even though we've lost a few players, to come back and compete.
"For me as a manager, there's no hiding behind the fact we're a new team. We have to now go out and try and win the league. It's going to be tough but its one I'm really looking forward to.
"I don't think I've had a day off. Even Christmas Day, my phone was ringing which comes with any job. I'm really, really looking forward to this season."
Athlone came second on the league having been in with a shout of winning right up to the last day. A week later, they lost 2-0 to Shels on an afternoon when luck deserted them, but there's a resilience in the club that gives Hewitt plenty of confidence that 2022 was no flash in the pan.
"Shamrock Rovers have to do their business and they're trying to get a team, not to compete in the league but to win it and fair play to them."
Shamrock Rovers' return to the league after a decade away has ruffled feathers, with Peamount United and Shelbourne in particular losing a lot of players to Collie O'Neill's squad.
But Hewitt is not threatened. He's embracing the competition and relishing the chance to pit his wits against what will be a formidable outfit.
"Shamrock Rovers have to do their business and they're trying to get a team, not to compete in the league but to win it and fair play to them. That's the nature of sport.
"But, for me as manager of Athlone, I've been in the league for four years now and I see it as a massive challenge, another challenge, particularly when you look at the other teams, like Wexford, Peamount, these type of teams, they've really recruited well this season. It's going to be exciting and I'm expecting a very challenging and tough year ahead.
"It's always difficult because, as you've seen in the last few years, the way the women's game has grown, year on year, it was always getting a little bit tougher and I don't expect it to be any different next year.
"We're trying to recruit well and do our business well, to not only compete but to try to win the league."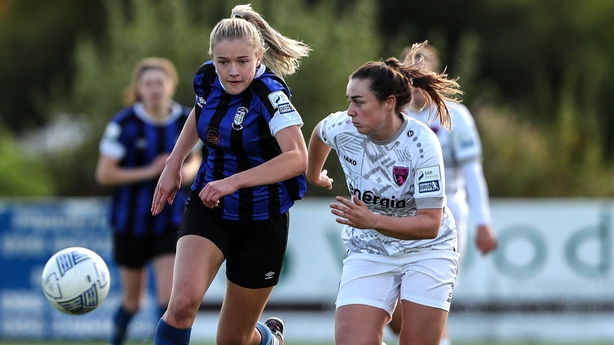 On the highly regarded Corbet's future, Hewitt was honest.
"I'm not sure to be honest," he added. "I had a conversation with Emily and her dad before Christmas and haven't heard a single word since.
"I'm not going to lie that the word out there is that she's not coming back but the club or I haven't been told.
"It would be sad to see Emily go but if she doesn't want to play for us I think we've enough in that area to bring us the title next season."