Vera Pauw could be ready to bring in fresh Irish-eligible players to help boost the Republic of Ireland's World Cup chances.
Last month the manager revealed that she'd been contacted by some previously uncapped players in the wake of Ireland's qualification for the finals.
"It's funny, when you qualify, suddenly there is a lot of players with Irish backgrounds," she said. "They email you and they weren't emailing you before you qualified. But there are players that we're really looking into."
In the wake of Ireland's 4-0 friendly defeat of Morocco on Monday evening, Pauw admitted she will explore every possibility in terms of introducing new blood - but warned that anyone coming in must prove they're capable of improving a tight-knit squad.
"One already had done everything herself and was claiming her passport without involvement from us," she replied when asked if any new faces had been knocking on the door.
"She's a player who really, really wants to play and her family are all here, all born here. But that passport didn't come through, it was somewhere in the post so she couldn't come. She could have come later but the jet lag obviously wouldn't have helped.
"Another player we had some issues with eligibility, a player that is now injured and coming back.
"But what I said before, we only go for the players who have shown that they want to play for Ireland. They all have their passports or are doing that themselves. We have been in contact with a few players but this camp it was impossible to bring them in.
"We will only bring them in if we feel they are better than what we have. We have a core group and only if somebody is really adding something to the squad, and have done everything themselves for the passport, we can go for them.
"The player might come in for our next camp. She needs to be better so we are assessing that constantly."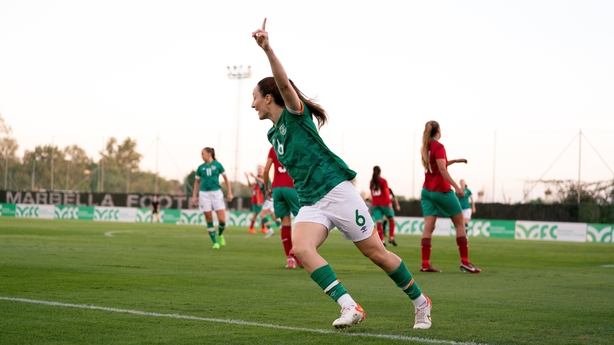 Monday's win against Morocco was the climax of a positive week for Pauw, who was actually unwell for a chunk of the getaway but recovered sufficiently to return to the dugout in Marbella.
The squad spent time together at a training camp before playing two games against the Moroccans - one training match last Friday and then an official friendly yesterday evening.
Ireland are now looking to nail in at least two more friendlies in the new year with Pauw very keen to have a match in Dublin to "thank our fans in Ireland and celebrate our qualification". The next international window is in February.
"The week has been very good," she added.
"It's been good to be together. It's been good to work on something else than our defensive team organisation with the counter, to work on how to keep the ball, that we have to improve our level when we are building up and we are creating chances.
"We are busy with the plans [for next year]. As soon as the plans are out we will notify.
"The issue is that countries are not so much coming to Ireland, they are not willing to travel to Ireland. Most of them want to play in Spain or in the Algarve, so also they are travelling. But we definitely are focusing on getting a very good game in Ireland."
Watch the Republic of Ireland v Norway live on RTÉ2 and RTÉ Player on Thursday from 7pm with live radio commentary on RTÉ Radio 1 Extra and follow a live blog on RTÉ.ie/sport and RTÉ News app
Listen to the RTÉ Soccer podcast on Apple Podcasts, Spotify or wherever you get your podcasts.