Ahead of her 100th international cap, Republic of Ireland centre-half Louise Quinn pinpointed the Liberty Hall protest as one of the most significant moments of her long career and a "turning point" in the history of the women's game in Ireland.
Quinn joins her central defensive partner Niamh Fahey in the centurions' club in today's friendly against Morocco in Marbella - fittingly, when Quinn made her international debut back in the pre-Tallaght days in 2008, it was Fahey she replaced in the closing minutes.
The Birmingham City defender acknowledged that reaching the 100 mark represents a special moment for herself and her family.
"You don't really think about when you're going through your career," Quinn told RTÉ Sport.
"But when you start approaching the 90 (cap mark), you're like, OK, this could be something that you'd like to achieve, that you've been able to play for your country for 100 caps, and hopefully more.
"It feels really special and it's really special for my family as well. It's something that they're really proud of. They're making their way out to Spain as well for the game."
---
Pauw hails 'fighting spirit' of Louise Quinn as she prepares for landmark appearance
---
Quinn made her debut as a very late substitute in early 2008, subsequently earning a call-up to the squad for the pivotal European championship playoff against Iceland that October, though she didn't make it on the pitch in that 3-0 loss. Fifteen years on, memories of the day are a touch hazy.
"It was against Poland. We won the game 4-1. I came on for Niamh Fahey for probably a whole minute and a half. I do remember my Dad driving me up, the two of us rocking up.
"We were also playing on the rivals' pitch. It was St Francis's pitch, I recall (in Baldonnel). St Francis-Peamount at the time was a big rivalry. I just remember tentatively going into the changing room. Seeing the likes of Ciara Grant, Emma Byrne, all of them.
"I didn't know where to go, where to sit, what to do. The excitement was too much. I'd never take that moment away. I potentially touched the ball once, headed it, which speaks for itself about my career to be honest!"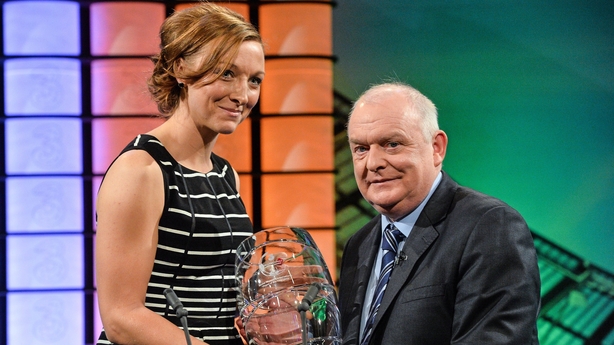 Quinn's storied international career has spanned several different eras and four different managerial reigns, including a stint as captain before handing the armband off to Katie McCabe. Latterly, as the hype steadily started to build around the women's national team, she experienced the heartbreak of Kyiv and the glory of Glasgow.
However, reflecting on it all, she cites the squad's legendary Liberty Hall protest in demand of better treatment and conditions, spearheaded by Emma Byrne, as the "turning point" and possibly the most significant moment in the history of the women's game in Ireland.
"To say it was five years ago, it's still actually really, really fresh for us," recalls Quinn.
"It was just extremely powerful. When that was done, it really solidified the group in every way possible. It was getting into conversations that people had maybe never had before. We were all just trying to do it for the greater good.
"We didn't know if people cared that much. At that stage, it felt like some people in the association didn't care as much. It was a tick-box situation around the women's team. That was the turning point. It showed that people care. And there is a place for this. And it's being shown all over Europe and worldwide that women's football is massive, it's appreciated, it's wanted, it's loved. It was just one of those things at the time, we just didn't know. It was worth the risk.
"We needed everybody to get on board. It wasn't just the FAI, we needed you guys in the media. We needed the fans, we needed the Irish people. We needed companies to believe in us. That's come to fruition now. I think without that day and that moment, I'm not sure we'd be there."
"We didn't know if people cared that much. At that stage, it felt like some people in the association didn't care as much. It was a tick-box situation around the women's team
Bumping into Byrne on the night of the Glasgow win, Quinn was quick to remind the legendary goalkeeper of her importance to the current squad, with the younger members regularly briefed on it, were they inclined to forget.
"Emma Byrne was really on top of that. She was putting her career on the line. She wanted it because she wanted that for the Irish team. She never got that to achieve that herself personally. Club-wise, she was one of the best. For the national team, she wanted these things to happen.
"To get to see her after the Scotland game, I got to talk to her and reiterate what I think of her, what we think of her. She still gets mentioned in every single camp, no matter what. We're making sure the younger girls coming through have an idea of what we had to do in 2017, for this exact moment."
The Marbella get-together is the squad's first since the landmark night in Hampden.
The current camp was hastily arranged, though Quinn feels it a useful endeavour, especially with African opposition lining up opposite.
"It's been incredibly important. Originally, there was nothing lined up. But I feel that getting the group back together as soon as we could was really important. We're going to be buzzing until the World Cup and even after it. But it was nice to get back together. Re-live some memories and get back on the pitch again.
"With everything now, we're building towards the World Cup already. To think that we're tactically doing what we need to do. To start concentrating on that has been lovely. We had to leave each other quite quick, get back to our clubs. To get the group back together, it's really special.
"It's ideal to be playing an African nation this week. How they approach the games, their physicality, it's the perfect learning for us to take forward into the Nigeria game. Nigeria have a lot of really, really talented, special players that play in top teams as well. It's a very difficult draw. I still think it's three points we can pick up there. This week is perfect to put in our minds what type of teams we'll be coming up against in Australia."
While the draw was initially pegged as a testing group, Quinn describes herself as "ridiculously excited", especially by the prospect of facing co-hosts Australia in the opening game, with the buzz already palpable among the sizable ex-pat community down under.
"I think we're thrilled to be playing the hosts to be honest. For a first tournament, that's the best experience that we can have. I've read that, after Australia, Ireland were the next in line for the tickets requested. My sister lives in Melbourne, all her friends are on that.
"When the tickets went on sale through FIFA, I had about three or four texts from friends who are over there, and they are saying they got their tickets and that was at 3 or 4 in the morning. If the tournament wasn't in Ireland, the next best thing is probably Australia, to get our fans there and make the experience as special as it can be. I'm just ridiculously excited for that, I need to calm down.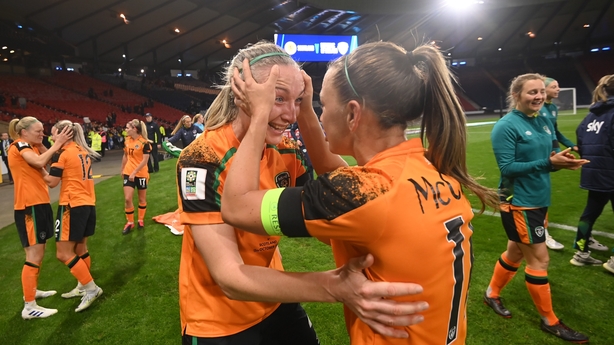 "They're a fantastic team. We just can't wait to get going and put ourselves against them. And then Olympic champions and then one of the best teams in Africa. At the moment, I don't feel fazed by it. I just can't wait to put ourselves on that stage.
"It's very exciting going into the unknown. Thankfully, it's not going to be us just watching it on the TV. We're going to embrace it. The Irish people, we love a World Cup.
"The games are on at a reasonable time as well. I remember being in the pub at that age, watching the World Cup. Obviously, very, very monitored! But I remember the atmosphere, I remember what it was like. It was so special, just to watch on the big screen, be immersed in that crowd of people, with so much joy about these tournaments.
"We just want to make the most of it and compete. And know that we can, we really, really can, put top performances in. We've just got to carry on what we've been doing the last year or two."
Follow the Republic of Ireland v Morocco via our liveblog on RTÉ.ie/sport and the RTÉ News app, or watch live on the RTÉ News channel and RTÉ Player.
How to watch the game on the RTÉ News Channel
Saorview - Channel 21
Virgin Media - Channel 200
Sky - Channel 521
Eir - Channel 517