Ruaidhrí Higgins is looking forward to the FAI Cup final, however, the Derry City manager had time to look back and remember two former team-mates following the semi-final victory over Treaty United.
Derry secured a 2-1 victory over the Limerick side at the Ryan McBride Brandywell Stadium to stamp their ticket for the 13 November final at the Aviva Stadium, where they will face Shelbourne in the decider.
Former captain McBride died in 2017, aged 27, and Higgins believes that the big centre-half would still have been captain today, while the manager also remembered former team-mate Mark Farren following the Cup victory.
"It's on days like this that you remember Ryan McBride, who would probably still be playing and captaining the club," said Higgins, speaking to RTE Sport after the game.
"And you remember Mark Farren. Mark Farren scored a Cup final goal, Ryan McBride has played in cup finals and lived 100 yards from the goal we scored the two goals in.
"I played with both, so for me personally and I know a lot of players and staff as well, that on days like this you really remember those two and they are in our thoughts."
Higgins said that the unique history of Derry is a vital part of the club's identity, and it is something that the new players are educated about.
"Derry is unique in a sense that it has had a lot of hard times, and there are a lot of special players who come from a stone's throw from the ground.
"It's a special, unique football club and it's important that we educate the new players who come into the football club who these people are and what they mean to the club.
"And for me they have been in my thoughts from the minute I woke up this morning."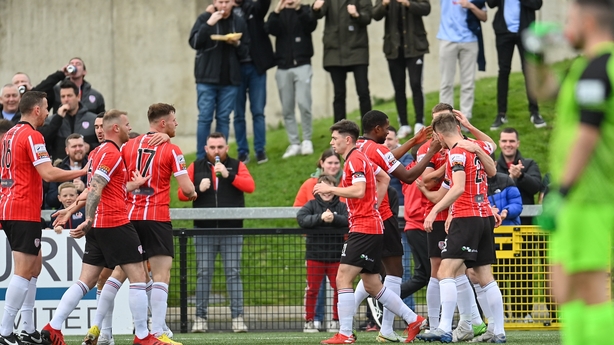 The Candystripes can now park the FAI Cup final and leave it as something to look forward to for next month, as they have more pressing matters to attend to with the league title still something to play for.
Shamrock Rovers sit six points clear at the top of the table, however, Derry have a game in hand and the two sides will meet at Tallaght Stadium on 30 October.
And next up for Higgins' side is a Cup final dress rehearsal with Shelbourne on Friday night, while the Hoops entertain St Patrick's Athletic.
Higgins said that the focus for the title charge will return immediately, once the players report for duty on Monday morning.
"We're at the business end of the season," said Higgins. "We're in tomorrow for recovery and then we will prepare for Shelbourne on Friday, which is a massive game in our season and it's one we want to go and win."
And as for the FAI Cup final, Higgins said that it signals the club's intent and it is something that the city can really look forward to.
"It's a big football club and it deserves more success than it's had in recent times and we're working extremely hard to do that," said Higgins.
"We're looking forward to it. It's really whet the appetite. We have a good history in the Cup and it will be a really proud moment to be there on 13 November. But you can only really enjoy it if you win it and that's what we'll try to do."