"Not good enough at this level."
That was the verdict of Shamrock Rovers manager Stephen Bradley following his side's 2-0 defeat to Molde at Tallaght Stadium.
Bradley was not talking about his players, but rather the match officials, who failed to spot a blatant offside in the opening goal that arrived against the run of play.
"Two or three yards offside, for four seconds," was Bradley's assessment of the first Molde goal that was finished by striker David Fofana, who guided a close-range header beyond the reach of Alan Mannus in the 33rd minute.
The defeat ended Rovers' chances of progressing to the knock-out phase of the Europa Conference League, and the manager was clearly frustrated as a result of the first-half goal that made his team's task an uphill one heading into the second half.
Rovers maintained their attacking approach in search of an equaliser after the break but were undone by a mistake of their own doing in the 69th minute when Kristian Eriksen headed home a near-post effort to seal the victory.
"It's a hard one to take," said Bradley, speaking at the post match press conference.
"I thought we were very good tonight, but I thought the non-decision from the linesman was really, really poor. It's not even tight.
"How the referee or the linesman has not seen it at this level is really poor, because we started well and had the momentum and that knocked us back a bit. It was a terrible decision."
There was no VAR available for the European encounter, and while it would have certainly helped Rovers if it was up and running, Bradley maintained that the offside was so obvious that it shouldn't have even been an issue.
The defeat makes it three in a row for the Hoops who only have one point from their four group games, and the manager again lamented the decision for costing his side the chance to go on and really compete in the must-win encounter.
"My eight-year-old son could have told you it was offside," said Bradley. "You don't need VAR for that. It was incredible, there was no one in his way. Very similar, Aaron Greene scores in the second half and the flag goes up within a second. I thought they were terrible all night, but that was an awful decision.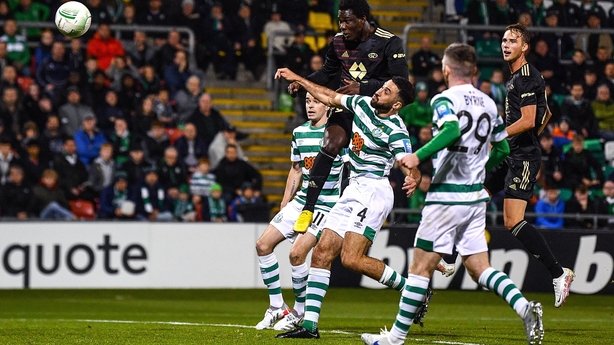 "We knew we had to win tonight if we wanted to progress in the group, so when you have decisions like that go against you, it's not good enough at this level.
"The players were very good and a decision like that has cost them. That shouldn't happen at this level, but unfortunately it has. We ask our players to keep a high line and the line is really good when you watch it back. He's literally two or three yards offside for four seconds.
"Sometimes you get done by a bit of quality and you have to accept that because they have good players, but when it's a decision as easy as that, it's a hard one to take."
Rovers certainly took the game to Molde in what was a completely contrasting performance compared to last week's one-sided affair between the two teams, where the Norwegians strolled to a 3-0 victory.
The Hoops had the better of the opening exchanges and in truth, the visitors only really started to get into the game just before scoring the first goal after 33 minutes.
And the home side came out with the same attacking intent in the second half with Richie Towell coming very close to restoring parity with an instinctive shot on the turn, which the keeper did well to work around the post.
Bradley's side were all set to take the attack up a level in the 69th minute with Neil Farrugia and Graham Burke primed and ready to enter the fray, while waiting for Molde to take a corner kick.
And that's when the hammer blow of the second goal arrived with Eriksen getting on the end of a near-post header to put the tie beyond the Hoops, and the manager was raging that his side were undone by a predictable set-piece that they has prepared for and fully anticipated.
"As bad as the first goal was from the officials, the second goal was as bad from us," said Bradley.
"A front post header at chest height is really, really poor from us, and we are usually really strong at set plays. They always aim front post. All their corners are front post and they go heavy with the runners. And that is what is so disappointing as we knew that before we played them over there and we spoke about it yesterday.
"We know they go heavy at set-plays, they put seven in the box, and they have really good delivery, but the second goal is really poor from our point of view, and it took the whole energy out of the stadium and out of the game.
"1-0 with Graham and Neil coming on, I think you have a real chance to go and make something happen, but that second goal was really poor from our point of view."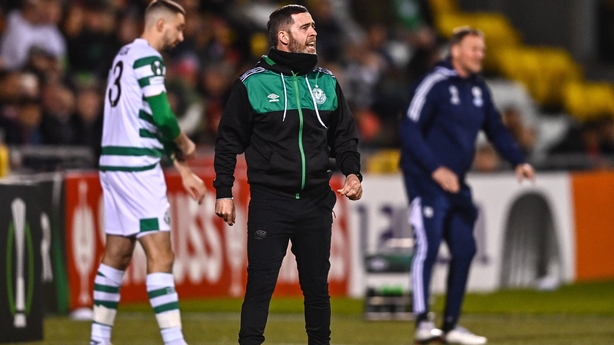 Looking beyond tonight's game, and it is back to the real business of attempting to secure the league title, as Rovers travel to Drogheda on Sunday with a five-point lead heading into the final four games of the campaign.
And the manager admitted that his priority had to be maintaining his focus on the league campaign in order to make another assault on the European stage next season.
"We know we are a good side and we know the level we can play at. We know in the two games away in Europe, I've made a lot of changes, but I have got to focus on the bigger picture for the team and the club. And we've always said that the league is our priority.
"Sunday gives us a chance to create a gap again and we will do everything we can to make that happen.
"Drogheda will be a tough game, no doubt. I liked large parts of tonight and the second half on Sunday [against Shelbourne], so if we stay on that rhythm, I'm sure we'll be fine.
"We want to get to a stage where we can fight on all fronts, at home or away, and we have shown it over the years when we play to our level we are more than a match for most teams, and we showed that again tonight."