Republic of Ireland assistant coach Keith Andrews woke up on Sunday morning thinking of ways to stop a world class striker in Erling Haaland, but a few hours later he was splitting those concerns with another footballing superstar, France's Kylian Mbappe.
Haaland will be up first on 17 November as Norway visit for an international friendly where Ireland will attempt to shut down a player who has scored 15 goals in just nine Premier League appearances this season.
Sunday's Euro 2024 draw then pitted Stephen Kenny's side against France and the Netherlands, meaning two clashes [27 March, 2023 and 7 September, 2023] with Ligue 1's top scorer for the last four seasons.
"This time yesterday I woke up thinking of Haaland and this morning I woke up thinking of Mbappe," Andrews told 2FM's Game On when reflecting on the side's nightmare Euro 2024 draw.
"The draw, there's no two ways of looking at it, it could have been kinder.
"When you're looking at the draw live and see the pots and you think 'B, C, try and avoid those two', especially with France being dropped into pot two - they were always a team that nobody really wanted with the type of players that they have.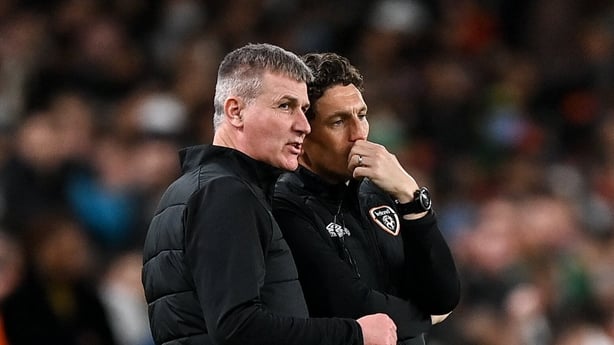 "It's still fresh, [we're] doing our due diligence, having chats today and having a couple of Zooms chatting through logistics.
"It's obviously going to be a challenge that we'll have to face head on, one that we'll look forward to planning. It's going to be a very difficult task, no doubt about it with the level of opposition."
While many Irish fans are already looking at the play-off route as the best chance of qualification, Andrews surmised that the players themselves would have genuine belief that they could shock France or the Netherlands.
"I think they do believe, I genuinely do," he said.
"I've said it to the players and I probably haven't said it enough publicly...they're an unbelievable group to work with it, to coach, to be around on a day-to-day basis. They buy into absolutely everything we try to achieve.
"I think they do believe, I genuinely do.
"When you look back and reflect on certain games, over two games against Portugal we deserved more than a point, I think that's pretty fair to accept.
"It's not to going to take a lot for the players to believe in what we do, how we are going to try and go about it. What we need to bring is a little bit of consistency and when you're playing against top teams like we're going to face in this upcoming campaign, you need to be clinical, your concentration levels need to be top drawer.
"It's a group effort so when subs come on knowing their roles around set-pieces, how we manage situations in games, continue to be a threat from our set-piece and deal with their set-piece.
"All these components roll into it, but from a belief perspective I don't see that being too much of an issue."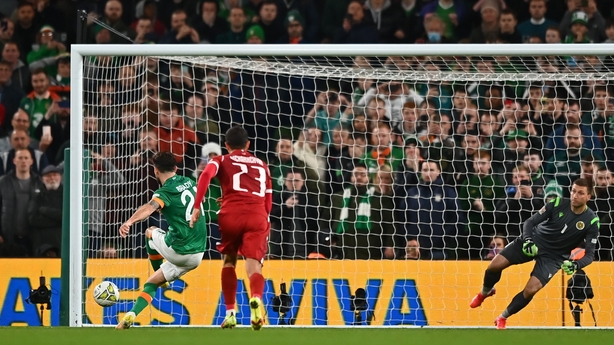 Prior to the start of that qualification campaign is a November friendly window that starts with Norway arriving at the Aviva followed by a trip to Malta on 20 November.
Kenny and his management team have again been the subject of much debate after their latest League of Nations window resulted in a loss in Scotland and a victory over Armenia where the side threw away a two-goal lead before Robbie Brady slotted home a late penalty after the visitors had been reduced to nine men.
Andrews said that criticism was part and parcel of the job, but he is confident that the side continues to move in the right direction.
"I don't go searching for articles and opinions if I'm entirely honest, but obviously it's hard to block absolutely everything out. I spend a lot of time in Ireland and you always hear little tidbits back whether it's through friends or family.
"In an ideal world, everybody gets absolutely behind the team, it's fully supported, the reality is that's not always going to happen.
"We live in a free country and people are well entitled to our opinion.
"I was in that [media] chair before so I can't be too hurt by certain comments I hear. The only thing I will say, it takes up none of my time, it really doesn't.
We need your consent to load this YouTube contentWe use YouTube to manage extra content that can set cookies on your device and collect data about your activity. Please review their details and accept them to load the content.Manage Preferences
"I have full focus and full belief in what we're trying to do. We have to, in my opinion, develop a team. We are not a development team, but we have to develop a new team, a new way of playing that will stand us in good stead.
"Has it been absolutely perfect? Of course it hasn't. I think the big thing we need to find in the coming games, months, campaigns, is a consistency.
"When you look back at periods of games and full games, in some instances there have been some brilliant moments, brilliant individual performances. I think collectively as a group we've continued to get better and that needs to be the case going into the next campaign."
Listen to the RTÉ Soccer podcast on Apple Podcasts, Spotify or wherever you get your podcasts.
Watch FC Copenhagen v Manchester City in the Champions League live on RTÉ2 and RTÉ Player on Tuesday from 5.30pm
Watch Scotland v Republic of Ireland live on RTÉ2 and the RTÉ Player on Tuesday from 7pm, follow a live blog on RTÉ.ie/sport and RTÉ News app and listen to live radio commentary on RTÉ 2fm's Game On.