Nobody could say the Republic of Ireland's journey to the cusp of World Cup qualification has been easy.
The road's been long, with many a winding turn. And some of these players have been there every step of the day, from the darkest corners of Liberty Hall, where the players had to fight for the heart and soul of the women's game, to the bright lights of Hampden Park.
By 10pm tonight, Ireland may have achieved their Holy Grail.
But it will not be easy
They face a tough, direct Scottish side who are sprinkled with quality. Caroline Weir of Real Madrid and Chelsea's Erin Cuthbert are two fantastic players and they're surrounded by solid operators who are well set up by Spaniard Pedro Martinez Losa, the man who brought McCabe to the Gunners from Shelbourne back in 2015.
"We will be absolutely ready in our capacities and we will see if it's good enough."
"Yeah he signed me as a young kid with a dream to play for Arsenal," McCabe reflected on Monday evening.
"I was fortunate to play under him and then I left on loan to get more game time, which was great, came to Scotland [to Glasgow City], learned a lot, picked up a trophy and came back.
"It is nice to see him have the Scotland job now."
That, rest assured, is where the niceties will end. These two teams know each other well, with many of the players facing off every weekend in the Women's Super League.
Their styles are not dissimilar. Certainly Austria - who Scotland beat the play-off first round last Thursday - would have posed a very different kind of threat to the Irish.
A tight bruising battle is anticipated, with extra-time, maybe even penalties, a real possibility.
"We know where we stand and we know that Scotland is favoured in the game," said boss Vera Pauw, who is enjoying a reunion of her own as she returns to the country she managed between 1998 and 2004.
"They went to the European Championships. They went to the World Cup. They are at home and it is their second game at home in a week, they have the crowd behind them. So that sums it all up. It is what it is.
"We will be absolutely ready in our capacities and we will see if it's good enough. We know where we stand. We are realistic. We are very realistic."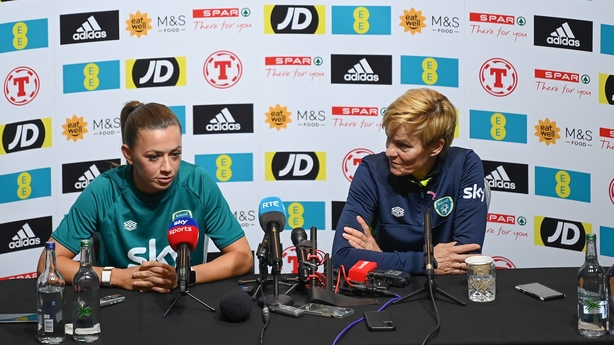 Realistic but not overwhelmed either. Ireland have a string of absentees, with news that Jess Ziu is facing a lengthy lay-off after suffering an anterior cruciate ligament injury a real downer.
Megan Connolly, Ruesha Littlejohn, Leanne Kiernan and Ellen Molloy are all out so the squad is concerningly thin, bearing in mind this clash could go all the way to spot-kicks.
Niamh Fahey's return is most welcome and she will slot in the central back three alongside Louise Quinn and either Claire O'Riordan or Diane Caldwell. Megan Campbell will be stationed on the left, with Jamie Finn back from suspension to potentially replace the unfortunate Ziu on the opposite side.
Lily Agg leads the race to slot into the middle with Denise O'Sullivan and McCabe, with Lucy Quinn or Kyra Causa possibly coming into play off the tireless Heather Payne.
Scotland needed extra-time to beat the Austrians on a sodden Hampden pitch, however Martinez Losa is confident fatigue won't be an issue.
"After the match we had a moment of euphoria after achieving something big, so it was fair enough to take the credit for that and let the players enjoy that," he said.
"The next morning was about focusing on tonight and recovering. Most of them had two days' recovery and then we have reset again and prepared the details for a game that we know will be challenging.
"This is a very important step on our journey. The weekend has been about giving the team the tools individually and collectively what they need to now to go into this game.
"We believe that we are a World Cup team so we have to behave like we are a World Cup team before we get there."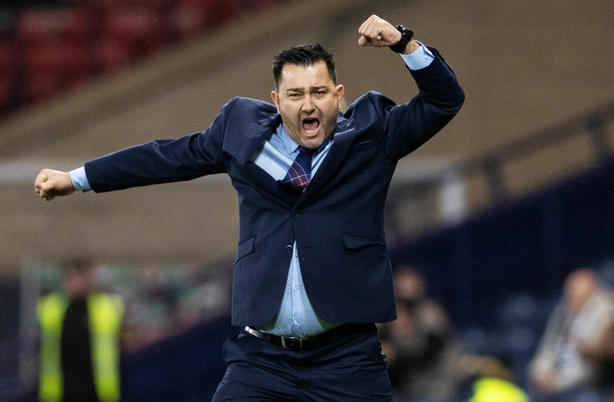 He's certainly encouraged a holistic approach to these big games.
At team meetings players have been asked to post a coloured post-it note to correspond with their emotion in that moment, while they also wrote letters to their younger selves in the build-up to further ramp up the sense of importance around this match.
"We take great confidence from Thursday," said Real Madrid star Weir. "Austria are a top side. I think a couple of years ago we would have struggled to come out on top in that type of game, but we really stuck together and tactically we were good.
"We're looking for more of the same against Ireland and hopefully we can come back out on top again."
Over ten thousand fans were at Hampden Park for the Austria game and though the Scottish FA have been hyping this encounter all week, it remains to be seen just how much Celtic's Champions League encounter with RB Leipzig impacts attendance. The Bhoys kick off at the same time two miles over the road at Paradise.
A focused McCabe wasn't interested in any of the uncontrollables though.
The Dubliner was typically assured when she faced the press, declaring: "We have the identity in how we play. We have a structure and a style that we believe in and that we give 100% with.
"I think for us, yeah, it might not be the prettiest at times but we understand our jobs and our roles within what that organisation is. I think having that identity really gives us the confidence to go out and back ourselves in these situations.
"Yeah, we've done it in previous games but that doesn't mean anything anymore. We have to do it again now."
One last push with the stakes impossibly high. Prepare for a nerve-shredding night in Glasgow.
Watch Scotland v Republic of Ireland live on RTÉ2 and the RTÉ Player on Tuesday from 7pm, follow a live blog on RTÉ.ie/sport and RTÉ News app and listen to live radio commentary on RTÉ 2fm's Game On.
Listen to the RTÉ Soccer podcast on Apple Podcasts, Spotify or wherever you get your podcasts.