At the outbreak of World War One, the Festhalle in Frankfurt was utilised as a camp for German soldiers, however, it will be the generals of the continent's football teams who will gather at the historic venue for Sunday's Euro 2024 draw.
The multi-purpose arena first opened in 1909, and while it had a dark role to play in the second World War with its involvement in the November pogroms in 1938, it somehow avoided demolition, when a fire devastated the interior, while the Allied Forces dropped bombs from above – Led Zeppelin, as it happens, were the first rock bank to headline in 1970.
Commander in chief of the Irish forces, Stephen Kenny, will be on hand to see what battles will present themselves throughout the 2023 international calendar, with his Republic unit sitting in the veritable no-man's land of Pot 3.
As a result, Ireland will find themselves drawn alongside two higher-ranked sides for the qualification phase of the Germany-hosted tournament, and while there are many a potential landmine lurking in the upper echelons, the draw could also be quite kind to the green army.
A new world order of sorts in top tier, as a result of some unlikely outcomes in the latest edition of the UEFA Nations League, with England and France now finding themselves in Pot 2, while Hungary and Poland are among the top seeds – Italy, Spain and the Netherlands sticking in there for the traditionalists, while Germany will automatically qualify as hosts.
Can there be a preferred option for Ireland from the elite sides considering they are all in situ as a result of a consistent calendar year of international football?
Familiarity may help soften that particular blow, as Ireland have fared quite well in mostly tight games against Denmark, Hungary, Poland and Portugal in recent years, while their 2-2 draw with Belgium can probably be discounted due to the fact that a B team travelled to Dublin.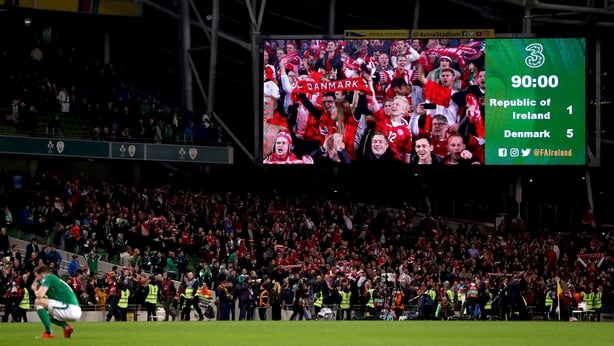 Switzerland are another side that would look good on paper as top seeds in Ireland's group, however, the mauling that Mick McCarthy's men received in Geneva back in 2019 may still be a wound that has not fully healed.
A potential double-whammy is what Ireland must avoid when it comes to the draw for Pot 2, especially if one of the marquee names are matched from the top seeds.
Should Ireland get thrown into such a group with either France or England included from the second string, Kenny's campaign could appear doomed before a ball is kicked in anger next year.
Otherwise, the manager should not really be too stressed to be drawn alongside Austria, Czech Republic, Wales, Israel, Bosnia & Herzegovina, Serbia, Scotland or Finland – again a string of sides that Ireland have faced in recent years with rarely a goal separating the sides, albeit mainly in the favour of the opposition.
Sitting in Pot 3 alongside the Irish are Ukraine, Iceland, Norway, Slovenia, Albania, Montenegro, Romania, Sweden and Armenia, and as a result, cannot be drawn with Kenny's side.
The perceived weaker teams make up Pot 4, 5 and 6, and while Ireland should now have the confidence to beat most, if not all, of these teams home and away, there are potentially tough games awaiting.
Turkey and Greece have been boxing well below their weight on the international stage in recent years, while Kosovo, Bulgaria, Georgia and Luxembourg would all fancy taking something off the Irish over the two games.
Likewise in Pot 5, where Kenny could do without a derby-style game with Northern Ireland or another match-up with Slovakia, who put an end to Ireland's Euro 2020 hopes in that Bratislava penalty shoot-out. Belarus will also have fond memories of beating Ireland in Turner's Cross on the eve of Euro 2016.
Andorra, San Marino and Liechtenstein sit in Pot 6, which will create three six-team groups, and while they could prove excellent confidence-building outings, the likelihood is that the results will not count in the grander scheme of things, and the time could be better applied elsewhere.
Eight to ten games over five international breaks from March to November means that there are no three-game windows, nor the crazy four-game series that caused Ireland problems last summer.
But once the draw is made, Ireland will be hoping for a kind schedule, most notably in the opening group games in March where Kenny's side will hope to set the tone for the year ahead with the ultimate goal of Euro 2024 qualification in mind.
The draw for Euro 2024 qualification will be live on RTÉ2 and RTÉ Player on Sunday from 11am.
UEFA Nations League Pot: Netherlands, Croatia, Spain, Italy
Pot 1: Denmark, Portugal, Belgium, Hungary, Switzerland, Poland.
Pot 2: France, Austria, Czech Republic, England, Wales, Israel, Bosnia & Herzegovina, Serbia, Scotland, Finland.
Pot 3: Republic of Ireland, Ukraine, Iceland, Norway, Slovenia, Albania, Montenegro, Romania, Sweden and Armenia
Pot 4: Georgia, Greece, Turkey, Kazakhstan, Luxembourg, Azerbaijan, Kosovo, Bulgaria, Faroe Islands, North Macedonia.
Pot 5: Slovakia, Northern Ireland, Cyprus, Belarus, Lithuania, Gibraltar, Estonia, Latvia, Moldova, Malta.
Pot 6: Andorra, San Marino, Liechtenstein.
Qualifying schedule in 2023:
23-25 March - Matchday 1
26-28 March - Matchday 2
16-17 June - Matchday 3
19-20 June - Matchday 4
7-9 Sept - Matchday 5
10-12 Sept - Matchday 6
12-14 Oct - Matchday 7
15-17 Oct - Matchday 8
16-18 Nov - Matchday 9
19-21 Nov - Matchday 10
Watch the draw for Euro 2024 qualifying on Sunday at 11am on RTÉ2 and RTÉ Player. Follow live blog on RTÉ News app and on rte.ie/sport.