The last time Aine O'Gorman featured in a play-off with the Republic of Ireland, the pitch was so hard that groundsmen struggled to crack the ice with a shovel.
It was 2008, and Ireland headed for Iceland having drawn the first leg of their Euro 2009 play-off 1-1.
The Girls in Green were soundly beaten 3-0 in Reykjavik as their hosts adapted far better to the dreadful conditions.
It's taken 14 years for Ireland to get another serious crack at making a first major tournament - this time the World Cup is within their grasp - and veteran defender O'Gorman is not taking it for granted.
"I was there yes, on the ice," she reflected at the Castleknock Hotel where Ireland are based ahead of next Tuesday's play-off against either Scotland or Austria, who clash on Thursday night.
"If that game was to go ahead today it wouldn't happen. They were banging a shovel in the middle of the pitch and the ice wasn't cracking. I think they had ice skates on and we didn't!
"I don't think you appreciate the moment when you're there like you would now, that you're on the cusp of maybe qualifying for the World Cup. Back then you're just in the game, in the moment. Obviously we are in a great position now and looking forward to the game."
O'Gorman was just 19 back then. Now 33, the Peamount United star has experienced enough heartache to know just how big this looming showdown. Two years ago her freak own goal against Ukraine effectively ended Ireland's ambitions of making it to the Euros.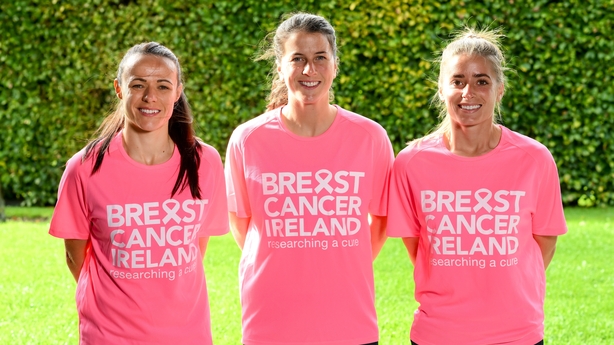 That was a desperately painful night, and the reality is that for players of her vintage, there won't be many more chances.
There's also an awareness that the national side's success can energise the domestic game - with the advancement of a semi-professional Women's National League an obvious priority.
"I think we should be piggybacking on the success of the Irish women's team, that there should be semi-professional clubs in this country," added O'Gorman.
"Obviously at the moment we're losing players to the Women's Super League [in England]. You can't begrudge any player for that, they're going to play in a better opportunity, they're gonna get full-time football.
"Until those structures are put in place, we're not going to be able to stop players going abroad.
"The amount of girls playing football now compared to when I was growing up is massive. The opportunities they get as well are second to none."
O'Gorman isn't too fussed who Ireland face in six days' time - whether it's a "well organised" Austria or the "direct" Scots, the challenge is considerable.
But the prospect of playing in Hampden Park if the latter team prevail is enticing.
"Obviously it's a good buzz," she replied when asked about potentially playing at the famous Glasgow stadium.
"When you're playing, even when there's big stadiums and big crowds, once the ball kicks off and you're focused on your job, you kind of just block it all out and stay focused on your job on the pitch. But when you win it's a good buzz!
"Whether we get a crowd in or not the result over the campaign have shown whether we play at home or away we're able to focus on our task and get a result. We won't let it affect us too much.
"We're just going to have to prepare the best we can and go out and play the game of our lives and hopefully make the World Cup."
Listen to the RTÉ Soccer podcast on Apple Podcasts, Spotify or wherever you get your podcasts.