Wexford Youths manager Stephen Quinn has issued a stirring defence of his side's chances of lifting the Women's National League title despite suffering a 2-1 defeat to Athlone Town on Saturday.
Just three points separates four teams in the top flight after Town came from behind thanks to goals from Kellie Brennan and Gillian Keenan at Athlone Town Stadium.
It was a second win for Athlone Town in a week after a 3-0 success in the FAI Cup semi-finals last time out.
Youths had been favourites to lift the crown prior to this weekend's fixtures, with Peamount United and Shelbourne firmly in the mix following narrow victories over Bohemians and Cork City respectively.
Wexford could have made life comfortable for themselves with a win in the midlands, but still control their own destiny.
However, two of their final three games are against their title rivals.
Quinn told RTÉ Sport: "Nothing worthwhile comes easy. It was never going to be easy today or next week and that we'd have a cushion going into the final games. It's not what we do at Wexford Youths, it seems to be the hard way.
"Three months ago when we got beaten by Sligo Rovers and we had Shels the following week where it could have been 11 points (behind). We stuck to our task then. This is a tough part of the season for us, teams have them periods, and it's how we come out of it.
"We're going to come out fighting. We have Sligo Rovers in two weeks' time and then Peas and Shels so it's not going to be easy. We know what we're capable of if we string it together and back each other, we won't be too far away come the end of the season.
"We could have been three or four points down coming into this game. We still have a chance. Athlone aren't in a Cup final or there or thereabouts the league for no reason. If anyone writes us off, it'll be at their peril."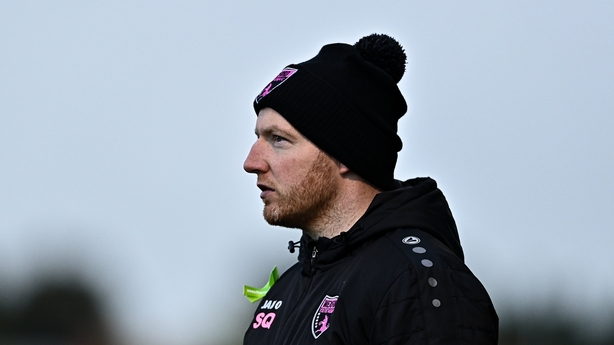 There are concerns Wexford's season could be derailing after exiting the Cup and the blow in the league but Quinn is adamant his players will show what they are made of.
"It's difficult for us at the moment. We haven't had two losses in a row. It's character-building and it's sink or swim now for us. We can complain and give out about different things but we gave everything we could today.
"Athlone are a really good side. We didn't create too much high up the pitch. Athlone were value for it but we didn't give up. People will think the season is over for us. We're still a point ahead and it's in our own hands. The best thing about it is we have three games to go with a chance to redeem ourselves. If we can put in three big performances with three big wins, we'll be there or thereabouts. I know a lot of people will write us off."
The four-way race for the title will bring increased publicity for the WNL, particularly as many of the sides face off in the final weeks of the season.
TG4 will broadcast some of the fixtures and the title could be decided on head-to-head results if two clubs can't be separated after 27 matches.
Quinn concluded: "That's what you want to promote the league. You don't want one or two teams running away with it. It's exciting and what it's all about. Any given game, you don't know who is going to go out and win. Today I was keeping an eye out on Cork against Shels for example. Shels have that knack of scoring late goals.
"It's small margins in this league. It's going to be decided that way whether it comes down a goal, penalty or whatever. There is a lot of football to be played and lots of ups and downs to come."