Shamrock Rovers have given Derry City a little bit of hope at the top of the SSE Airtricity League table after a scoreless snoozefest in Drumcondra.
This was an awful game of football that may ultimately mean nothing come the end of the season, Rovers still in relative command at the top of the standings, but it's been a grim week for the champions regardless of what transpires.
They followed a 3-0 loss in Gent a week ago with an extra-time defeat in the FAI Cup in Derry and, back in their home city four days later, this was no improvement, key players looking either tired, out of form or a combination of both.
In Rovers' defence, they usually just get the job done in the title race these days, but this performance should worry Stephen Bradley, with marquee performances seeming to have lost the ability to pass the ball – that is if they controlled it properly in the first place on a Tolka pitch that did not help matters.
Warm embraces between home coach Damien Duff and the Shamrock Rovers management team pre-game recalled Duff's playing and coaching days in Tallaght and Roadstone but, as he will remind you, he's all about Shelbourne now.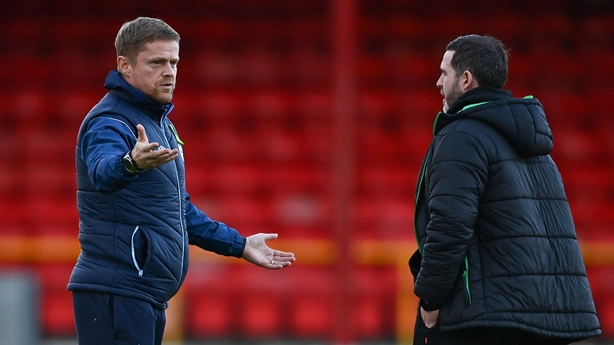 Shels have had a solid season – in no danger of the drop but well-shy of finishing in the top four – and much will depend on if they can get to the FAI Cup final at Waterford's expense next month. Either way, Duff has plenty to work on and there is a great vibe by the Tolka these days.
Still, this rare Thursday night game began without the intensity one would expect of a Dublin derby. Rovers have so many games these days that few of their fans went to Derry for the quarter-final in the FAI Cup Sunday; for Shels, this was something of a dead rubber beyond the relevance of history and proximity.
Sean Boyd was certainly up for the battle against his former employers, chasing down Alan Mannus and drawing gasps from the home crowd on seven minutes.
Rovers were generally poor in Derry and this was worse. They were bizarrely sloppy in possession, losing the ball under little pressure time and time again; Shels could sense they were in with a chance. The ball was holding up on a pitch that, even in late September, looked in need of a trim – like the 90 minutes of action if you were a neutral.
The clock had hit 25 minutes and nothing had happened. Ronan Finn glanced a header wide; it felt closer to a pre-season game.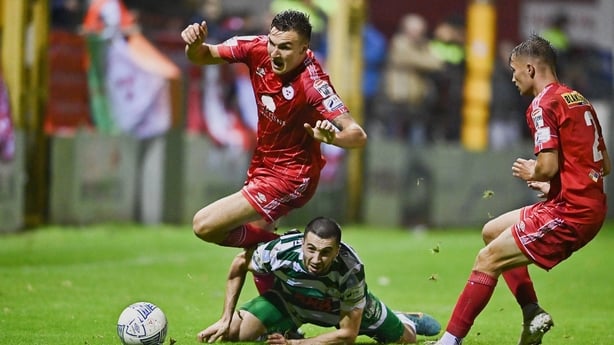 The highlight of the opening half was the spat between Graham Burke, just booked for a silly challenge on Matty Smith about the home dugout area, and his former team-mate Joey O'Brien, now Shels' assistant.
After reacting to O'Brien's apparent jibe, Burke issued an expletive or other and shouted at O'Brien: "You'd do it yourself!"
It was easy to hear the exchange, befitting the general lethargy in a less-than-full Tolka, which itself was manifest on the pitch. The game was then temporarily held up by the match officials, one of whom claimed a missile had been aimed in his direction. Would it rise a soporific encounter?
Jack Byrne was quiet but he nearly put Rory Gaffney in before the interval, Shane Griffin intervening. Neil Farrugia, anonymous despite his fine recent form, made way for Chris McCann at the interval.
Byrne's passing continued to let him down, with incredible consistency given his talent, as Rovers put on a little more pressure early in the second half – punctuated by the home fans breaking into a bar of Lily Allen's "Not Fair" from time to time, perhaps in honour of the substandard fare.
Matty Smith headed over on 57 minutes; if it were even a chance, it was the home side's first of the night.
Seventy minutes in, something finally happened. Dan Cleary, as if trying to show Rovers' creative players what can be done, rattled the crossbar from all of 35 yards.
Cleary, credit in the bank, tried the same trick as the game bled to its conclusion but the ball was last seen somewhere in the vicinity of Ballybough.
If a game deserved a goal, this certainly wasn't it.
Shelbourne: Clarke; Molloy, Byrne, Griffin; Wilson, Lunney (Coyle 77), McManus (Dervin 24), Ledwidge; Farrell, Boyd, Smith.
Shamrock Rovers: Mannus; Gannon, Cleary, Kavanagh; Finn, O'Neill, Byrne, Watts (Towell 74), Farrugia (McCann 46); Burke (Emakhu 76), Gaffney (Greene 68).
Referee: Ben Connolly.