Scott Hogan admitted that he struggled with the physical challenge of starting Ireland's last match in June when Stephen Kenny's side played out a 1-1 draw with Ukraine.
The end-of-season fixture, which took place in the Polish city of Lodz as a result of the Russian invasion of Ukraine, was Ireland's fourth match in ten days in the UEFA Nations League.
Coming off the back of an impressive 3-0 victory against Scotland in Dublin, Kenny's striking options were limited as player of the match Michael Obafemi was ruled out through injury, having scored a wondergoal for Ireland's third, while Chiedozie Ogbene was not deemed fit enough to start the game.
As a result, Kenny turned to Birmingham City striker, Hogan, to lead the line, playing alongside Troy Parrott, and while Ireland took the lead in the 31st minute through a fine individual solo effort by Nathan Collins, they were pegged back just after half-time when Artem Dovbyk equalised.
Hogan worked tirelessly throughout, playing a thankless running role at the top of the formation, and while he perhaps ran out of legs in the 56th minute, replaced by fellow forward Callum Robinson, Ireland held on for a well-earned point.
"Ukraine were a good side, so I felt that I struggled physically," said Hogan ahead of Saturday's game with Scotland, responding to a question in relation to the manager commenting that he wasn't at the right physical level last season. "It was quite humid, but there's no excuses.
"I hadn't been playing regularly and it affected my fitness levels. It's just a reminder of having to play regular football to be at that level. The gaffer knew that and still put me in. I was just a yard off it which was to be expected."
Kenny believes that Hogan is in much better physical shape this season and has been impressed with his performances for the Blues, straying from routine to contact the player ahead of a match to let him know that he was going to be included in the upcoming squad.
"He texted me on the way [to the match] and I rang him back. We just had a brief chat," said Hogan.
"Obviously, Dara [O'Shea] was captaining West Brom so there was a bit of banter on the phone about that. He did say 'don't go around kicking him, just take the one goal, I don't want his confidence going!' I ended up scoring three so…
"But he does ring up and go through his process with you, so you understand what his thinking is."
As it turns out, the contact appeared to have the desired effect as Hogan went out and bagged a hat-trick against their midlands rivals, with Birmingham taking all three points in a 3-2 victory.
"I literally spoke to him [Kenny] this morning," added Hogan. "He said if that Ukraine game was tomorrow, it would be a totally different story.
"As a professional athlete, you stay in shape but there comes a point that you need to play regularly to be up to speed."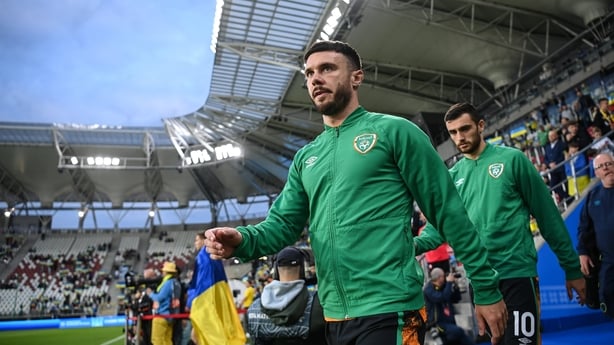 And while Hogan may be self-critical of his performance against Ukraine, he takes heart from knowing that the manager will reward players who are playing well with their club, which augers well for the striker heading into this week's double-header, as he has scored five league goals this season.
"It was just totally unexpected. I don't think I'd started a club game for the three months previous [Hogan's last start was 15 April] so it was out of the blue, but it just showed that there is always a way back in, as long as you're performing," said Hogan, recalling the June encounter with Ukraine.
"Robbie Brady is back in this time, and with the manager, if you're playing well he will pick you, so it was massive to get the start after so long."
"[International football] is a different level," said Hogan, when asked how it compared to the top of the Championship.
"It's mentally draining too because you're constantly having to concentrate on where you should be [doing] and what they're going to do.
"It becomes difficult and then add to that speed, power and strength. The players you come up against are in a whole different league.
"It was a big step up after not playing and it caught me out, I must admit."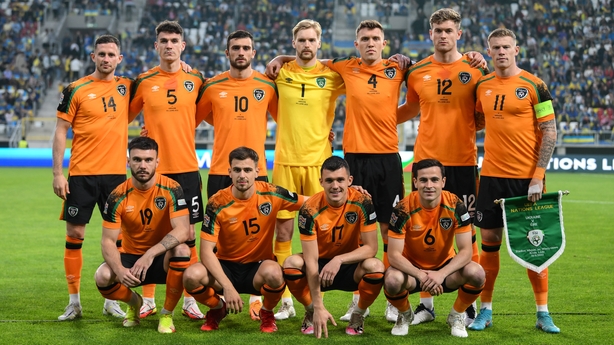 Pondering his fine form this season at club level, Hogan believes it comes from the fact that he is in a happy place for the first time in years, while he is also allowed to be himself on the pitch.
A late starter in the professional game, Hogan made his league debut for Rochdale as a 21-year-old before moving to Brentford, where he showed his prolific form in the Championship.
A big money move to Aston Villa failed to ignite, as Hogan would end up spending loan spells at Sheffield United and Stoke City, however, he has settled in at Villa's rivals since signing for the Blues permanently in September 2020.
"I feel comfortable, I'm allowed to be myself and the main thing is that I'm finally happy," said Hogan. "I try and keep myself in a steady state regardless, but there's been highs and then there's been lows.
"And when you look back thinking of it, is there a way that I can stay in that steady state? But I try not to think too much about it. I can't change what's happened.
"If I start worrying about things or thinking about things, it's only going to create more lows going forward but I think, like I said there, club and country I feel in a happy place. They're great environments to be in so hopefully there are plenty of more highs."
And he was loathe to concede that he has reached his peak in the game, the 30-year-old felt that he is continually improving, while acknowledging that goals are the only currency that matter as a striker.
"I don't like to think that I'm peaking, I'd Iike to think that I'm improving," said Hogan. "I'm happy now at my club, which is the first time that I've been able to say that in four or five years.
"I'm 30 now and around this time you generally peak, they say, but I'm hoping that I keep going. I look after myself and hopefully this is just the start. You are judged on goals and I failed in that aspect in the past few years."
And looking ahead to Saturday's game, Hogan enthused about the atmosphere around the squad, with the younger groups of players, who came up through the levels together bringing real energy into the set-up.
"There are a lot of younger lads in the group, fresh energy in and around the place. Everyone is close, it is enjoyable to come in. There are groups here and there within the hotel that stick together, but everyone comes together at the end of the day.
"It feels like a youthful energy. There are lads who have played all the way up the age groups, the 21s, so it is a really enjoyable environment. There is positivity from everywhere and that can only stand us in good stead.
"The confidence out there is as high as I've ever seen it in an Irish team. It is just about knowing we can do it and just to believe that is how we want to play, and the more we do, hopefully, results like that [Scotland win] will come with more regularity."
Follow the Republic of Ireland v Scotland this Saturday (kick-off 7.45pm) via our live blog on RTÉ.ie/sport and the RTÉ News app, watch live on RTÉ 2 and the RTÉ Player, or listen to national radio commentary on RTÉ Radio 1
We need your consent to load this YouTube contentWe use YouTube to manage extra content that can set cookies on your device and collect data about your activity. Please review their details and accept them to load the content.Manage Preferences