A terrific Waterford performance earned them a deserved 3-2 victory against Dundalk and a place in the FAI Cup semi-finals on Friday night.
Paul Doyle fired Dundalk into an 11th-minute lead at the RSC after a long-range effort initially tipped onto the crossbar by Paul Martin before the ball bounced back into the net. But the First Division Blues - lifted by a passionate home crowd - came roaring back.
Shane Griffin levelled it up with a sweetly struck effort just after the half-hour mark, and then Darragh Power finished from inside the box in the 41st minute to turn the game on its head.
A wonderful 65th-minute strike from Phoenix Patterson put Waterford 3-1 ahead and though Keith Ward got one back deep into injury-time, it was too little too late for the Lilywhites.
It was a special night for a club that has endured its fair share of turmoil in recent years.
Last month Waterford were taken over by Andy Pilley, the man who has overseen the impressive rise of Fleetwood Town.
Pilley has a long-term vision and has vowed to bring much-needed stability to the Blues. Nights like tonight will certainly help to get the fans on his side.
"It's an amazing night for everyone involved - one that we knew we were capable of, but as everyone knows with cup competitions, you're not quite sure who is going to turn up," elated manager Danny Searle told RTÉ Sport afterwards.
"A outstanding team turned up tonight. It was a real solid performance across the board.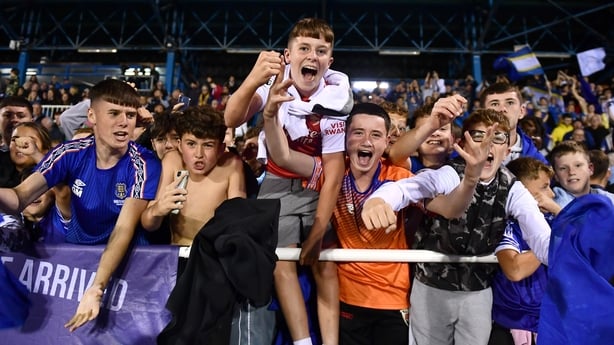 "I work with these lads every day. I've been fortunate to work at a very high level and you can see the talent in this group, the potential in the group, the desire in the group to be successful. That's an outstanding atmosphere and environment for me to be in. They are the sort of people I want tp work with.
"I said to them before the game, 'I'm not going to wish you luck because you don't need it - you just need to be the best versions of yourselves and if you do that we'll be in the semi-final of the cup'.
"As a whole this club is going places and we're all delighted to be part of that."
Waterford: Paul Martin, Darragh Power, Tunmise Sobowale, Killian Cantwell, Richard Taylor, Roland Idowu (Alex Baptiste 73) Shane Griffin (Yassine En-Neyah 85), Niall O'Keeffe, Junior Quitirna, Phoenix Patterson (Timi Sobowale 94), Wassim Aouachria (Raul Uche 85).
Dundalk: Nathan Shepperd; Lewis Macari (Keith Ward 70) Brian Gartland (Runar Hauge 60) Andy Boyle, John Mountney, Alfie Lewis, Steven Bradley, Paul Doyle (Sam Bone 36), Greg Sloggett (Ryan O'Kane 60), Robbie Benson (David McMillan 70), John Martin.
Referee: Neil Doyle