Vera Pauw believes that Ireland have been handed a very tough draw in the World Cup play-offs, however, the Republic of Ireland manager insists that her team have no fear travelling to either Austria or Scotland.
The Irish team finished their group campaign in second place behind top seeds Sweden, however, they managed to secure a bye through the first play-off round as a result of their top-three seeding among the nine runners-up.
As a result, Scotland and Austria will go head to head for a place in the second round, where the winners will meet Pauw's Ireland to remain in contention to qualify for the 2023 World Cup, which is being played in Australia and New Zealand.
A victory for Ireland in that fixture could result in automatic qualification, depending on results elsewhere – Switzerland and Iceland are currently the top two sides that will qualify with a second round victory – otherwise, Pauw's side would move into the final stages, the inter-confederation play-offs.
But for now, Pauw's focus is maintaining her initial goal of qualifying for the tournament, which means looking no further than the play-off, which is set to take place on Tuesday, 11 October.
"It's a very tough draw," said Pauw, speaking to RTÉ Sport following the confirmation of the play-off fixtures. "Both Scotland and Austria are really good teams.
"Austria in the Euros impressed me hugely. I have done one of their games for RTE, they are well organised, physically strong, they have a few extremely talented players, a strong striker and solid defence, if they get through it will be very, very difficult.
"Scotland, we all know how much experience they have, how dynamic they play, with players like Kim Little. We have huge respect for them. It could have been better, but we have to deal with it, we have to go for it. And we will. We will be ready on 11 October."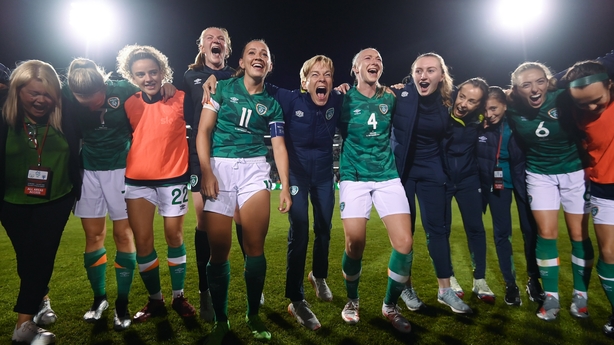 Pushed for a preference, Pauw was non-committal but instead stressed the fact that both sides have different styles and would present their own challenges to Ireland in whatever scenario presents itself.
The Ireland manager did concede, however, that it would be nice to return to her old offices at Hampden Park should they face Scotland – Pauw was manager of the Scotland national team from 1998 to 2004.
"Not really," said Pauw, when asked had she any preference in relation to her opponents. "They're both more experienced.
"Austria's strength is their organisation. They're very solid in their team set-up, both defending and in attack. There are not any weak points.
"Scotland is more dynamic, faster in their play, with more variety in their play than Austria, but have extremely good players that can break down a defensive line. There are two different styles but equally good.
"They're both, in their own way, very, very good. They both know how to win games.
"The only thing is that if we play Scotland I just heard that we would play at Hampden Park and my office has been there for four years so that would be special.
"But the teams themselves, we only know after the game. They are both equally very good teams and it's a tough draw but we'll go for it and we'll be ready for it like we are for any game."
Either way, Pauw's side are on the road for the vital encounter, having been drawn as the away team in the play-off, and the Ireland manager said that it does not make a difference to the way her side plays, whether home or away.
"We don't fear away games, I'll say it like that," said Pauw.
"We are confident because we play tasks, and that is no difference home or away.
"But we will miss of course the drive of the crowd and everything they put in to help us over the difficult times.
"Again, we have to deal with it, we have to go out and be our very, very best on that day."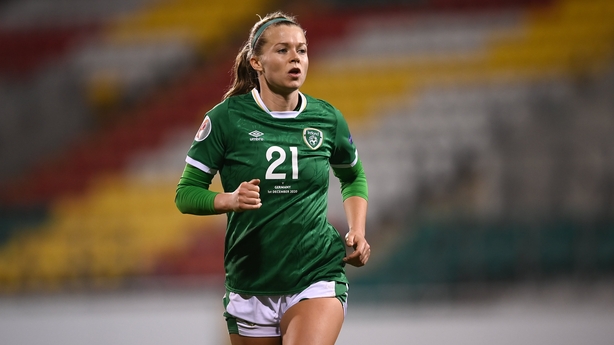 Pauw revealed that both Ruesha Littlejohn and Megan Connolly will both miss the vital game, however, she is hopeful that Niamh Fahey will be fit and available for selection, while adding that her team would take part in a friendly match with a schoolboy selection on the Thursday ahead of the game to help with preparations.
The manager is also expecting there to be no problems with Heather Payne getting released from her University team for the game, despite the colleges having no obligation to do so in relation to FIFA international windows.
"Due to the strategy that we've chosen, we can fill those gaps," said Pauw. "But we should not underestimate their qualities, of course. They have both been very crucial the whole campaign in building and carrying this team. It's a real blow but we have to do without them."
"We hope so," said Pauw, when asked whether Payne would be available. "I don't think that any Uni would hold her back from a game like that.
"But we all know with the problems with the colleges. The college system is not related to FIFA so the FIFA windows, it doesn't oblige the college to release the player.
"I hope the University will understand that this is a game of her life that they will not block her from joining Ireland at any stage."
Three games will take place on 11 October to determine which two teams go straight through to the World Cup, and Ireland's fine finish to the campaign is now reaping its rewards by avoiding the first round games.
All the focus will be on the Ireland game, of course, but Pauw knows that other results could certainly help her side, if victorious, by avoiding the inter-confederation play-off.
"You can see by the draw, we could have drawn Austria in the first round, or Scotland and that is what we are avoiding now," said Pauw, when asked about the importance of the momentum at the end of the qualifying group.
"So we are absolutely sure that it is in our own hands to win that second round game, and that will be very tough. But what we have achieved with those two wins is that, at least, we have 90 minutes plus extra time to qualify, and whether it is through New Zealand or straight to the World Cup, we will see that after the game. But the key thing is that we have one game, a final, and it comes down to that.
"Of course, Switzerland have the best draw, I think with the winner of Bosnia/Wales as their opponent, but it's good the other way around, Iceland have the toughest draw.
"If they lose points and we are somehow able to win, it's straight through to the World Cup, which would be fantastic."