Tim Clancy used his substitutes bench to great effect as St Patrick's Athletic stretched their winning streak to five games in defeating Drogheda United at Head In The Game Park.
The feat was all the more impressive given Pat's were forced to play the game with 10 men for over 70 minutes after Anto Breslin's third career red card.
Substitute Mark Doyle broke the deadlock and another replacement, Tunde Owolabi, won an injury time penalty, scored by Chris Forrester. In scoring, he did what Eoin Doyle had failed to do early on.
The Saints join champions Shamrock Rovers, Derry City and Dundalk as the teams to have strung together a five-game winning run this season. The three points mean Pat's interest in Europe next year may not hinge on a fourth-place finish and FAI Cup outcome. They remain in touch with the sides above.
Pat's, who had taken 19 points from 24 available against the Drogs since the start of the 2021 campaign, arrived searching for that fifth straight league victory – a feat they hadn't accomplished in over seven years.
They fully deserved it and Clancy can elicit great satisfaction in the way his changes impacted on the game. Standing in the way of a sixth straight win is a formidable looking Derry City next week.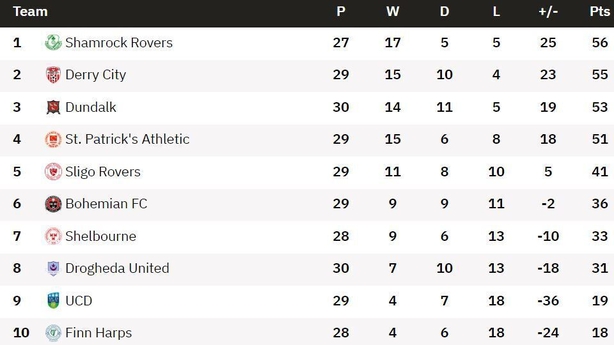 Just four minutes had been played when referee Sean Grant pointed to the spot for the visitors first penalty of the game. Evan Weir was adjudged to have handled Serfe Atakayi's cross. Doyle was denied by a superb Colin McCabe who dived low to his left and saved.
Grant was involved again soon after when Breslin was dismissed. He foolishly raised his arm to Luke Heeney and the Drogheda man hit the ground. No one argued with the colour of the card.
The game was scoreless in half time and given both teams respective records on that front this season, it was hardly surprising. The break signalled a 22nd time in 30 games this season that United had failed to score in the first half. It was also the 21st occasion in 29 that the Saints have kept a clean sheet at the interval.
Clancy introduced Mark Doyle and Barry Cotter and both players contributed as Pat's took the game to the hosts, instead of retreating with one man less. The opener arrived on 70 minutes. Mark Doyle headed in after Joe Redmond's knock down from a Forrester free kick.
Atakayi had gone close too, which is more than can be said for Drogheda. They competed but as in Sligo last weekend, they were blunt in the final third. In the final minute of injury time, Tunde Owolabi went down under an Andrew Quinn challenge. Grant pointed and Forrester found the corner.
Drogheda United: Colin McCabe; Luke Heeney, Andrew Quinn, Evan Weir, Georgie Poynton (Dane Massey, 76); Gary Deegan, Darragh Nugent (Chris Lyons, 71); Dylan Grimes (Adam Foley, 69) , Darragh Markey, Dayle Rooney (Ryan Brennan, 69); Dean Williams.
St Patrick's Athletic: Danny Rogers; Harry Brockbank, Joe Redmond, Tom Grivosti; Sam Curtis (Barry Cotter, 46), Thijs Timmermans (Mark Doyle, 46), Chris Forrester, Adam O'Reilly, Anto Breslin; Serge Atakayi (Tunde Owolabi, 87), Eoin Doyle (Jamie Lennon, 75).
Referee: Sean Grant