The Republic of Ireland finished their group campaign with a 1-0 win in Slovakia to ensure they will go straight into round two of the World Cup play-offs.
Denise O'Sullivan's well-taken goal in the first half settled a dour contest and ensured Ireland are one of the three best-ranked sides of the nine who made the play-offs, thus bypassing round one.
The draw will be made this Friday lunchtime, so, from Wednesday onwards, it's fair to assume this game will fade very quickly from the memory.
It was poor fare. Ireland, as happened in Dublin when the sides met last November, found the going tough against dogged opponents intent on disrupting their opponents' rhythm whenever possible.
They made a decent fist of it, but ultimately O'Sullivan's flash of quality broke Slovakia's resistance and Ireland showed enough nous thereafter to see it home.
Not pretty, but job done and now Pauw's resilient charges can finally relax before discovering what exactly a massive October holds in store.
THERE IT IS!
Denise O'Sullivan with the finish after a break by Jess Ziu left Heather Payne with the chance to cutback to the in-form midfielder#rtesoccer #SVKIRL
📺 Watch - https://t.co/aR8cFzAlWf
📻 Listen - https://t.co/pKRq9dYQiN
📱 Updates - https://t.co/TYLVoUyJ72 pic.twitter.com/0ZryFNcvZu

— RTÉ Soccer (@RTEsoccer) September 6, 2022
Pauw had to shuffle her back line again as Claire O'Riordan and Harriet Scott came in to replace Megan Connolly, who suffered fractured ribs and a bruised kidney against Finland, and the suspended Jamie Finn
Last Thursday's match-winner Lily Agg earned a fist start, taking her place beside O'Sullivan in the middle of the park.
Following what Pauw described as "a huge emotional explosion" at Tallaght Stadium last Thursday night, Ireland had to adjust to the relatively docile surrounds of NTC Senec.
The Slovak FA's training centre, which holds just over 3,000 people, was sparsely populated, and that meant every roar and holler from the players could be heard in a scrappy opening.
Ireland tried to fashion space for Jess Ziu and Megan Campbell on the flanks but the organised Slovakians frustrated the visitors in a first quarter pockmarked by misplaced passes and hurried decisions.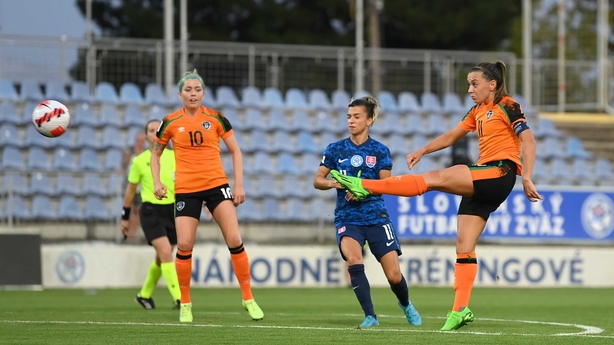 McCabe's attempted cross/accidental Garryowen looped about 30 yards into the sky before Korenciova confidently caught it under her crossbar as the opening 20 minutes tumbled by without major incident. Indeed the first shot in anger came from Slovakia - Dominika Skorvankova driving a low effort a couple of yards wide.
McCabe swiftly responded with a decent right-footed strike from the edge of the area that Korenciova gathered and Ireland did turn the screw as the half wore on.
Ziu was busy, Payne was a willing outlet, and O'Sullivan had a strike charged down in the box, but Ireland generally looked overly anxious in possession as a dogged Slovakia successfully broke up the game.
It was no surprise therefore that Ireland's best chance came from a set-piece.
McCabe's out-swinging corner on 33 minutes was knocked down by Louise Quinn for Caldwell, who screwed a half-volley wide from eight yards out.
It was starting to feel like one of those nights but, having huffed and puffed without much success, Ireland finally cracked open Slovakia to get the breakthrough eight minutes before the break.
Great work from Ziu allowed O'Sullivan to dart at the heart of the defence. She fed Payne on the right and after the striker's low cross wasn't dealt with, O'Sullivan contorted her body to drill home a good finish.
One-nil up at half-time but with room for improvement, having only shaded possession 52% to 48% in the first 45 minutes, Ireland made a fast start on the turnaround.
McCabe twice whipped in two dangerous low crosses that caused panic, while Ziu continued to buzz around with intent, but the game sagged again.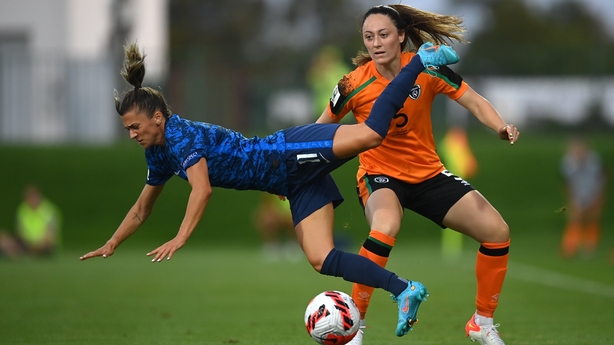 Slovakia stuck to their limited, if effective, game plan and Ireland didn't show enough quality to rise above it.
McCabe guided a lovely volley a yard over the bar after another Campbell throw unsettled Slovakia's defence. A minute later, Diana Lemesova slid in with a reckless tackle that left McCabe writhing in agony on the turf. Lemesova was booked; McCabe was, thankfully, okay to play on.
O'Riordan almost killed it off when Agg's 74th-minute knock-on dropped to her in the area and her side-footed effort was knocked off the line.
Having shown little ambition for most of the game, Slovakia did have a bit of a go in the closing stages. Tamara Moravkova had a pot shot from distance that sailed over, while Caldwell was perhaps fortunate not be penalised for what looked like a body check right on the edge of the box.
It all felt unnecessarily nervy, but in the end Ireland saw it home.
On 11 October they will play the game of their lives for the prize of their careers: a ticket to the World Cup and first ever major tournament qualification. It's been some journey.
That's the moment when @faireland confirmed their place in second round of 2023 World Cup qualification play-offs#rtesoccer #SVKIRL
📺 Watch - https://t.co/aR8cFzAlWf
📻 Listen - https://t.co/pKRq9dYQiN
📱 Updates - https://t.co/TYLVoUyJ72 pic.twitter.com/jzSEumDF3G

— RTÉ Soccer (@RTEsoccer) September 6, 2022
Slovakia: Maria Korenciova; Kristina Kosikova, Jana Vojtekova, Diana Lemesova, Patricia Fischerova, Andrea Horvathova; Ľudmila Matavkova, Dominika Skorvankova (capt), Maria Mikolajova, Martina Surnovska, Patricia Hmirova (Tamara Morávkova 72 mins).
Republic of Ireland: Courtney Brosnan; Harriet Scott (Ellen Molloy 68 mins), Claire O'Roiordan, Louise Quinn, Diane Caldwell, Megan Campbell; Denise O'Sullivan, Lily Agg; Jess Ziu, Heather Payne (Leanne Kiernan 83 mins), Katie McCabe (capt).