Bohemians v Shamrock Rovers, Dalymount Park, 7.45pm
The latest instalment of the rivalry sees both sides on radically different trajectories. Shamrock Rovers are cantering towards a third successive league title and facing into an exciting and highly lucrative autumn of European football.
Bohemians, meanwhile, begin life after Keith Long in sixth position with both Shelbourne and Drogheda United nipping at their heels. Long was lauded for enabling Bohs to punch above their weight for the bulk of his eight-year tenure, amid high player turnover and a comparatively thin budget.
However, following on from last season's Cup final disappointment, performance levels dipped in 2022, Bohs slumping to the bottom half of the table. Top scorer Georgie Kelly, club captain Keith Buckley, Andy Lyons and Ross Tierney had all departed following the Cup final loss. Highly rated midfielder Dawson Devoy subsequently departed for MK Dons mid-season.
Last Monday's 3-1 loss at home to St Patrick's Athletic marked the final act for the Long regime.
Trevor Croly and Derek Pender take charge on an interim basis for tonight's game.
During Long's tenure, Bohs established a famously lengthy hoodoo over Shamrock Rovers from summer 2017 until the autumn 2019, winning seven of eight games and drawing the other.
This run finally fizzled out and it has gone into reverse since then, the rivalry now corresponding to wider form, Shamrock Rovers winning seven of the past 10 league fixtures, including all three meetings this season.
In the previous encounter at Dalymount last April, ex-Bohs players Lyons and Danny Mandriou scored in a 3-1 win.
It was confirmed this week that Lyons, the scorer of the home winner against Ferencvaros, was moving on again, heading for Blackpool at the end of the season. Stephen Bradley says they fought hard to ensure the midfielder would see out the current season in Tallaght.
"There wouldn't have been a deal to be done if that wasn't the case. Stephen McPhail has been dealing with that for a number of weeks, and we were adamant that Andy stayed on.
"Blackpool wanted him now, but it was really important that we kept him for what is an important run-in for us, we're delighted that he is here for the remainder of the season."
Dundalk v Shelbourne, Oriel Park, 7.45pm (Live on RTÉ2)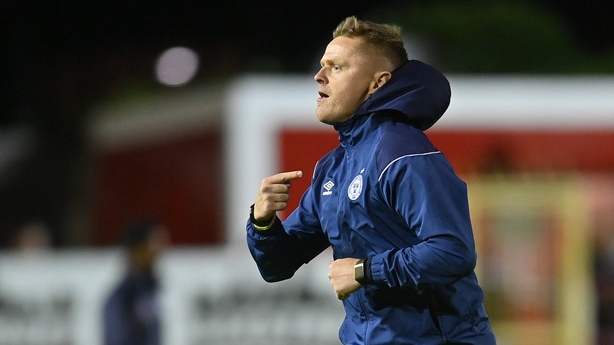 Dundalk's rather faint designs on a title challenge were cut down in ruthless fashion just under a fortnight ago, a slick and efficient Shamrock Rovers burying them with three goals on the counter, Aaron Greene, Richie Towell and Rory Gaffney finding the net.
Stephen O'Donnell, after his contentious exit from St Pat's late last year, has re-energised a Dundalk side that had been drifting towards mediocrity prior to his arrival.
Shelbourne have all but consolidated their place in the Premier Division for next season, though they are a month without a win, the last coming at the UCD Bowl in mid-July.
Duffer was in combative mood this week, noting that he'd heard tell of the suggestion that Shelbourne had underachieved in 2022, proceeding to brand the idea as "crazy talk" and "absolute nonsense".
Shels, Duff said, were a "full-time team on a part-time budget", hailing his players' commitment and indicating, intriguingly, that investment levels would rise ahead of the 2023 season.
Reflecting on the 1-0 loss to Derry last Monday night, Duff says his players won't find it difficult to refocus ahead of the next game: "We were a bit flat, can probably understand it, a tight turnaround from Bonagee away, we're managing players' loads, we've a young squad but they've prepared well, they're ready for another quick turnaround and lads need to be back on it, it's live on tv, it's a big game for us, we have our own aims and ambitions for what we want to do over the coming weeks, confident we'll see our guys motivated and ready for it."
St Patrick's Athletic v Finn Harps, Richmond Park, 7.45pm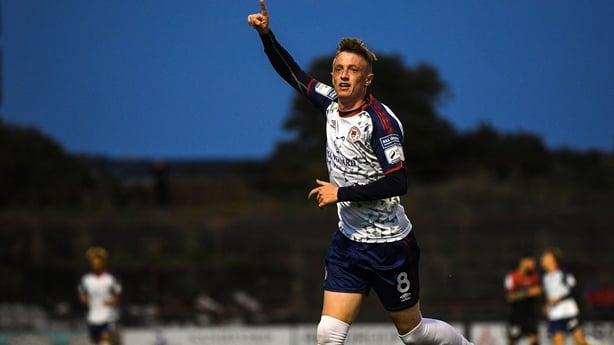 August may have been marked by European heartache, the sickening aggregate loss to CSKA Sofia being followed by some post-match unpleasantness. However, in the league, they've been motoring ahead, collecting 13 points from 15 since their most recent Premier Division loss, at home to Shamrock Rovers in late June. The recent spurt has put Tim Clancy's side in command in the race for fourth - and thus European football - with Sligo Rovers now seven points adrift in fifth.
The Inchicore side are even closing in on Dundalk and Derry in front of them. If their form holds, a second successive runners-up spot - albeit a distant one - may not be out of the question. They had the honour of formally ending the Long reign in Dalyer on Monday, Barry Cotter, Chris Forrester and Adam O'Reilly plundering goals in a 3-1 win.
"After getting a taste for European football, we are desperate to play on that stage again next season," said Clancy.
"By winning our last three league games, we have done our ambitions a power of good.
"Finn Harps are a very good side. They consistently punch above their weight and Ollie has a special ability to pull out results in the closing round of games each season.
"We have nine games remaining, and the target is to collect as many points as possible and hope that it secures a place in Europe. Just four points separate Derry City in second and ourselves in fourth."
Finn Harps, resilient as ever, responded to the alarming 2-1 loss in the Belfield six-pointer by beating Sligo Rovers in the North-West derby, climbing off the bottom again thanks to a 3-2 victory. Ryan Connolly was sent off in the final 20 minutes - as was Ollie Horgan, needless to say - but Harps clung on for a vital win.
It was their second win in three games and only their fourth all season, the 3-0 home demolition of Drogheda United in early August their first league win in over three months. An away game against an in-form Pat's may be a bit above their current pay-grade, however.
Assistant Manager Gavin Dykes said: "We'd a vital win in our last game against Sligo and we probably could have done without the week off in a lot of ways to try and maintain that momentum.
"Regardless, we are where we are and we need to be pushing for results in every game from now to November to give us a shout of remaining in the league."
For the hosts, Mark Doyle returns from suspension, Tom Grivosti is recovering well from a knock picked up in training last weekend while Adam Murphy is ruled out due to a hamstring injury.
Harps are without David Webster through injury, while Filip Mihaljević, Regan Donelon, Ethan Boyle and Rob Jones are all doubts. Ryan Connolly and Ryan Rainey miss the game through suspension, while Ollie Horgan himself will be perched in the Richmond Park stand due to his sending off against Sligo.
Derry City v UCD, Ryan McBride Brandywell, 7.45pm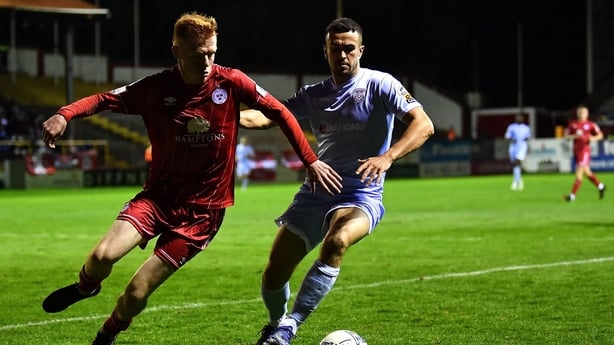 Derry nudged back into second spot in the table following their 1-0 win at Tolka last Monday, Michael Duffy catching the eye on his return to action.
The 28-year-old, signed from Dundalk last year, has endured an injury-riven season. "I'm not mystic Meg," the always phlegmatic Higgins responded, when asked if Derry might have a greater fist of the title challenge had Duffy been available before now - "but we'd definitely be closer (to Shamrock Rovers). That's pretty obvious."
Derry, after a whirlwind start in which they downed the Hoops on the second weekend, saw their title challenge taper off badly midway through the season. Dundalk would eventually pick up the baton as the main challengers, before their own form ebbed.
The Candystripes are unbeaten in the last 10 games - dating back to their 2-1 loss to Sligo in late May - but six of those games have been draws. Not enough to keep pace with the leaders.
Tonight, they will be highly fancied to take three points against bottom-placed side UCD, currently involved in a ferocious scrap for survival against Harps. The students appeared a hopeless case in the early days of the season but they've proved more resilient since then.
Derry boss Higgins is wary of their threat, pointing out that they are indeed a Premier Division team.
"They've improved dramatically since they were last here, without doubt," the Derry manager said
"We've seen in the Cup this season that any team is capable of beating another. UCD are a Premier Division team and we have prepared for the game as we have for every other."
"We have to be completely focused because if we're not, they will beat us."