Shelbourne have hit out at what they called the "unfair" decision to postpone Sunday's scheduled Airtricity Premier Division game between against St Patrick's Athletic on Friday night.
The game was called off after the Saints became stranded in Bulgaria following their famous Europa Conference League win over CSKA Sofia on Thursday night.
The Dublin outfit were unable to secure a charter plane home and the FAI have confirmed that the league encounter is off as Tim Clancy's side don't expect to be back in Ireland until Sunday morning.
"Following tonight's confirmation from St Patrick's Athletic that their squad will not return to Ireland from their recent European game in Bulgaria until Sunday morning, it has been decided that the SSE Airtricity Premier Division game between Shelbourne and St Pat's on Sunday afternoon, 7 August, at Tolka Park will now not go ahead as scheduled," an FAI statement on Friday night read.
"The FAI will now review this matter internally and a further announcement will be made in due course regarding next steps."
Shelbourne, however, have hit at at the decision in a statement released on Saturday evening.
"Shelbourne FC learned late on Friday that Sunday's game against St Pat's has been called off by the FAI due to St Pats being unable to fulfil the fixture as a result of their travel plans," it read.
"We note that the FAI will now review all of the facts in front of them and determine next steps and that they will contact us accordingly to discuss further.
"We trust this review will recognise that rescheduling would cause a further fixture backlog for Shelbourne FC. As it stands, we have had just two home games in 3 months.
"Equally, it is incredibly unfair on our supporters, volunteers and the Gardai to have had Sunday's game called off at short notice, especially considering that this fixture had previously been rescheduled from Friday.
"We share our supporters' frustration at the inconvenience this has caused to everyone at the club."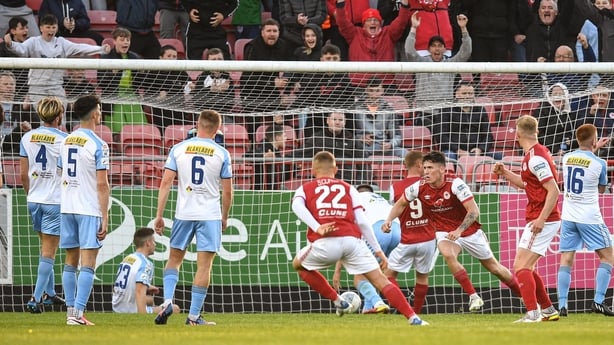 St Pat's upset the odds in Sofia thanks to Serge Atakayi's late strike. Over 4,000 tickets have already been sold for Thursday's second leg at Tallaght Stadium.
The Saints said in a statement on Saturday morning that under UEFA regulations they were required to hire their own plane rather than use commercial flights and had been unable to secure return passage.
"We appreciate the FAI's understanding of the predicament that we find ourselves in and their sensible decision to call off tomorrow's fixture.
"Under UEFA regulations, the use of charters is mandatory from the third qualifying round on. Because of the current difficulties in the aviation industry, which are well known, we and our travel brokers have had immense difficulty sourcing charters, the result of which has left the players and staff in Sofia and not in a position to return to Dublin until the early hours of Sunday morning.
"Throughout the week we appraised the FAI & UEFA of our predicament and were grateful for their assistance. We understand many fans would have been looking forward to the game, we regret that this fixture is not going ahead as scheduled due to these unprecedented circumstances."