Republic of Ireland defender Louise Quinn believes the afterglow from Euro 2022 will boost Irish women's football exponentially.
The tournament's much anticipated final will take place at Wembley on Sunday (live on RTÉ2 and RTÉ Player) between hosts England and record European champions Germany.
While Ireland are yet to qualify for a major tournament, Vera Pauw's side have made great strides on that front and currently occupy the second-place play-off spot in their qualifying group on the road to next year's World Cup with crucial games against Finland and Slovakia to come in early September.
Quinn has been part of those efforts and feels Irish soccer will benefit from the proximity and promotion of Women's Euro 2022.
"It's down to many Irish players playing in the WSL or the Championship and I think the fact that RTÉ have made every game accessible and the fact that it's the neighbouring country. Travelling over to go watch the games live is huge as well and actually giving people that chance to be in and around that atmosphere," Quinn told RTÉ's Saturday Sport.
"For me it's absolutely going to have a knock on effect and I think that has really shown in the fact that we were able to sell out Tallaght in hours and it's something there that people have really caught onto this football fever and tournament football and it's only going to benefit the fans but also hopefully players that want to make a career out of football.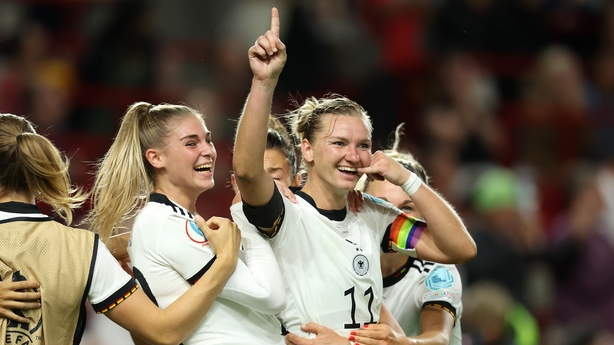 "What this Euros is doing, especially just being across the pond, is massive."
On the Euro 2022 final, the well-matched nature of the two sides makes it hard to call a winner, Quinn said, although she believes England have been the most impressive team at the tournament despite a slight Achilles heel in how they start games.
"But just what the Germans do, they know how to win," she said.
"If Germany can get an early goal, I would only say England's biggest downfall so far has been just how they start games, it's just been slightly slower. They've let teams in just a little bit and it hasn't worried them up to now and they haven't conceded barely any goals off of it but teams have created chances and just what we've seen from Germany is that they put away their chances.
"Alex Popp, she's been waiting for this moment for years and she's grabbing it with both hands and taking it and running with it so England have to start really well because I think Germany are going to come out of the traps and know that England have started slightly slower in some games and the Germans don't let the game away out of their grasp too much.
"If they can get an early goal, it will make it hard for England to break them down because they know how to win tournaments. They've won it eight times and have never lost a final."
Watch the Euro 2022 fina, England v Germany, on Sunday with RTÉ Sport. Live television and streaming on RTÉ2 and RTÉ Player with news and a live blog on RTÉ News app and on rte.ie/sport.