On Sunday in Turkey, Ireland warmed up for their upcoming 2023 FIFA World Cup qualifier with a 1-0 friendly win over the Philippines.
"Warm" is an apt term given the conditions Vera Pauw's side are likely to face when they touch down in Tbilisi for next Monday's fixture.
The Irish side will be heavy favourites to pick up a crucial win after earning a record 11-0 win in the home fixture last November and it would be a much-needed result to lift them back up to second in their group before two vital September showdowns against Finland and Slovakia.
But the challenge in the away game, which will be live on RTÉ2 and RTÉ Player, will be somewhat different according to coach and RTÉ Soccer analyst Lisa Fallon.
"To put some context around the result in Dublin, while it was the biggest win for an Irish women's team in history and [the 11-0] will help massively if goal difference becomes a deciding factor, we have to bear in mind that Georgia had a lot of Covid issues at the time and it wasn't their full-strength squad," she told this week's RTÉ Soccer Podcast.
"They were missing a number of key players and also they had some players in the camp who had just recovered from it.
"And if you look at the results of teams who have travelled to Georgia, they weren't big scorelines. They're a team that doesn't travel particularly well but at home it's a difficult place to play."
Listen to the RTÉ Soccer podcast on Apple Podcasts, Spotify or wherever you get your podcasts.
We need your consent to load this YouTube contentWe use YouTube to manage extra content that can set cookies on your device and collect data about your activity. Please review their details and accept them to load the content.Manage Preferences
Temperartures are expected to soar by the day the match kicks off which throws another challenge into the mix for Ireland.
"It looks like it's going to be 31 or 32 degrees," said Fallon.
"It's an early enough kick-off, early in the day so Ireland are over in Turkey at the moment to acclimatise.
"They had a friendly against Philippines this week to help that process. It's hard just to breathe [in those temperatures], get the air into your lungs and get your second wind early in the game."
Between that and the expectation that Georgia will defend deep to try and make it difficult, Fallon believes Ireland will have to be patient.

"Having said all that, this is a game Ireland would be expected to win," she said.
"This is a game where Ireland are facing a team that's going to play in a low block.
"They're going to need creative players on the pitch, they're going to have to be patient, learn to weather the weather and just taking the opportunities when they come.
"Because it's the type of game where the longer it goes on, the more difficult it can become.
"But the squad is fresh, they're out of season and almost doing a bit of a pre-season in Turkey at the moment, so they're finding their rhythm.
"If Ireland can get an early goal, it can be great. But I think it might be a game for a bit of patience and even a game where we struggle to break them down that the bench could be really important in it."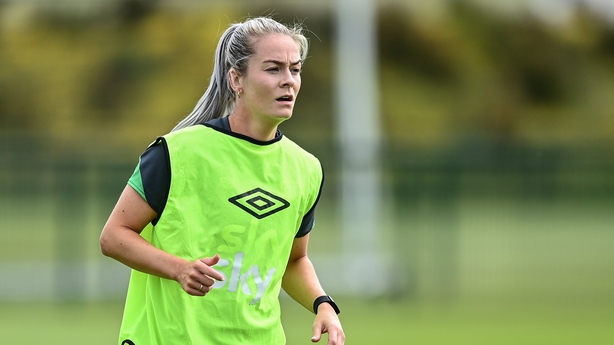 Fallon pointed to the recently recalled Stephanie Roche as a player who could offer the required spark but also highlighted Lily Agg, who scored the winner on her debut against the Philippines.
"She's a player I had at London City Lionesses," said Fallon of Brighton-born Agg.
"I remember when she heard that Hayley Nolan and Alli Murphy had been called up, she was in knocking on my door going, 'Do you know I've got family in Cork?'
"And I said, 'No, I didn't but I'll let Vera know'. To be fair to Lily, she had some fairly severe injury issues to come through, got herself through them and got back playing.
"I told her, 'Look, Vera's watching you' so she had a great incentive. I was talking to her the other day and she said it was a big moment for her mam and her grandad.
"I think there were a few tears in the house when she made her debut and scored. Lily is a creative midfielder, she's quite abrasive, takes no prisoners and will get around the pitch, so I think she's a great addition."
Watch Georgia v Republic of Ireland live on Monday 27 June on RTÉ2 and RTÉ Player from 5pm as well as a live blog on rte.ie/sport or on the RTÉ News app
We need your consent to load this rte-player contentWe use rte-player to manage extra content that can set cookies on your device and collect data about your activity. Please review their details and accept them to load the content.Manage Preferences