Republic of Ireland goalkeeper Courtney Brosnan admitted her pride in the wake of her stellar performance in the landmark 1-1 draw with top seeds Sweden in Gothenburg last March.
The New Jersey-born Irish keeper was a commanding presence, making a string of saves throughout the second half to maintain the visitors' unexpected one goal lead until the Ireland goal was finally breached, Kosovare Asllani firing home the equaliser ten minutes from time.
However, Brosnan was called upon to make further saves as Ireland survived the closing stages to hold out for a famous draw against the side ranked second in the world.
While Brosnan's form has been sound throughout the current campaign, the game in Gothenburg represented the ultimate redemption after the harrowing conclusion to Ireland's ill-fated Euro 2022 qualification campaign.
In the critical game in Ukraine, which eventually cost Ireland qualification, Brosnan was involved in a mix-up with full-back Áine O'Gorman, which resulted in the latter's own goal.
Brosnan was subsequently dropped for the final game of the campaign against Germany, replacement Grace Moloney coping admirably in the 3-1 loss.
But the Everton keeper has scrapped her way back into the box-seat in terms of the goalkeeper position, the performance in Sweden a vindication of Vera Pauw's faith.
"Obviously, I'm really proud, proud of the team and proud of myself," Brosnan told reporters.
"It was a great atmosphere there, to play in front of so many fans. That's something you don't take for granted. We realised how special it was to put in a performance like that in front of a crowd and get important points in the qualification process.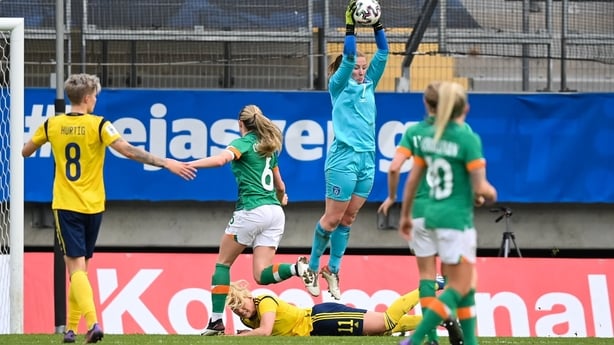 "You don't really think about it like that when you're playing or while it's happening. You're focused on the task at hand and you take everything as it comes at you. I don't think I was realising or looking about the bigger picture until after the game.
"There was full focus on getting the result and doing what was necessary for the team, whether that's making one save or ten saves. I really just tried to be that calm influence at the back and do everything I could to help us get the result."
Brosnan insists that her self-belief wasn't shaken by the mishap in Kyiv or the subsequent loss of the goalkeeper jersey.
"You have that inner belief in yourself, always. You know what you're capable of and what you can do. It's nice to put in performances that prove that as well. It's all just building blocks and moving in the right direction and saying you have the tools and the capabilities to be here, which is reassuring and nice to see.
"I don't think as an athlete, you need to look for concrete evidence all the time. You have to create that within yourself and have that desire and that inner belief, no matter what might be happening. It's nice to have some evidence but I wouldn't say it's necessary for your self-belief."
With the competition hot for the number one jersey, Brosnan has a new rival to contend with as Ireland prepare to face Group A cannon fodder Georgia in Gori on Sunday.
Durham Women keeper Naoisha McAloon, a former WNL winner with Peamount United, has earned her first call-up, one of four keepers, alongside Brosnan, Grace Moloney and Brighton's Megan Walsh.
"I've been at one or two camps with Naoise, home-based. It's great to have her in for a full-camp here and a competitive game coming up.
"She's a great addition and it just shows the quality of goalkeepers here. We've to keep working and there's people pushing to get into the team. She's good craic to have around the place also. I've said it a million times before, we have a great goalkeeper squad."
Ireland dispatched the hapless Georgians 11-0 in Tallaght last autumn, indicating that the weekend's game should be a routine assignment for a team with designs on qualification.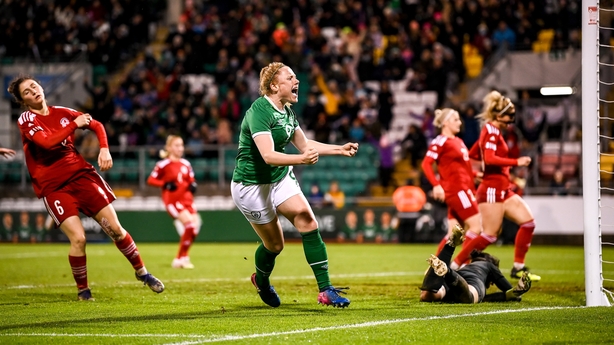 The hosts' results haven't improved in the interval, with a 15-0 defeat at home to Sweden and a comparatively respectable 6-0 loss to Finland in Helsinki.
The only complication for Ireland may be the heat, the team taking in a camp in Turkey at the weekend, in which they overcame the Philippines 1-0.
"It's been amazing for us to be able to adjust to the heat and get the sense of what it's going to be like in Georgia.
"Looking forward to being back together and getting a game under our belt. I think it was great that we were able to get that game. You kind of think you know how hot it's going to be. When you're here, you realise how brutal it can be.
"We're taking all the necessary steps to be prepared the best way we can. Everybody is aware it's going to be a stronger (Georgia) squad and a different challenge away from home and playing at a pitch that we don't know."
The latest world rankings took account of Ireland's recent run of results, elevating the side to 27th in the standings, their best position since 2008.
"We're trying to build something here. With the results we've gotten, we're taking steps in the right direction. It's great to get that recognition in the world rankings. We're taking that as a confidence boost but we're not being complacent and thinking the job is done.
Looming on the horizon is the ultimate goal, the possibility of reaching a first ever World Cup appearance, with Ireland currently boasting a slight advantage over Finland due to results in Helsinki and Gothenburg.
"Coming from a small country like Ireland that has so much passion, it would mean the world to me and all the girls," Brosnan says of the World Cup dream. "It goes without saying how big it would be for all of us."