Harry Kane believes boss Gareth Southgate is still the man to take England forward despite a 4-0 home defeat to Hungary.
Roland Sallai's brace was complemented by a thunderous Zsolt Nagy strike and - shortly after John Stones' red card - Daniel Gazdag made it 4-0 on a night when fans booed the team and chanted "you don't know what you're doing" at Southgate.
The second consecutive defeat to the Hungarians left England without a victory in four Nations League matches.
Southgate has credit in the bank after taking England to the 2018 World Cup semi-finals and the Euro 2020 final.
But his position has been questioned and, on whether Southgate was the right man, captain Kane told Channel 4: "Without any question. That's not a question I should even be answering if I'm honest."
Southgate insisted his young players will not suffer lasting damage from the "chastening" and "painful" Nations League defeat - calling for his critics to judge his side when it is at full strength.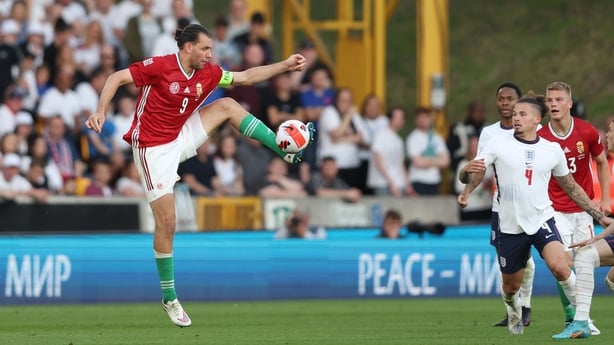 The England manager took full responsibility for the record-breaking loss, the first time they have suffered a home defeat by four or more goals without scoring.
At the end of a season which kicked off 311 days ago with the Community Shield, Southgate had to continually shuffle his pack as he also wanted to look at options ahead of Qatar.
"It's a chastening night," admitted Southgate.
"We've not lost not many football matches and when you lose so heavily at home, especially, with England that's going to be very, very painful.
"It was a difficult night for the players, I feel for them, because in the end, in the two Hungry games in particular, I pick teams where I tried to balance the squad, give young players opportunities and I didn't get the balance right to help them to be able to perform at the level that they needed to to win those matches.
"The responsibility lies with me on that but there was also a fact that it was really difficult to put the strongest team out in every game.
"So we used it to prepare for Qatar, some of those players are going to be beyond Qatar as well. But of course a night like tonight is really difficult and it's important that I take that off of their shoulders, because that's totally down to me."
Asked if he is still confident of World Cup success, he replied: "After a result like tonight, whatever my answer to that question is going to be open to ridicule.
"So I've got to get the balance right, that is what we're very clear on. What works for us, what gets results for us? What has got results for us, that didn't get that balance right in these games. But I think there are mitigating circumstances for that.
"We've always said we are one of a group of teams that can be pushing in the winter. I don't believe that's any different."