Homeward bound; just one more game on the road and Ukraine coach Oleksandr Petrakov will finally get to return to his family in Kyiv.
The end-of-season fixture list has taken Ukraine on a triple crown visit of Scotland, Wales and Ireland, the first two for World Cup play-offs, and the Dublin game their first outing in the Nations League.
The team then set up camp in the Polish city of Lodz for their final two games, beating Armenia 3-0 on Saturday before ending off their five-game haul against the Irish at the same venue, the LKS Stadium.
And for the time being, the national team coach feels right at home in the final leg of his side's extended summer series, having met up with friends and well-wishers in the Polish city following the Armenia victory.
"I can speak only for myself, but I will return home to Kyiv to my family," said Petrakov. "I love my country. I am going home
"It was my decision to play here, I feel this connection and it was incredible as a lot of people came to give support (against Armenia).
"After the game I was with some of my friends in the city centre, a lot of people came to see us and thanked us for the game and what we do, these emotions were incredible.
"I wanted to thank the Polish authorities for giving us the hotel, a place to play at home in, we feel this support from this country and we're very grateful."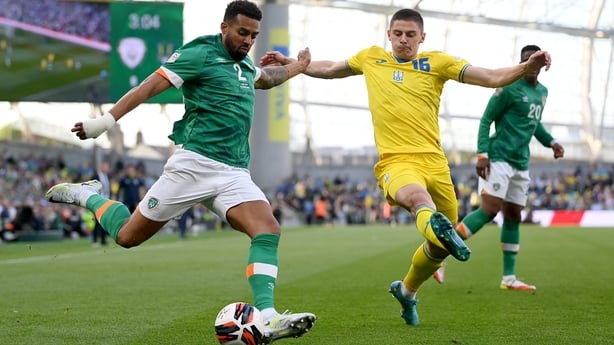 Everton defender Vitaliy Mykolenko joined the coach for the press conference and while he said he remains in contact with his family in Kyiv, it is not always easy to stay in touch with all his friends and relations throughout the war-torn country.
Mykolenko has been at Everton since before the start of the Russian invasion, and admitted that the conflict has made him put a lot of his own thoughts and beliefs into perspective.
"It wasn't that difficult a time for me," said Mykolenko. "Before the war, I thought that my problems were the biggest and now I realise they are small problems.
"When the war started, I would only think about my country and my team and do my best.
"My parents stay in Kyiv now and we keep in touch with them. My friends and relatives are in different places in the country and we try to keep in touch with them, but it is not always possible.
"But I keep in touch with all of them and thank God they are safe now."
Mykolenko also took a moment to pay tribute to Ireland captain and club team-mate, Seamus Coleman, who has made him feel very welcome since arriving at the Merseyside club.
"I will tell a short history. On 31 December, I met this person on the first day of training.
"New Year's Eve is for all Ukrainians a really great celebration. I was alone in the hotel and he wrote to me a message, 'I will always be there for you and if you need some help, just write me and I will be there'.
"For this whole five months, he has always helped me and was there for me. He is a great person and a great captain."
Follow Ukraine v Republic of Ireland (Tuesday, 7.45pm) via our live blog on rte.ie/sport or on the RTÉ News app. Watch live coverage on RTÉ2 and RTÉ Player commencing at 7pm
We need your consent to load this YouTube contentWe use YouTube to manage extra content that can set cookies on your device and collect data about your activity. Please review their details and accept them to load the content.Manage Preferences