Belgium boss Roberto Martinez is relaxed over the future of Chelsea striker Romelu Lukaku ahead of the World Cup.
Lukaku has been linked with a return to Inter Milan after a season of discontent at Stamford Bridge.
The 29-year-old striker, Belgium's record scorer with 68 goals in 102 appearances, was signed for a Chelsea club-record fee of £98m last summer but scored just eight times in the Premier League.
"When Romelu is with us he knows his role and he's always committed," Martinez said ahead of Belgium's Nations League visit to Wales on Saturday.
"In Belgium we are quite relaxed with Romelu's situation. I know it is a big topic, but at the moment he is trying to recover from the injury and that's the only thing he has in his mind.
"If he stays at Chelsea it will be for the right reasons. If he's moving away it will be because everyone agrees to it.
"Romelu is a player I know very well. I managed him at club level (at Everton) at a very young age.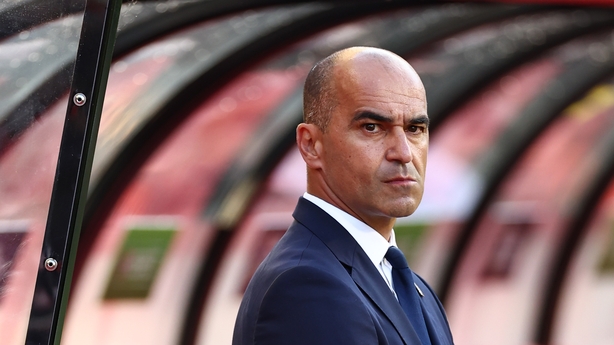 "He was 19 and had a very different position than he has now. Now he's a player who is very mature and very clear what he wants.
"He wants to be important and enjoy his football. I'm sure the decision in the summer will be the right one."
Lukaku gave an interview to Italian media in December citing a desire to return to Inter.
He has struggled to adapt to Thomas Tuchel's system since returning to Chelsea for a second spell, and Martinez said Belgium know how to utilise his strengths.
He said: "We just try to ask Romelu to do what he's exceptional at. Romelu's a sensational goalscorer and in the national team that's what we want.
"We want him to be the final man, in the right position, to be the one that hits the back of the net.
"We don't ask Rom to do things that he's not exceptional at. He's got an understanding with players that he's played with for a long time, and that is seen in his numbers."
Lukaku, Dries Mertens, Charles De Ketelaere and Amadou Onana are missing for Belgium as the Red Devils seek to build on Wednesday's 6-1 Nations League thrashing of Poland.
Martinez, the former Swansea manager who studied for his coaching badges with the Football Association of Wales, said he was delighted that Wales had joined Belgium at the 2022 World Cup.
He said: "It was a goal that I started hearing back in 2007.
"It's a wonderful story, wonderful work has been done in the Welsh FA.
"I saw young players in the under-21s with Brian Flynn - Aaron Ramsey, Joe Allen - and to see them finally qualify is wonderful news. I'm very happy for Welsh football."