Shamrock Rovers' Jack Byrne admits his desire to get back in the Republic of Ireland squad but his firm priority is his club form, in particular the upcoming European campaign.
Byrne was not initially included in Stephen Kenny's squad for this month's round of Nations League games but was placed on standby.
In any event, a calf injury picked up in a league game against Drogheda United ruled him out.
Byrne has four international caps to date since making his debut in a 3-1 friendly win over Bulgaria in September 2019, but hasn't featured since the 0-0 home draw against the same opposition in late 2020.
While he's largely been out of the international loop since his spell in Cyprus, many observers, Shamrock Rovers fans in particular, are adamant that Byrne's creative instincts in midfield are precisely what the national team are currently missing.
The two-time PFAI Player of the Season is philosophical, acknowledging that even without current injury niggles, he might not have got game-time against either Armenia or Ukraine.
"I can't say I would have been able to come on in any of the games or I would have been called up," Byrne told RTÉ Sport in a press call for the 'Lace Up With Pride' campaign.
"You'd love to play for your country, I've played before (for Ireland). It's really important to me to give my all so that I do have a chance of being called up again and being in and around squads.
"It was no foregone conclusion that I was going to be involved this time around.
"I obviously wasn't named in the squad, I was on standby. Of course, you want to be involved but I have to do my own stuff on the pitch, especially coming up to Europe.
"Massive games against good quality opposition. If I do well there, it's going to stand to me, whether that's internationally or just for myself and the club."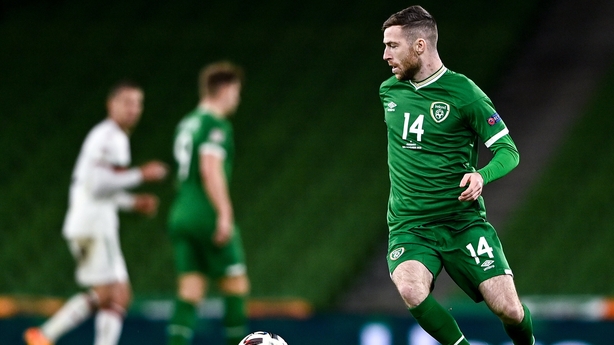 As for the result on Wednesday – another dispiriting Nations League loss – Byrne said he was as disappointed as any other supporter.
"Like every other Irish fan – because that's what I am at the end of the day – I'm just disappointed with the result. And hoping the lads can get a win on Saturday and next week as well.
"There's no easy games in international football. They (Ukraine) obviously are a really good side. I know they were missing one of two of their better players but they looked really good. They didn't look weakened to me. I'm sure lads will be disappointed but they'll want to get back out there straight away."
After an injury-ridden 2021, Byrne is concentrated on regaining the form that saw him light up the league in 2019 and 2020, gaining international recognition in the process.
"I'm feeling good to be back. I'm still nowhere near where I feel I can get to. I know myself in my own head the levels that I can get to. I certainly haven't been at those levels, although I've been doing well.
"Maybe my own expectation that I should be doing things I was doing before - when I had 20-30 games under my belt. I haven't that got that base under my belt in terms of that amount of games. I'm just building that up now. I have that base in my legs and am trying to kick on."
Byrne's injury is very short term and he will likely be back in time for the end of the mid-season break. After an indifferent start to the 2022 season, Shamrock Rovers have shot to the top of the league in the second quarter of the campaign, currently sitting eight points clear of a resurgent Dundalk, who do boast a game in hand.
This season's insurgent force, Derry City, now with substantial financial backing behind them, have slipped back in recent weeks.
The Hoops received a major fillip recently when manager Stephen Bradley, after a week of speculation, declined an offer from League One side Lincoln City to remain in Tallaght.
"We're delighted that Stephen is staying," says Byrne. "I'm sure everybody involved in Irish football can see the job he's done at Rovers and the group that he's built. Not only the team but the club itself.
"The club is really thriving and moving in the right direction. Stephen has a lot to do with that because he's been there a long time now. He's overseen the overhaul.
"He's certainly a manager that will move on from Shamrock Rovers and take a bigger job. He's a manager that can manage in Europe and at the highest level."
After confirming his decision to stay, Bradley said he'd spoken to club captain Ronan Finn in advance of making the call. According to Byrne, the manager had mentioned the speculation in passing to the squad as a whole but otherwise had maintained focus on the games upcoming.
"He told us when it was in the papers. He said 'look, this is in the papers' but we have games and let's not get distracted. The same way if it had been a player that had been linked with somewhere abroad. The manager was brilliant.
"I think we went out and beat Finn Harps on the Friday night and we were excellent. I think he confirmed that he was staying that day.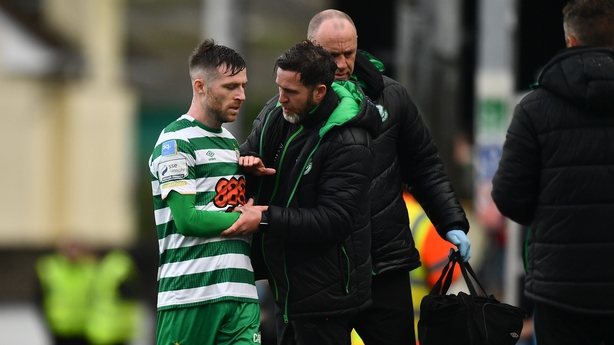 "I know Stephen well. I've worked under him for three years and I knew him for a long time before that. If there's one thing that Stephen does have is it's self-belief. He has a big set of balls, if I can say that.
"He backs himself. And he's backed himself to think that, 'I don't have to jump at the first chance that's been given to me, I can sit back and take all the information and assess things in my own way'.
"He wouldn't have taken the Shamrock Rovers job so young if he thought about what people think of him. He's really sure of himself. That's what we like about the gaffer."
With their three-in-a-row tilt currently on track, mounting a more extensive raid in Europe is the next frontier for the current Shamrock Rovers side. Last year's dispiriting 5-2 aggregate loss to Estonia's Flora Tallinn in the Europa Conference League was a bum note in an otherwise successful season.
Byrne himself has decent memories of European competition with Shamrock Rovers. During his stellar 2020 campaign, he delivered an eye-catching display in midfield against AC Milan in Tallaght Stadium.
While the calendar-year season has been thought to have boosted Irish sides' chances in Europe, Byrne pointed out that there are snags, noting that their opposition, still in pre-season, can be unknown quantity.
"If we (Rovers) drew a team from last year – who maybe were expected to win the league and they finished second or third - and you're looking at their games from last year and thinking 'they aren't great'.
"Look at Sheriff. Dundalk beat Sheriff. The next season they have a full overhaul and go and beat Real Madrid. It can be very hard to pinpoint who these teams have.
"They know who we have. Because they're watching us all year round from February. So, they'll know us. But it's very hard for us coming up against a team in pre-season, to know who who were coming up against."
As for matters domestic, Rovers, despite a recent hiccup against Drogheda, are in a commanding position due to strong form in April and May. Byrne's last campaign was the shortened Covid season of 2020, when the side ripped through the league unbeaten, sealing a first title in nine years. There's rather less swagger this time around but the table looks healthy.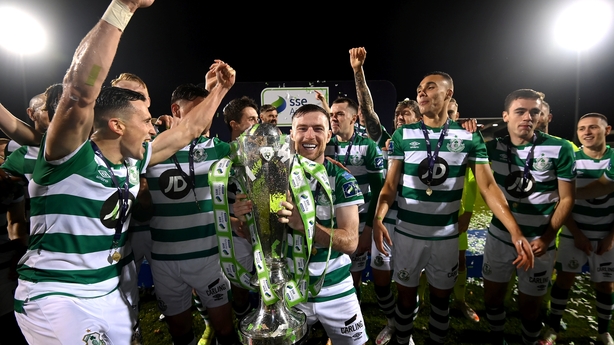 "It's a bit of a slower burn maybe. But we're top of the table at the break, with 18 games gone. The season that we went unbeaten, I think teams maybe saw that we were only four or five games away from winning the league. So, they probably said we can take our foot off the gas a little bit.
"Now teams realise it's a longer season. And they'll be trying to stay with us. We were trying to stay with Derry for a long while, now we've got ahead of Derry. Teams will be knowing it's a long season. There's no easy game in this league. We're prepared and ready to get down to the wire, if we have to."
Byrne was speaking as part of the 'Lace Up With Pride' campaign. Recently, Blackpool's Jake Daniels made global headlines becoming the first professional footballer in England to come out as gay since Justin Fashanu in 1990.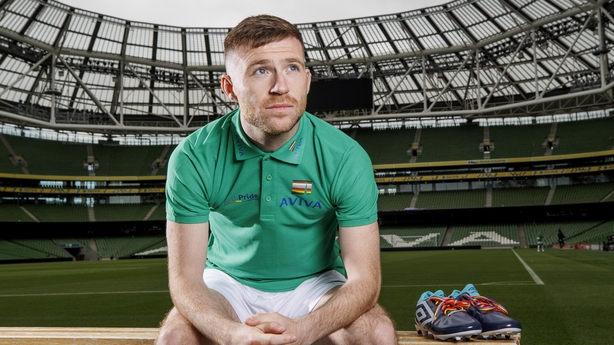 "No matter what job or walk of life you're in, I feel it's important that you can be yourself and be accepted in any work environment," says Byrne.
"I feel as if players, rightly so, feel they can be themselves. And even if there's abuse in the stands directed at the players, it's pointed out and can be dealt with. And you'll find it less and less coming into football grounds and football clubs.
"It's a credit to him (Jake Daniels) coming out. It's very rare that I've been in a dressing room where you've 30 lads that are the same. There's always lads coming from different walks of life. Most of the time, it's acceptable to be who you are. I think that's the main thing to take from this."
Aviva Ireland, proud sponsor of the IRFU, the FAI Men's and Women's National Football teams, and Aviva Stadium, was today joined by Republic of Ireland international footballers Jack Byrne and Jamie Finn, and rugby player Jack Dunne, to launch Aviva's #LaceUpWithPride campaign for 2022