Stephen Kenny is targeting a much-needed victory at the Aviva Stadium on Wednesday night as his side take on Ukraine in the UEFA Nations League.
Eleven games and counting now without a win for Ireland in this competition that was introduced by UEFA back in 2018 as a means of escaping the ennui of the meaningless international friendly fixture.
It all started with a 4-1 defeat to Wales in Cardiff during the final stages of the Martin O'Neill era, and while a Euro 2020 qualifying campaign prevented Mick McCarthy's short-term second coming from getting embroiled in the tiered tournament, the current manager's term has already endured its fair share.
Six games without a win to kick off Kenny's tenure, with a failed Euro 2020 play-off sandwiched in between, the Ireland manager was expected to put that dismal record to bed in Yerevan on Saturday.
A dominating first half, yet Kenny's side were unable to capitalise on their possession or territorial dominance, followed by a second half which saw the host team grow in confidence, grab their goal and hold on for a famous local victory.
All eyes on the Ukraine clash now as Kenny's side will look to stop the rot at eleven, and get back to the initial plan, which is to top the group and move on up to League A and the top table of European football.
"It is a different set of circumstances," said Kenny, when asked how he planned to fix the problem defeat in Armenia.
"We had enough chances to win the game itself. The first goal is obviously critical. We've seen that in Azerbaijan, getting an early goal and winning 3-0. Luxembourg, getting a goal and winning 3-0.
"We had chances to score, several in the first half, obviously we had chances in the second half although they weren't as clear cut, but we still had chances.
"They defended well against us, and we only have ourselves to blame in that regard.
"Ukraine is a different challenge, a very attacking 4-3-3, they have the flexibility to play 3-4-2-1 as well.
"Even if they make changes, and they have made changes right throughout the [World Cup] campaign, they have rotated their midfield, [they have] really good players.
"The five subs they brought on the other day are very, very strong. They have a lot of depth, and I think we've seen in both games, particularly Scotland that they have a lot of quality."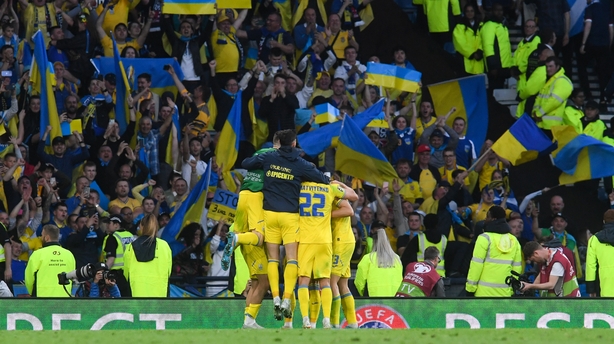 A long flight home to ponder the defeat to the lowest rank side in the group, and the manager is determined to get back to the process of rebuilding and rebranding this Ireland side, having gone into the game unbeaten in eight, which included excellent performances against Portugal and Serbia.
Kenny's side memorably lost out to two late, late Cristiano Ronaldo goals, which is his team's only defeat in 12 games since that other shocking loss, getting beaten by Luxembourg in Dublin in March 2021, and it is notable that the two best results came in front of a home crowd at Lansdowne Road.
And the manager will look to those two home games to prepare his side for Wednesday's opponents, who reached the quarter-finals of Euro 2020, and often set up in a similar style to Portugal.
"We have seen with Portugal, they (Ukraine) play the same system. Portugal play 4-3-3, as Ukraine do," said Kenny, when asked whether he would consider starting with three central midfielders.
"We played that system and were quite effective, so tactically there are things that we can do to counteract the extra man in midfield, and we can overload in other areas ourselves.
"Portugal is a good template for our performances here, it is a good template for the possibilities against Ukraine.
"But we can't be sure. Five out of their seven games before the weekend, Ukraine played 3-4-2-1, so we can't be certain that they will play 4-3-3, because they have players that can adapt.
"They recently went back to 4-3-3, I think because they have so many good midfield players, to accommodate the midfield players."
As for the Ireland team that will line out in Dublin 4, Kenny will have to rejig to a certain extent, as captain Seamus Coleman is ruled out through injury, however, the manager said that he was unlikely to make wholesale changes.
"We were on a good run of eight [unbeaten], winning numerous matches and players were scoring goals.
"We have had a setback, but it doesn't mean we will leave half of our team out because of the setback. We wouldn't expect wholesale changes."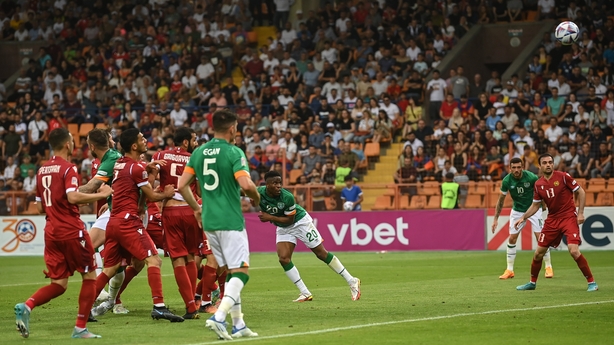 Despite controlling the game in Yerevan, it took Ireland 62 minutes to get their first attempt on target as Shane Duffy's header was comfortably saved, while another tame effort from Jeff Hendrick was the only other time that David Yurchenko was really called into action.
Kenny did accept that his attacking unit failed to fire in Armenia, lacking creativity, while the changes that he made in the game did not have the desired effect in the final 30 minutes as Ireland needed a goal to restore parity.
However, he seemed to think that the return on his side's set-piece situations was satisfactory, with plenty of "first contacts", despite really testing the opposition goalkeeper.
"We weren't creative enough in that last half hour, for sure," said Kenny.
"I think we had a lot of first contacts. John Egan headed wide from a good position, Chieo headed wide from a good position, Nathan Collins had a header straight into the goalkeeper's arms.
"Shane [Duffy] got his head on a couple as well. We had a higher number of first contacts than most teams would have, we just couldn't score from them.
"If you go back a bit the substitutes have made a positive impact, [so] that's the first time that didn't happen for us.
It wasn't that we faded. It was that they didn't have the impact we wanted. That's a criticism that can be levelled at us, for sure."
"We want to try and win the game," said Kenny, when asked was it a must-win game, or one that his side must not lose.
"Whatever team Ukraine put out they'll be top class players. They play with a swagger. They have a high technical level.
"It's a game we want to win. We'll have a passionate crowd here that will help the players. We want to try and win the game.
"As I said, we had a bit of a setback on Saturday, and we want to bounce back."
Listen to the RTÉ Soccer podcast on Apple Podcasts, Spotify or wherever you get your podcasts.
We need your consent to load this YouTube contentWe use YouTube to manage extra content that can set cookies on your device and collect data about your activity. Please review their details and accept them to load the content.Manage Preferences