England suffered a shock 1-0 loss to impressive Hungary in a Nations League opener that started with the depressing sound of boos from stands filled with children as Gareth Southgate's side took the knee.
Nine months ago racism marred the Three Lions' 4-0 World Cup qualification win at the Puskas Arena, which was half full on Saturday despite the hosts serving a UEFA punishment for discriminatory behaviour at Euro 2020.
There were around 35,000 in attendance for a match that was supposedly being played behind closed doors as Hungary made the most out of regulations that allowed children to attend in such circumstances.
The composition of the crowd made the pre-match jeering when England took the knee all the more jarring in Budapest, where the Magyars went on to secure a shock, albeit deserved, 1-0 win in the Group A3 opener.
Hungary last beat England in 1962 and it was Dominik Szoboszlai who wrote his name into the history books, firing a well-struck penalty beyond Jordan Pickford in the second half.
The decision to award the spot-kick for recently-introduced substitute Reece James' challenge on Zsolt Nagy looked harsh, but England could hardly argue with the result given how they toiled throughout.
It was a demoralising start to a run of four Nations League games in 11 days for Southgate's men, who have to pick themselves up for Tuesday's tough trip to Germany.
Southgate criticised fans booing England taking the knee before kick-off, but insisted losing the match left him unable to take a strong position on the issue on the night.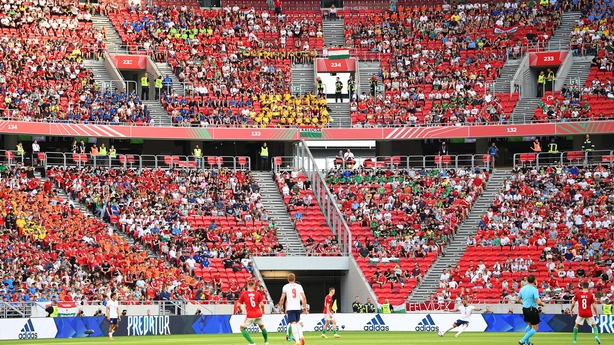 "Well the first thing is that's why we do it, to try to educate people around the world," Southgate told Channel 4.
"I have no idea why people would try to boo that gesture.
"And I think very often young people can't know why they are doing it really, they are being influenced by older adults.
"The UEFA decision (to allow children to attend the behind-closed-doors match), that's for other people to decide on. We've made our stand as a team, everybody knows what we believe and what we stand for.
"Tonight's a night where I've got to focus on the football. When you lose you have to focus on other areas, otherwise I would be taking a lack of responsibility for the result."