Enda Stevens was up close and personal when team-mate Billy Sharp was violently headbutted amidst a Nottingham Forest fans' pitch invasion following their play-off victory over Sheffield United.
And the Ireland international admitted that he feared for his life when caught up in the madness of the overexuberant celebrations on the pitch, with little or no security being offered by near-by police.
Stevens was on hand to help tend to the prone Sharp who took the full force of the unprovoked attack, but remained bemused and bewildered as to why proper assistance wasn't forthcoming.
"Shocking," said Stevens, when asked about the recent incident. "Over the course of that week or so, it was happening continuously. I was out there with him and it was just an absolute disgrace.
"The thing is with that, you're actually fearing for your life. You're on a pitch and thinking, 'I can be attacked at any moment here'.
"There was no help for us, nobody there to protect us, there were policemen beside us who didn't help us and didn't want to get involved.
"They seen it happen first hand and done nothing and then a few of our lads ended up trying to protect Billy when the second fella came up into his face.
"Now it seems the police are coming after them and questioning them for what they have done, but all we could do was protect ourselves and help each other out."
An ongoing, if recently revived post-match celebration among fans in England in recent weeks, and Stevens believes that it must be stamped out before something equally harrowing happens on the pitch.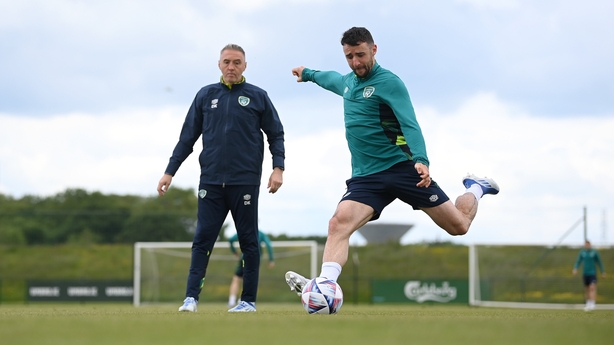 "It's something in football that needs to change. I don't really blame the stewards because it's very hard for them to contain 25,000 or 30,000 Nottingham Forest fans, but the situation was shocking and it shouldn't be happening.
"It has happened before," recalled Stevens. "I remember the time when I was playing at Portsmouth, we got beat at Plymouth away and it happened there to a few lads.
"Not to the extent of Billy Sharp, I don't think anything has been to that extent, it was that bad, but this was a first little taste of it, a few lads getting a bit of trouble off their fans.
"But nowhere near the extent of what happened at Nottingham Forest."
Right in the firing line, Stevens believes that the players now view it as a growing concern and want to see an end to the behaviour, which is putting lives in danger in what is effectively their workplace.
Stevens said it could be a product of the recent pandemic where supporters were unable to visit the stadium with matches played behind closed doors, which leads to a frenzy in the white-hot atmosphere of a game of such importance as a league play-off.
Either way, Stevens said that the players are becoming increasingly isolated in such situations and will need to see proper protection in place around future fixtures.
"It comes down to protecting us," said Stevens.
"We are the one's isolated out there, and we had no protection at all. There were people in place to protect us but they chose not to. They could see it first hand and they didn't help us.
"It was up to ourselves to help each other out and try get ourselves off the pitch, whereas they could probably do better in terms of policing it more, more stewards.
"It is a difficult one for the stewards, I do understand that, but it is something that has to change."
"Obviously they have been away from the game for two years with coronavirus. Emotions were high, it was an emotional game and it's all well [and good] if you want to run onto the pitch and celebrate, but the attacking of opposition players is an absolute disgrace.
"Especially that there is 11 lads or a squad of 20 lads and there is 20,000 people on a pitch running at you from left, right and centre. You don't know what is going to happen. It could come from anywhere."
Follow Armenia v Republic of Ireland (Saturday, 2pm) via our live blog on rte.ie/sport or on the RTÉ News app. Watch live coverage on RTÉ2 and RTÉ Player commencing at 1pm with live radio coverage on RTÉ Radio 1.
We need your consent to load this YouTube contentWe use YouTube to manage extra content that can set cookies on your device and collect data about your activity. Please review their details and accept them to load the content.Manage Preferences
Listen to the RTÉ Soccer podcast on Apple Podcasts, Spotify or wherever you get your podcasts.