The FAI will send a security delegation to Yerevan ahead of Stephen Kenny and his squad as the Republic of Ireland face Armenia in Saturday's UEFA Nations League fixture.
The Armenian capital city has seen escalating protests in recent weeks with regular protesting of the government's approach to their relationship with Azerbaijan, which appears unresolved since the six-week war in 2020.
And police clashed with protesters in Yerevan on Monday amid a wave of demonstrations against the prime minister that has seen thousands of people block government buildings, close roads and shut down the metro system.
Pressure against Prime Minister Nikol Pashinyan has increased since he moved closer to normalising relations with Azerbaijan, which defeated Armenia in a six-week war in 2020.
The war, which centred around the status of the Nagorno-Karabakh enclave, ended with a Russia-brokered peace deal that led to a significant loss of territory for Armenia.
Ireland manager Kenny confirmed that head of security Joe McGlue would travel out with a security team ahead of the team's departure.
"We've not been briefed on that at the moment," said Kenny, when asked was there any concern regarding the demonstrations in the city.
"But there is a delegation going over, in the early hours. Going ahead in advance. Three or four going over, headed by Joe McGlue.
"I'm sure they will brief us in due course."
Minister for Sport Jack Chambers has urged fans intending to travel to Armenia to support the Ireland team to travel with caution and to be aware of any security updates from the Department of Foreign Affairs.
He told RTÉ Sport: "I know the FAI is working with authorities there to ensure the safety of the team and of fans and that will have to be kept under constant monitoring and reviewed. The updates will be given to the team and fans in any evolving situation related to security or otherwise."
"We know the latest updated information from the Department of Foreign Affairs is that people should travel with caution.
"People need to seek regular updates from there and there is an evolving political situation that people need to be cognisant of and to keep in touch with regular updates from the department of foreign affairs related to all travel advice."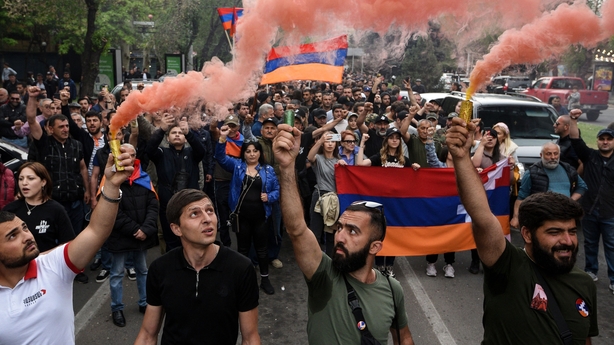 It must be noted that the FAI would have a security plan in place for every away game, and the manager actually appeared more concerned with the fact that he might miss out on watching the vital World Cup qualification play-off between two of Ireland's Nations League opponents, Scotland and Ukraine.
Kenny admitted that he was delighted to see Ukraine are actually getting to play their matches despite the ongoing Russian aggression in their country, and he admitted that it was a game that he would love to be at.
"We may get to see it in Armenia," said Kenny. "It's a game I'd love to be at. It's interesting that they became direct opponents in the World Cup play-off, and the Nations League. It is unusual.
We need your consent to load this YouTube contentWe use YouTube to manage extra content that can set cookies on your device and collect data about your activity. Please review their details and accept them to load the content.Manage Preferences
"I think we've to focus on our own matches. There's nothing we can do about it. If Ukraine win, for example, they play Sunday and then they play ourselves on the Wednesday. If Scotland win, then they (Ukraine) have a week to prepare for us, and we're in Yerevan. That's immaterial.
"In the big scheme of things, it's amazing that Ukraine are playing at all. It's great that they are representing their country at this tough time. I'm sure they'll want to get to the World Cup."
Looking ahead to the four fixtures that Ireland will play over the next two weeks, the manager will, no doubt, be looking to put an existing and unwanted record to bed, the fact that Ireland are yet to win a Nations League game in ten attempts.
"I didn't realise it until our analyst Ger Dunne made the point that if we beat Armenia, it will be the first time we have won three away competitive games since 2001," said Kenny.
"I'm not 100% sure if that's accurate but that's what he said.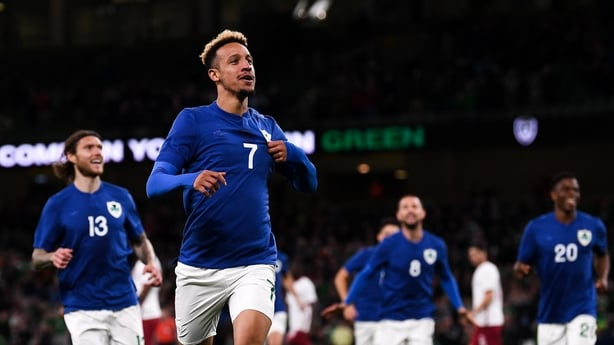 "It's an opportunity to do that (win) because we've been scoring goals since last March. We had two good 3-0 wins away against Azerbaijan and Luxembourg.
"We'll have to earn it against Armenia because it will be hot. They'll be determined to do well. They previously won their group to qualify for Group B. We won't be given anything, we'll have to earn victory out here."
The addition of new faces into the squad like CJ Hamilton, Festy Ebosele and Michael Obafemi give the manager options throughout the summer schedule, however, Kenny urged caution about changing thinks too much and referenced the fact that the team has been in good form.
As a result, we can expect to see a familiar line-up in the opening games and the new recruits may have to make do with a watching brief or perhaps secure a cameo or two over the four games.
"It's not like players will come in and come into the team straight away," said Kenny.
"We are on a good run of form and players have done well in previous internationals and have scored goals, and that's important.
We need your consent to load this YouTube contentWe use YouTube to manage extra content that can set cookies on your device and collect data about your activity. Please review their details and accept them to load the content.Manage Preferences
"I think it would be naïve to suggest that, bringing players in who have not been capped before and just put them out, and expect the opposition not to be able to live with it," said Kenny, when asked was the addition of real pace to the squad the best way to play.
"Pace is an important component, but it's not the only component.
"You have to have the right balance in your team, with creativity, the physical attributes that you need and speed.
"It certainly is good to have the option, and that's important. We're not fixated on speed, we do think it's an important attribute but it's only one attribute."
Additional reporting by Reuters
Follow Armenia v Republic of Ireland (Saturday, 2pm) via our live blog on rte.ie/sport or on the RTÉ News app. Watch live coverage on RTÉ2 and RTÉ Player commencing at 1pm with live radio coverage on RTÉ Radio 1.