In the wake of their 3-0 win over Bohemians on Monday evening, St Patrick's Athletic manager Tim Clancy is now hoping for less of the inconsitent performances and hailed the contribution of hat-trick hero Tunde Owolabi.
After the disappointment of last Friday's 2-1 defeat at home to Shelbourne, Pat's found their groove against the Gypsies by the banks of the Camac, even though the final scoreline may have been a little harsh on the visitors.
Clancy, however, was more than happy with the night's work and is now intends to add to his squad in the window.
He told RTÉ Sport: "We have a performance like that in us and Friday was the complete opposite. We're going to get that with the you squad we have at the minute. We're going to have to bring lads in in the window to help them, get a little bit more experience and know-how on the pitch.
"We're hoping to see less of the inconsistent performances like Friday."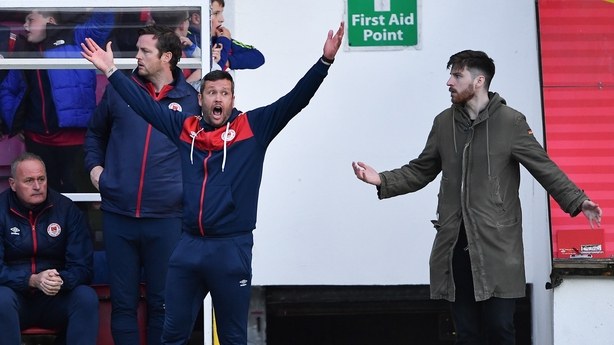 The likes of Billy King, Darragh Burns, Ben McCormack did not feature from the start against Bohs, but it wasn't a case of the players being dropped, with the manager adding: "They were left out after playing a lot of games in short succession; that's the fifth or sixth Monday game that we've had."
On the one player he did come in, Clancy felt the gameplan employed suited Tunde Owolabi.
"He has come in tonight, full of energy and he certainly capitalised on it, grabbing a hat-trick.
"It's been difficult for him in some of the games he's played this season; teams have sat off and the space isn't behind.
"We thought he'd be effective tonight and the first two goals were unbelievable. He played on the shoulder and we were a little bit more direct in getting the ball in behind the Bohs' centre-halves."