Ruaidhri Higgins has described Derry City's performance in their defeat at Sligo Rovers as "the worst of the season".
The Candystripes, who led the SSE Airtricity League Premier Division table for much of the first portion of this season, have seen their fortunes shift in recent weeks.
Monday's 2-1 loss at managerless Sligo after Seamas Keogh's late goal, makes it five games without a win and three defeats in succession.
That has seen Higgins' team slip seven points behind leaders Shamrock Rovers, while third placed Dundalk have now got within a point with a game in hand.
While results had shown a downturn, the Derry City boss had been generally happy with the performances in the previous four games. But this time at the Showgrounds, Higgins had a different view.
"It was a poor performance from us, the worst of the season I would say," he said.
"Although we did have a couple of really good chances at one each to go 2-1 up, over the course of the game I have to accept it as manager and we all have to accept that it wasn't good enough."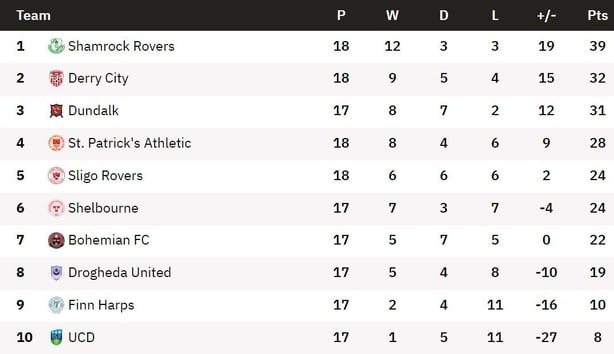 Higgins, who felt "real immaturity" in Derry's play led to the concession of the late goal, urged his team to find a way out of the current rut they find themselves in and said that he had a responsibility to now try to "galvanise" the group.
"We were unbalanced, we were off it (and had) no fluidity," he said.
"In possession, (we had) no aggression. We were just very, very poor and we have to admit that and accept that and we're in a difficult moment in the season and we're the only ones that can get out of it."
For Sligo, it was a much-needed result after a weekend which saw the Bit o' Red part ways with manager Liam Buckley by mutual consent.
Assistant John Russell, who has taken charge of the first team on an interim basis, was delighted with Sligo's energy levels and atmosphere at the Showgrounds.
On the prospect of being the permanent successor to Buckley, the two-time FAI Cup winner with the club said he was not thinking that far ahead.
"I've been a player here for most of my career, have had great success so I've huge affinity with the club and been assistant manager for three-and-a-half years," said Russell, who said he is currently studying for his UEFA Pro Licence along with Higgins and their St Patrick's Athletic counterpart Tim Clancy.
"I know the club have made the decision to let Liam go and there's probably other candidates banging down the door, CVs probably coming left, right and centre.
"My focus, they've asked me to take it for these next two games and then there's a break in the league. I'm delighted we won tonight, I'm looking forward to going in tomorrow and preparing for UCD and that's my sole focus. What happens after that, it's up to the club."