A former news editor called it the best decision he ever made, sending myself and cameraman Michael Cassidy to Saipan with the Republic of Ireland World Cup squad.
How was he to know he was sending us off to bear witness to the most seismic rift in Irish sporting history, a split that still reverberates?
A pre-tournament training camp in the middle of the Pacific Ocean.
"World Cup warm-ups don't get much hotter than this" - That was the line we all used as we filmed our pretty preview packages from the holiday island so removed from the rest of the world that at the time it didn't even have a satellite uplink to feed our TV reports back to base.
Amid the oppressive humidity, the few broadcasters that were there decided to pool our resources as well as our cliches and stockpile some features.
"Irish squad relax in tropical Pacific paradise as World Cup looms large on the horizon", that sort of thing...
The plan was to send the tapes of our finished masterpieces with a human 'pigeon' on a plane from Saipan to Guam and onwards to Tokyo where, through the good offices of the BBC in Japan, our work would make it on to screens in Ireland and the UK. The hotel manager's son agreed to do the carrying for a small fee.
That's why Michael Cassidy ( Butch, obviously ) and I missed the now infamous 'barbecue' with the Republic of Ireland players, staff and the media which was intended to foster good relations ahead of the tournament itself.
We were busy editing our work in order to have it ready for the 'pigeon' who was due to fly out that evening.
The incentive for us was that if we packaged a few nice stories we get a couple of days to soak up the sun in Polynesian paradise. Nothing much was going to happen here, right?
We had, of course, filmed Republic of Ireland training as well and it was clear that the facilities were not what you would expect of a side preparing for the biggest sporting event in the world.
We need your consent to load this comcast-player contentWe use comcast-player to manage extra content that can set cookies on your device and collect data about your activity. Please review their details and accept them to load the content.Manage Preferences
"It was like training on a car park" according to the captain Roy Keane and when it emerged that the skips with the proper training gear, footballs and energy drinks hadn't arrived it was easy to understand why the Manchester United player was so tetchy.
We had seen for ourselves the 'row' between Keane and the goalkeepers who were too tired to finish off a training session with a game and the tension between the captain and the manager was palpable.
Still this was meant to be R 'n' R ahead of the tournament, a week designed for acclimatisation and team bonding. And the plan was, after a quiet week, it was off to Izumo in Japan where the 'proper' preparation would begin.
Except there was talk of players getting soft tissue injuries from the hard surface of what was usually a baseball diamond, the American influence on the island noticeable everywhere.
And it was clear that Roy Keane, who had issues with a couple of journalists over articles that they had written about him, was not inclined to sit down and share hot dogs with them either.
Evidence of that came earlier in the trip when the KLM flight rumoured to be the one that 'would' have taken the Dutch to the World Cup had they qualified touched down in Amsterdam, not Tokyo, not long after we took off from Dublin.
Off the aircraft in Schipol Keane had some harsh words with a couple of journalists who stood their ground.Don't ever believe players when they say they never read the papers.
At least the team were in First Class separated from the rest of the passengers by a thick curtain while we, the media, were back down in steerage.
The next time we saw the squad again was when we were ushered into a VIP lounge in Tokyo airport along with the FAI party, which must have pleased Keane no end. More evidence to his mind of FAI 'arrangements' that didn't meet his standards.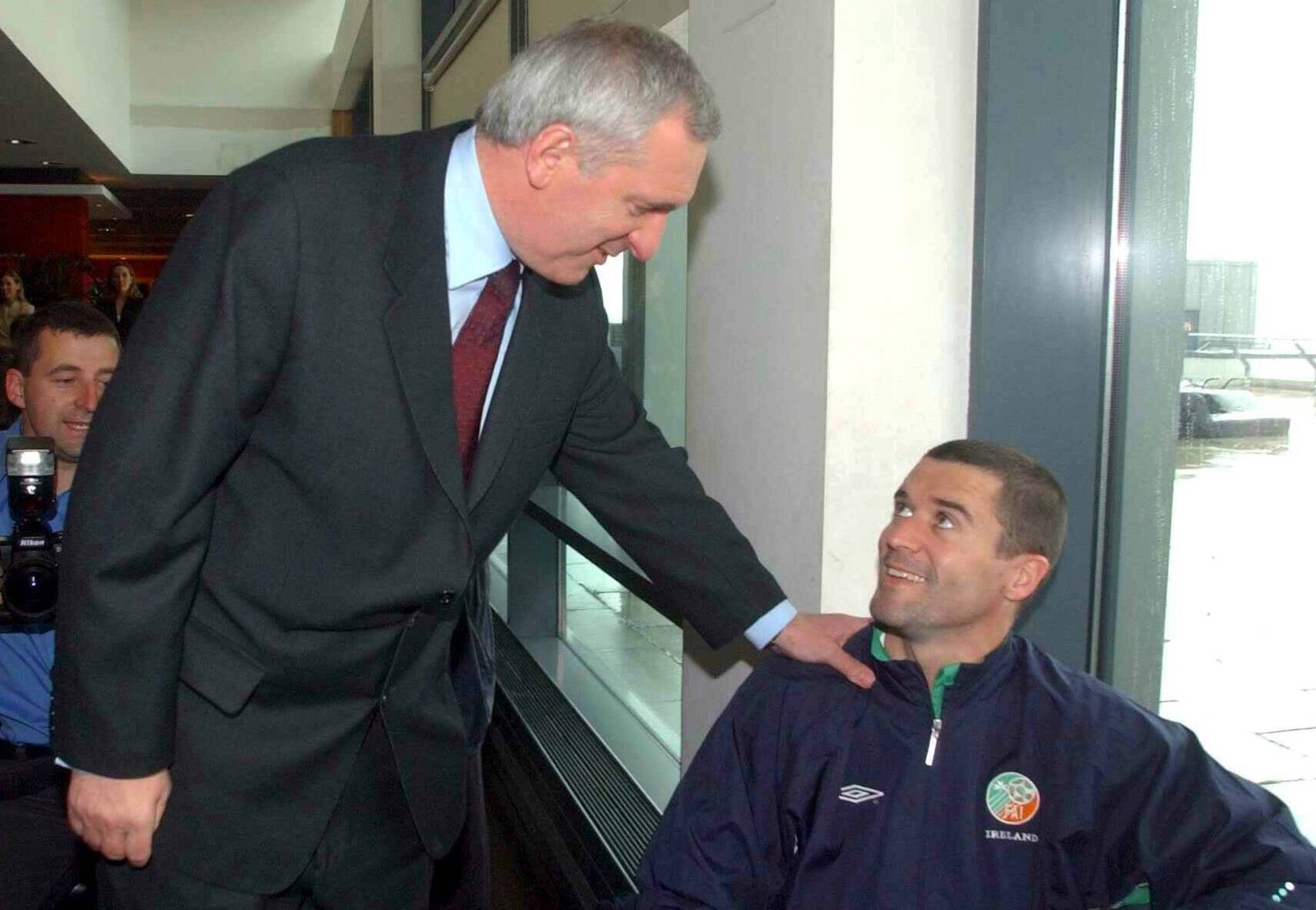 Clearly 'Keano' was fuming even before the squad left Dublin but what awaited them in Saipan made up his mind. The Ireland captain had decided that enough was enough.
He had done so much to get Ireland to only their third World Cup Finals. He was in his prime and was also captain of Manchester United, at the time the dominant team of the Premier League era although by their standards they had a disappointing season. His was a winning mentality, a mindset he didn't feel was shared by some of the Irish players or management.
After a couple of days on the island word emerged that he was leaving, that he couldn't handle it anymore, the shambolic preparation, the lack of ambition.
And it was clear that his relationship with Mick McCarthy, fraught from their earliest days as team-mates, had frazzled.
We interviewed McCarthy about the fact that his captain was going home and although he must have been shocked he tried to put a brave face on and not fan the flames of controversy.
He mentioned concerns about a knee injury and he alluded to the fact that Keane was having some "personal problems which are personal to him". McCarthy said he had asked to go home.
This was remarkable and would have been huge news in itself but this story was about to spiral.
Having spoken to his family, his solicitor Michael Kennedy and his Manchester United manager Alex Ferguson Keane listened to what they had to say, had a change of heart and performed an extraordinary U-turn. Now he was staying.
"Maybe I should have known better and not let people get under my skin"
"Somebody's got to hold their hand up. All I want is what's best and if that's a crime then I'm guilty"
"I love playing for my country but my sanity is more important"
These were just some of the quotes from his interviews at the time where he opened fire on his many targets.
"Fail to prepare, prepare to fail" - Benjamin Franklin and Roy Keane.
We need your consent to load this comcast-player contentWe use comcast-player to manage extra content that can set cookies on your device and collect data about your activity. Please review their details and accept them to load the content.Manage Preferences
The Ireland captain, doubtless torn by conflicting emotions, still felt he had the moral authority to cast aspersions on what he regarded as an unprofessional environment.
He was reluctantly staying but decided he would still have his say which was never going to be flattering of the FAI or his international manager.
The team hotel, the Hyatt Regency, was plush and five star; our hotel not quite as nice, however we did share the same stretch of beach.
He didn't want the backdrop to look too glamorous as he might have a few things to say about the location and the preparations
And it was there I made my pitch to Keane for an interview where he could explain his original decision to leave the squad and his World Cup hopes and why he had ultimately decided to stay.
He said he would think about it and sure enough word came back that he would do a sitdown television interview but that he didn't want the backdrop to look too glamorous as he might have a few things to say about the location and the preparations.
The problem was that, as Butch would tell you, through the lens of a camera the whole island looked like it was straight out of a Bounty Bar commercial without the intense heat and humidity.
Point the camera in one direction and you had white sand and azure sea and sky, point in the other direction and you had all the trappings of a luxury five star hotel.
In the end we chose an area in the garden next to the tennis courts with a simple hedge as a backdrop but in that shaded glade lurked most of the fly population of Saipan.
The recurring image from that interview is of Keane swatting away the winged interlopers as he once did Premiership midfielders.
But ours wasn't the only interview Keane did. He also spoke to my RTÉ radio colleague, commentator Gabriel Egan, and concluded their chat by saying "I'll just have to put my head down and get on with it..."
He had also spoken to two newspapers, the Sunday Independent and The Irish Times and in the nascent days of the internet this was one of the first occasions that new publishing technology beat old.
The Irish Times decided their interview needed to be online and published without delay, while we were still awaiting the return of the 'pigeon'.
That was why Mick McCarthy, who had heard about his captain's own private media day, was on high alert and had one of the hotel's internet installed computers ready to read and download the offending article.
The rest, as we know, is history. A team meeting was called where McCarthy brandished his printouts and where Keane was asked to explain himself.
Never one to shirk a challenge the Ireland captain didn't hold back.
Not long afterwards details began to emerge of what transpired. Squad members were shocked and ashen faced at what they had just witnessed and some were unsure whether they should speak to the media or stay silent.
We need your consent to load this comcast-player contentWe use comcast-player to manage extra content that can set cookies on your device and collect data about your activity. Please review their details and accept them to load the content.Manage Preferences
The word went around that a press conference was to be held in the Chinese restaurant alongside the main ballroom where the team had been dining and so off I went looking for Butch.
A string quartet was playing away in the corner adding an eerie soundtrack to an unfolding disaster movie.
At a top table senior players Steve Staunton, Niall Quinn and Alan Kelly sat in solidarity with their ex team-mate and manager Mick McCarthy, and FAI President, the late Milo Corcoran, representing the governing body.
McCarthy said he could not tolerate being spoken to like that, "the level of abuse that was thrown at me....and so I have sent him home".
"As a player I'm very sad to lose him because we all acknowledge his ability but as a squad member I'm not bothered one bit"
Staunton speaking about the exchange between manager and captain and Keane's sharp and foul mouthed response revealed that he had "never witnessed anything like it in my life".
Quinn likewise looked stunned and said he believed that the players simply had to back the manager.
"I'll say goodbye to Roy and wish him well for the rest of his career but my priority now is to show complete allegiance to Mick and to the squad and to get everyone thinking the same way."
Cameraman Michael Cassidy had reported from war zones before and Butch had decided to bring a piece of kit with him to the World Cup "in case of emergency".
It was an M4, a tiny foldable satellite dish, that had seen action in Afghanistan and Baghdad and could be used as a rather crude camera phone.
This was it, a particularly Irish 'emergency', and we needed to get working straightaway.
Luckily because of the orientation of our Dai Ichi hotel room we were able to bounce a signal up to space and back down via South America to Europe and so began our 'live' broadcasts.
Time zones were not our friend. The RTÉ Six One News was at three in the morning, the Nine O'Clock at 5am.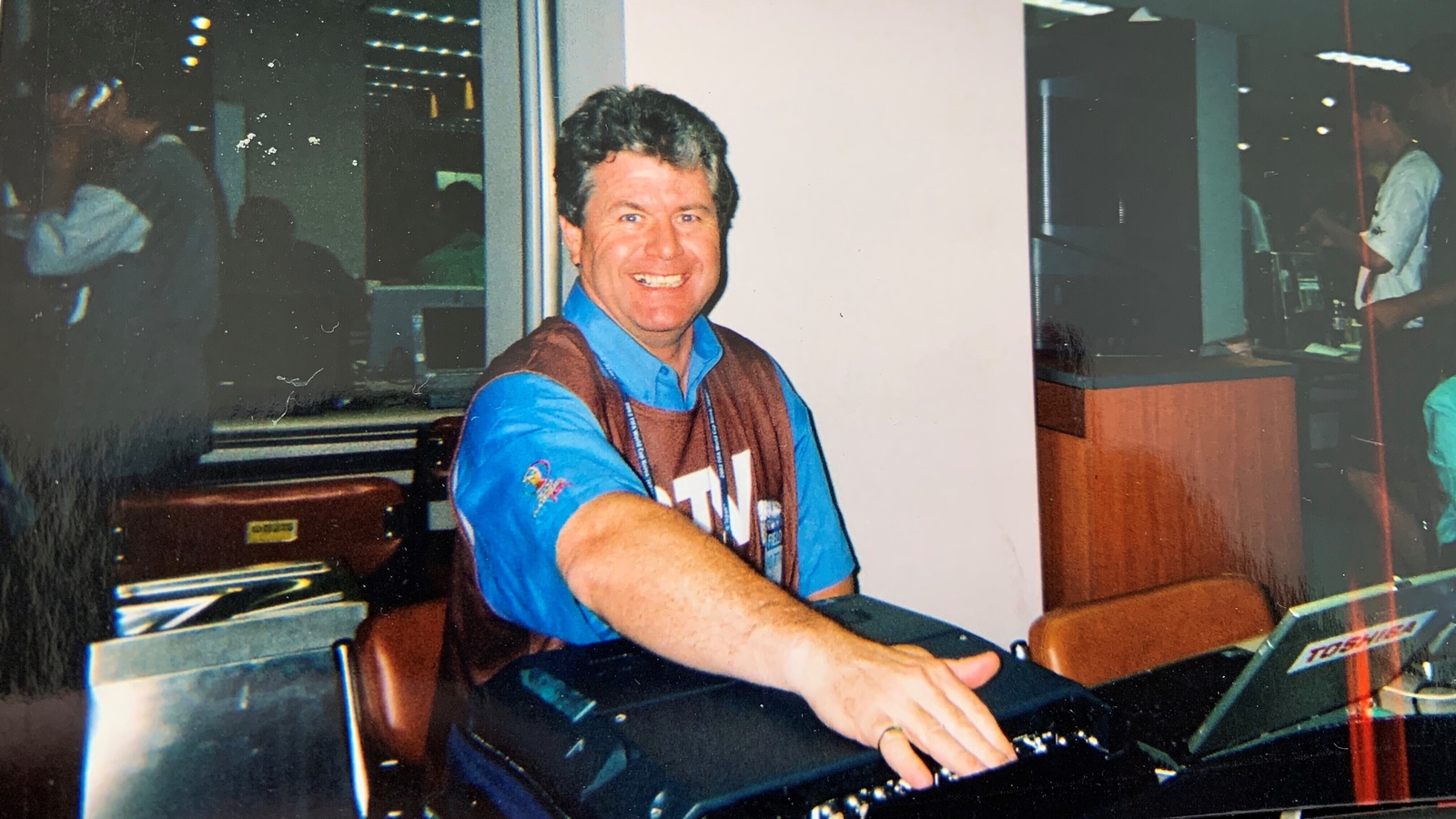 During the day we were busy trying to catch up on what was happening in Saipan on a story that had ever-changing elements on two different parts of the planet.
What was happening in Dublin, Cork and Manchester was as significant as what might happen in Japan, Korea and Zurich.
Colin Healy had been called up as a replacement for Keane when he initially pulled out but now it looked as if it was too late to allow another name to be added to the official squad list once Keane's name had been resubmitted to FIFA.
I don't know if the people on the ground in Saipan and later in Izumo knew how convulsed the country back home became.
This was Ireland's football civil war, you were either with Roy or you were with Mick, you couldn't see anything good in the other side.
It became clear, despite what had happened, that the Republic of Ireland party were heading to Japan as scheduled the next day.
We need your consent to load this comcast-player contentWe use comcast-player to manage extra content that can set cookies on your device and collect data about your activity. Please review their details and accept them to load the content.Manage Preferences
Keane meanwhile was grounded, alone in room 758 trying to get Manchester United to arrange a flight to get him off the island. Should we stay or should we go, that was our dilemma.
Sharing resources with Steve 'Winker' Watson from BBC Northern Ireland we tried to cover all angles. The hotel had tried to throw us off the scent by placing luggage at the front door and a limousine outside, Keane meanwhile escaped out the back of the hotel followed by the intrepid Watson to the airport.
There he stood in line to board his flight to Guam and expressed "no regrets" at what had happened and said he had a clear conscience and was looking forward to going home to see his family.
But the story wasn't quite over yet...
The following day the Ireland squad left Saipan on a flight bound for Izumo in Japan without their inspirational captain.
Severe turbulence was an apt meteorological metaphor as that flight, one of the worst I have ever experienced, seemed to reflect the divided mood of the Irish nation.
A warm welcome awaited the squad once they touched down on Japanese soil but the storms continued to rage around the expulsion of their captain from the World Cup ship.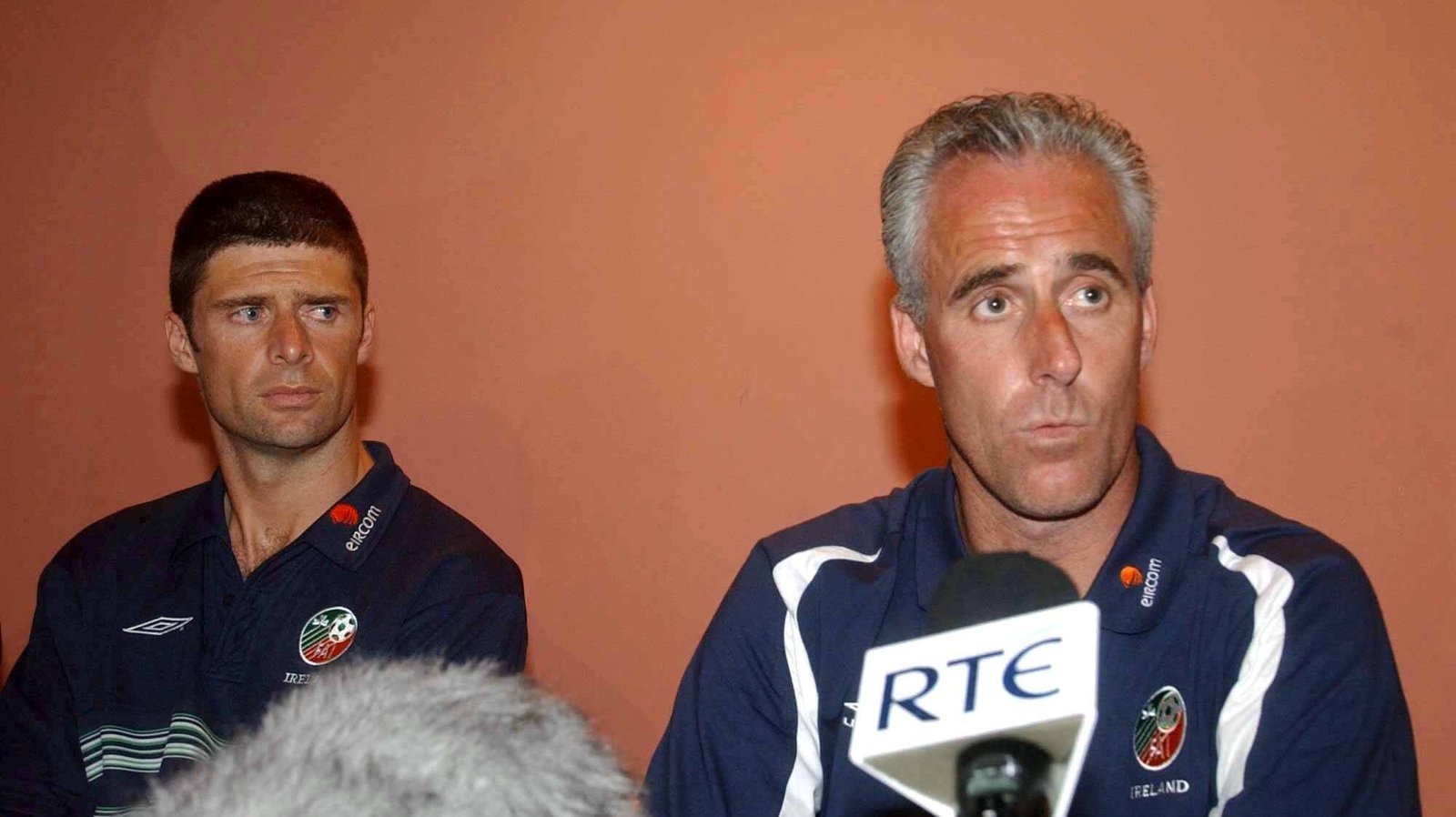 By now the FAI general secretary Brendan Menton had joined the official party and he made it clear that in his view there was no way back for Ireland's star player.
"Football is a team game. Is one individual bigger than the team? I think generally the answer in football is no."
Back home however the calls to have him reinstated in the squad grew louder while other voices claimed he should never be allowed wear the green shirt again.
All sorts of rumours were rife. Bertie Ahern offered to mediate, J.P. McManus was said to be offering to fly Keane back to the Far East in a private jet. In the madness and from our remove it was hard to keep track of them all.
Keane returned to his family home in Manchester where RTÉ's Northern Editor Tommie Gorman was among the many reporters who had gathered daily to watch Keane walk his dog Triggs.
Tommie, through Keane's solicitor and friend Michael Kennedy had persuaded Keane to do an interview and it was felt that if Keane apologised to McCarthy and the squad there would be a chance of an 11th hour reconciliation.
We need your consent to load this rte-player contentWe use rte-player to manage extra content that can set cookies on your device and collect data about your activity. Please review their details and accept them to load the content.Manage Preferences
The interview gripped the nation and had us on the other side of the world gathered around a telephone to try and hear the audio and interpret the signals.
Roy Keane: "The people of Ireland deserved to know the truth. I think I was forced into a corner I really was, that's my honest belief and there was only one way I was going to come and that was out fighting"
Tommie Gorman: "Are you willing to meet them halfway?"
Roy Keane: " I want to play for Ireland. ( pause ) We'll have to see...possibly yes."
"There's nobody wants to play as much for Ireland as me. As I said I've been involved since I was 15, 14....gone for trials up in Dublin and this is what it's all about playing in World Cups. So, hopefully...you never know, you just never know, but, em ( pause ) ...we'll see."
Tommie Gorman: "It's hurting you this?"
Roy Keane: "Of course it's hurting me, dead right it is....(pause) dead right."
Had he said enough? Had he apologised? Would he apologise? At this late stage could the genie be put back in the bottle?
It was clear as we went in the early hours of the morning to the Ireland team hotel in Izumo that they too had been trying to hear the interview and gauge the mood of the nation at home.
I was asked was there any way that RTÉ could send the interview over for Mick to have a look at it for himself but the technology of sending large video files via Zoom or WeTransfer wasn't yet up to speed and therein lay the information vacuum into which all sorts of theories appeared and then disappeared.
Senior players, among them Niall Quinn, were gathered in the lobby around the hotel computers with internet connection trying to get a handle on the reaction to the interview.
Was the door to a reconciliation left slightly ajar?
At around 8am Mick McCarthy told journalists camped outside the hotel that "the call needs to come..."
There was still a chance it seemed that he might come back...
That morning's training session was delayed by over an hour as the players held their own meeting...
At the end of the session the media were told that a statement from the players was about to be issued.
But in perhaps the biggest shambles in a tale that had so many, neither the manager or the players would deliver it.
Instead the hammer blow to Keane's World Cup comeback was delivered, in error, by the FAI press officer Brendan McKenna.
"Regrettably, the manner of Roy's behaviour prior to his departure from Saipan and the comments attributed to him since have left the staff and players in no doubt that the interests of the squad are best served without Roy's presence."
This was meant to be issued IF McCarthy had closed the door on Keane's return and the players would then have had little choice but to back the manager.
A couple of hours late McCarthy insisted there was no ultimatum to the players but wondered why there was still no apology from Keane.
"I don't think there should be negotiations going on to apologise."
Brendan Menton claimed that it was his understanding that an apology was to have been made on television and that this hadn't happened.
"If an apology was due television and in the public media wasn't the place to do it"
He went on to say that Mick had the full support of the FAI in how he has dealt with this matter.
There was now just four days to the World Cup opener against Cameroon.
On live TV from the roof of our hotel that night I said, "It's quite possibly the worst preparation any country has ever had for a World Cup finals"
And it was.
Later, a statement from Keane released to RTÉ said ...
"I do not consider that the best interests of Irish football will be served by my returning to the World Cup. The damage has been done."
And it had.
And so another scramble for Butch and I to get back up on a flat roof, fire up the M4 satellite phone and get ready to go 'live' again.
Much later we were in a bar when I suddenly realised that it was a year to the day since my mother died. I ended the night in tears.