Eintracht Frankfurt boss Oliver Glasner believes the whole of Europe is looking forward to the Europa League final against Rangers, though street violence has already resulted in arrests in Seville.
Five Eintracht Frankfurt fans were arrested last night after some 200 of the German club's supporters attacked Rangers fans on the eve of the final, Spanish police said.
It was the first violent incident recorded in Seville as southern Spain's largest city braces for the arrival of an expected 150,000 fans of the German and Scottish sides.
"The incident took place around midnight in front of Seville Cathedral and the troops of the Police Intervention Units had to intervene quickly to stop the Eintracht Frankfurt fans who were assaulting supporters of Glasgow Rangers," Spain's National Police said in a statement on Wednesday.
The German fans then attacked police, "throwing glass bottles, flares and tables" at the officers.
Spain's chief of police has warned of the potential for "serious problems" in a policing operation that will be one of the most "difficult challenges" they have ever had.
They have deployed 3,100 National Police officers to Seville where three fanzones are being prepared. Almost 2,000 Guardia Civil and local police will be deployed in the city.
To matters on the pitch and the German side have beaten Barcelona and West Ham on the road to the final while Giovanni van Bronckhorst's Ibrox men have had thrilling wins over Borussia Dortmund, Braga and RB Leipzig.
Glasner was not too concerned about comparing achievements or who is deemed to be favourites and simply looked forward to the game.
He said: "If you win against second and fourth in the Bundesliga you are then favourites.
"We are 11th in Bundesliga so maybe that is the calculation but it doesn't matter, both teams have deserved to play in this final.
"We have analysed Rangers and they are a mixture of West Ham and Barcelona, and you can see the Dutch influence, the way they play, the way they play in triangles.
"They also have the British mentality so we need to have a top performance tomorrow. We are ready and in great shape.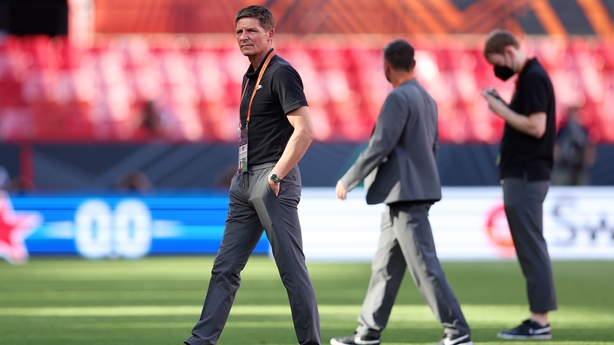 "We will play with lots of enthusiasm and the whole of Europe is looking forward to this match.
"Europa League games have become bigger and bigger in the last couple of months
"I am very proud of my players and what they have achieved in last two months.
"Everything has been fine so far, training has been very good, we are concentrated, focused but we are also relaxed. I am relaxed and really excited about tomorrow."
Both clubs have been given around 9,500 tickets for the Ramon Sanchez-Pizjuan stadium which holds about 42,000.
However, around 100,000 Gers fans are expected to be in Seville on the day of the game.
Eintracht took 30,000 supporters to the Camp Nou for their win over Barcelona and there will also be thousands of Frankfurt fans who will travel to Spain without tickets.
Glasner said: "Our fans are amazing. It is incredible what sort of travels they have undertaken and how they help us, the atmosphere they create and their enthusiasm.
"This is one of those things you can't really measure. You get goosebumps, something is happening inside you and it helps to win games.
"I think there will be around 150,000 between the two clubs and Spain is not just around the corner.
"It's quite something. They are coming to see their team win. Thank you very much for being here in vast numbers. Hopefully they help us win."