After a challenging campaign, Birmingham City's relegation from the Women's Super League was sealed by a 6-0 loss to Manchester City in their penultimate game two weeks ago.
The Blues' 11-year spell in the top flight is over; and in truth it's been a long goodbye.
They earned just three wins all season - one of them a morale-lifting victory at city rivals Aston Villa in their final match - but Republic of Ireland defender Louise Quinn took positives from the grind.
"I think some of those performances towards the end of the season were some of our best games," she said at the Spar FAI Primary School 5s National Finals, which took place at the Aviva Stadium on Tuesday.
"Then to finish how we did in the Second City (Birmingham) derby and getting the win over Villa brought a bit of satisfaction and joy to the fans of the club.
"It just wasn't to be for us; it was a tough ask right from the start to be honest."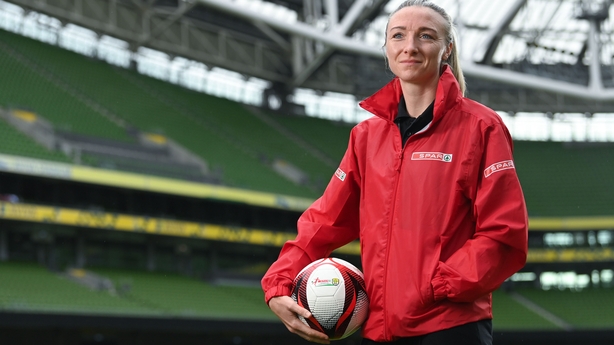 Being part of a defensive rearguard scrapping for safety suited 31-year-old Quinn. She brought her spirited club form onto the international stage, helping the Girls in Green to a terrific World Cup qualifier draw against Sweden in April.
It was one the sweetest moments she's enjoyed with Ireland over the course of her 94 caps.
"We were going into the game thinking that there was at least a point there for us, and I love that change in attitude now that we have, that shift in mentality to say that we put ourselves toe to toe with these teams.
"There was definitely a bit of emotion at the end of that game for me. It was tiredness but also complete joy.
"I can see as well how Birmingham and Ireland kind of tactically linked up and how the Blues can help me with the Irish team, and how the Irish team can help me with the Blues. So I'm just trying to take advantage of a difficult situation and for me, I just want to enjoy my football and I wanted the team to do the same thing."
Quinn has a year left on her contract with Birmingham and is keen to help them bounce back with promotion at the first time of asking.
However, she admits there are certain assurances the club must deliver on first.
It's just over a year since the squad penned a letter to the FA and their own board detailing their frustrations with inadequate facilities, travel arrangements and medical provisions for the team.
"Just the backing in general. I feel if they can provide that, I would want to stay with Blues."
"The girls from last year and the year before have tried to really put their foot down and change things in the club," said Quinn.
"So there was definite improvement from last season to this season but just the quality needed a makeover. I'd probably even say that from the men's perspective, their pitches need a bit of a do-up as well.
"I've been chatting to Carts (Darren Carter) the manager, and the club. Hopefully, it is their intention to want to bring the club straight back up to the WSL - and hopefully the club are true to their word in terms of backing us up with facilities that we can use in the club.
"That was something we struggled with at the start of the season, with the other (Birmingham) teams having priority over us, and the quality of the pitches needed to be better.
"I think it showed towards the end of the season in our performances that we were training on better quality pitches, and not having to hang around the training ground all day to try and link in the gym with a pitch session, to get lunch and do this, that and the other.
"Just the backing in general. I feel if they can provide that, I would want to stay with Blues. But for me now, it's just time to kind of switch off and let that season settle. It would be a great challenge to be in the Championship and like Niamh Fahey with Liverpool, get them promoted again."
Quinn is having a well-earned rest right before turning her attentions to Ireland's qualifier in Georgia. Runner-up spot in Group A is very achievable.
After Georgia in June, Vera Pauw's side face Finland and then Slovakia in a massive September double-header. A play-off spot to make the World Cup is in Irish hands. Focus is key.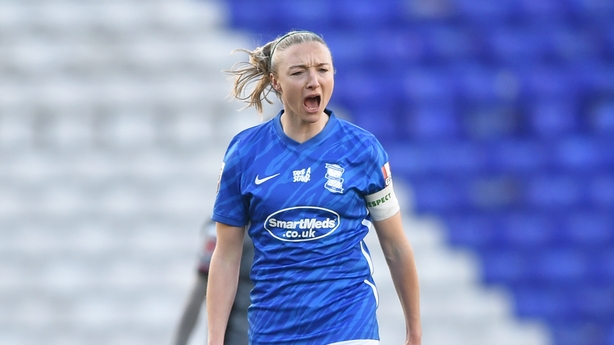 "The preparation that we're going to have, we're going to make sure everyone is up to standard, up to fitness.
"We have a couple of weeks off now in general because most people are in England. It's a bit of a complicated situation but we'll be back starting again at the start of June, and that'll be home-based training and any sort of team training.
"We'll be linking in again as a full squad maybe around mid-June to get us back into sort of football and linking in with the team then for a couple of weeks to keep us ticking over."
Listen to the RTÉ Soccer podcast on Apple Podcasts, Spotify or wherever you get your podcasts.