Graham Burke stole a sodden Tallaght show with a 15-minute hat-trick as Shamrock Rovers edged top of the table despite a fine goal from another substitute, Aidan Keena.
Quadruple changes are a thing of late and head coach Stephen Bradley made the prospect seem inspired as a slow-burning home side bludgeoned Sligo at a wet and windy Tallaght, with Burke beyond sensational.
The champions created next to nothing in the first half, but were 2-0 up and coasting within 11 minutes of the second, the Irish international illustrating his quality in front of goal, as Bradley – who a few days ago seemed likely to leave the club – could toast a job well done.
As has seemed the case many times this season, the champions were lethargic until they needed to get the job done, but one worry for Bradley here is that some of his peripheral players did not really impress.
A wild night in the capital – the trees behind the scoreboard looked as though they were itching to break free – was not ideal for a spectacle. Nor was it ideal for the Bit O'Red that goalkeeper Ed McGinty was scratched late, his injury allowing the veteran ex-Hoop Richard Brush a start.
These Monday matches are often played out before a subdued crowd - the 3,066 here well below the average this season in Tallaght - and such was the case in large parts here.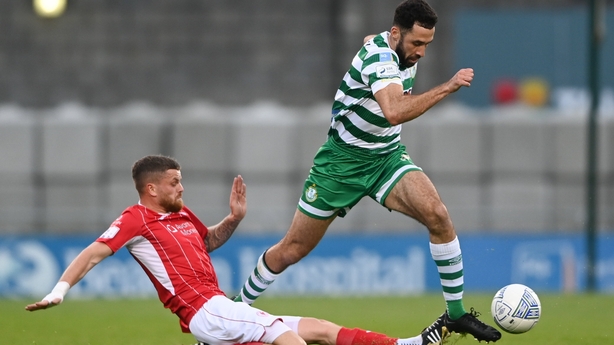 It rather recalled the recent days of behind-closed-doors fare, the players perfectly audible.
One of them, Jack Byrne, was man-marked by Colm Horgan, whose brother Daryl is preparing for the English League One play-offs with Wycombe.
Sligo began well and a superb Robbie McCourt cross had to be helped behind by Seán Kavanagh, unusually playing as one of the back three but excellent throughout.
The first 20 minutes were devoid of chances, defences holding firm. It was a chance for some of the hosts' fringe players to impress but they were a mixed bag, Aidamo Emakhu particularly struggling to get into it.
He was not alone and the home crowd was already rather frustrated by the half-hour mark. Longer balls against a fierce southwesterly looked more promising for the hosts but it was a beautiful Byrne pass on 35 minutes that presented them with their first chance.
Emakhu couldn't quite make the most of it, though his run – and pressing to win the ball back – signalled that he was intent on having a better night. It would not transpire.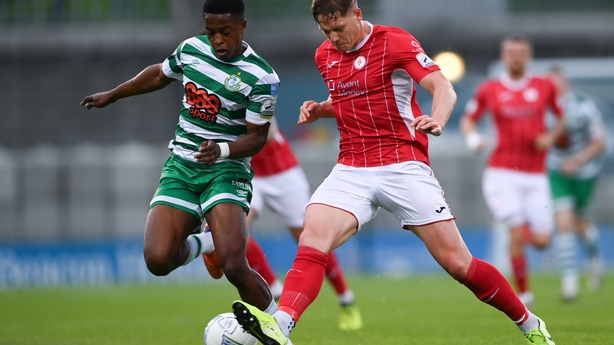 At the other end, as impressive as Sligo's interplay was at times, chances eluded them.
Bradley was hoping a quadruple substitution would work out at half-time for Rovers, with Liam Buckley nearby looking like a man who was given half a minute to solve a crossword as the teams re-emerged.
Within minutes, the hosts had a shot cleared off the line from a Byrne corner, as the rain began to fall. The rain was now as incessant as the pressure from the champions.
It paid off on 54 minutes as sloppy Sligo play invited a Rovers press. Horgan's careless loss of the ball saw Lyons feed Byrne, who fed another substitute in Burke, who found the net with his right foot.
It was 2-0 around 90 seconds later, again Bradley's substitutions critical.
The excellent Rory Gaffney had too much pace for Nando Pijnaker, who did his best but Gaffney had the wherewithal to feed in Burke, who must rate one of the best finishers in the league. On this occasion, it was his trusty left foot. The game was over in a flash.
At the other end, on a rare counter, substitute Cillian Heaney forced an inspiring Pico Lopes block.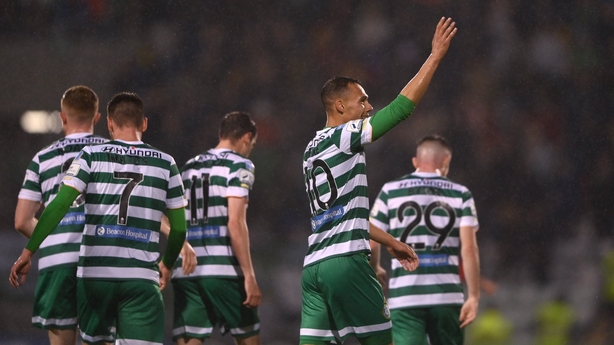 Burke ensured the match ball on 69 minutes, directing a long-range effort beyond a despairing Brush dive.
To be fair to the visitors, they persevered, and Keena blasted a bullet into the top corner with nine minutes to go.
"Hoops are top of the league," roared the home fans as the game neared its end. There was still time for another sub, Andy Lyons, to glance a header wide, while Sligo hit the post in the last minute.
The next visitors here? Derry City on Friday.
The title race continues.
Shamrock Rovers: Mannus; Hoare, Lopes, Kavanagh; Cotter, Byrne (Towell 75), O'Neill (Burke 46), Watts, Farrugia (McCann 46); Greene (Gaffney 46), Emakhu (Lyons 46).
Sligo Rovers: McGinty; Banks, Pijnaker, Buckley, McCourt; Horgan ()Sullivan 80); Keogh (Fitzgerald 62), Bolger, McDonnell (Morahan 82); Mata (Heaney 62), Hamilton (Keena 62).
Referee: Derek Tomney (Dublin).