The campaign to save Tolka Park has received its most significant boost yet, with Dublin City Council recommending abandoning plans to rezone the ground for residential use.
In 2016, Shelbourne ceded its interest in Tolka Park to the council as part of an agreement to relocate to a redeveloped Dalymount Park as co-anchor tenants with Bohemians – a move which has been met with opposition by campaigners, who wish to keep 'public land for public use' and turn the stadium into a shared communal institution that would include a gym, creche, cafe, enterprise centre, and public toilets.
However, Shelbourne officials entered dialogue with DCC earlier this year after the club's owners opted to change course on the Dalymount plan and instead stay in their long-time home.
At the time, the council said it would examine the plans and was open to supporting it as long as there was "a cost recovery model for expenditure incurred by the City Council and a firm commitment from Shelbourne FC that Tolka Park can be redeveloped in a reasonable period and that adequate finance is in place".
Dublin City Council chief executive Owen Keegan has now recommended supporting maintaining the use of Tolka Park for the purpose of sport.
The vision was set out in a council document looking at the next six years in relation to facilities.
Keegan said: "Dublin City Council acquired both Tolka Park and Dalymount Park in order to ensure that both clubs, which were struggling post-recession, could be retained in the city.
"The intention was to develop one municipal stadium capable of accommodating both football clubs. Given the strong heritage, including international matches associated with Dalymount, both clubs and DCC agreed that the new municipal stadium should be at Dalymount, to be partly funded by the disposal of the Tolka Park grounds.
"However, more recently Shelbourne have indicated to the City Council that they are exploring options which will include plans to utilise Tolka Park for football/sports use.
"Having regard to these circumstances and the zoning in the draft plan is for Z9: To preserve, provide and improve recreational amenity, open space and ecosystem services the chief executive is not recommending that the zoning of the site be changed to a residential/ mixed use zoning objective.
"It is recommended that existing objective G1051 (renovation of Dalymount Park) be expanded to include Tolka Park."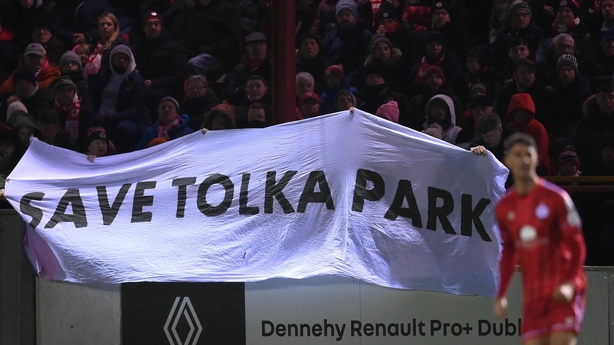 Submissions supporting the change in decision included the need to maintain the number of pitches, given the expansion of women's football and the national underage leagues.
Furthermore, there is good news for St Patrick's Athletic, with DCC also incorporating a proposal by the Saints to redevelop Richmond Park.
The report shows the Saints will be included in discussions around Dalymount and Tolka, although little detail has been provided.
Pat's failed to get their proposal to move to St Michael's Estate off the ground, with plans to develop a new stadium and leave Richmond Park.
They may now receive backing from the council to develop their current ground with the matter to be debated and analysed throughout this year.
We need your consent to load this rte-player contentWe use rte-player to manage extra content that can set cookies on your device and collect data about your activity. Please review their details and accept them to load the content.Manage Preferences