Kasper Schmeichel has vowed not to settle for second best with Leicester on the brink of their first European final.
The Foxes go to Roma on Thursday locked at 1-1 after last week's Europa Conference League semi-final first leg.
Schmeichel has won the Premier League, FA Cup and Community Shield with the Foxes and wants to add to his collection as he leads them into the Stadio Olimpico.
He said: "It's a European trophy, every one is important, every competition you can win is important. I don't play football to finish fourth, fifth or sixth. You do it for the occasions regardless of competitions.
"It's about winning trophies. That's what fans and players look back on, those moments when you got to lift trophies.
"The infrastructure of the club is in place to be successful. If we were to reach the final, that's sustained success over a period of time in terms of finals reached and trophies won.
"A club like Leicester is attractive as we have one of the best facilities in the world. We have lots of talent in the squad, an amazing manager and owner, the infrastructure is there that needs to be.
"It's no secret we're unhappy with our league form but it's been such a crazy season – congestion of fixtures, injuries, Covid, all these factors we've had to contend with.
"That's made it a very difficult season to manage having players fit for all games but winning trophies is what you're in football for and, whatever competition it may be, we spend so much time and sacrifice – so much you may as well go for top prize."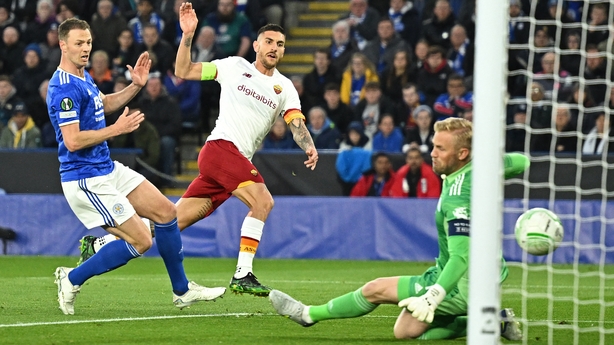 Gianluca Mancini's own goal levelled the tie after Lorenzo Pellegrini's opener gave Roma the lead at the King Power Stadium last week.
"They are dangerous, they can be clinical. They were probably happy to get away with the draw to take it home and decide it at their stadium," added Schmeichel.
James Maddison and Kiernan Dewsbury-Hall are fit, with Jamie Vardy also available after his return last week.
The Foxes dropped into the Conference League after being knocked out of the Europa League group stage in December.
They came from behind to beat PSV 2-1 in Eindhoven in the quarter-final second-leg last month having also eased past Randers and Rennes in previous knockout rounds.
"This is our biggest game of the season," boss Brendan Rodgers said.
"This is another step forward for us in the maturation of the team. We will gain from the experience, we have shown we can complete the task. You have to embrace that.
"That's what we have been trying to create here, a winning mentality, and for some players they have to adapt to that. It takes time and these are experiences you want the players to learn from.
"It's something they are hungry for and we are all hungry to succeed.
"This is another chapter of the story. Our main objective is to keep the story of this club going, like we did in the FA Cup. We wanted to be the winners for the first time and we wanted that to be an objective in this competition as well.
"This is another chapter to write in our own history."
Jose Mourinho has warned he still has the fire for glory and believes Roma deserve to reach the Europa Conference League final.
The former Chelsea and Manchester United manager was announced as Roma boss 12 months ago on Wednesday and faces a crunch clash with Leicester to mark his anniversary.
He replaced Paolo Fonseca ahead of this season and has guided Roma to fifth in Serie A.
They now host the Foxes in their Europa Conference League semi-final second leg, after last week's 1-1 draw, on Thursday and Mourinho wants to end a 14-year trophy drought at the Stadio Olimpico.
He said: "I'm enjoying it very much. I'm happy every day I come to the training ground. Do I want more? Yes I want more. Do I want next season to be able to think bigger? Yes.
"I knew the project, the nature of it and I am loving sharing every day with the players.
"They want to grow up, I'm with them, I try to give everything I have. The work has been so hard for all of us, I think we deserve to end the season with something to celebrate.
"A trophy would be amazing, of course to finish in a position to allow us to play European competition next season is also a positive thing. Tomorrow is one big step."
Roma are chasing their first European trophy for 50 years having won the Anglo-Italian Cup in 1972, when they beat defending champions Blackpool.
"It is the same every game, I always say there is only one match that I didn't win which is the next one," said Mourinho, who is without the injured Henrikh Mkhitaryan after he limped off in Leicester last week.
"I want to win the next one always, if the next one is the semi-final, even more. Of course the semi-final gives you the right to play a final – if you are not sacked before the final.
"It's not just the next match, it's a special match. It's been a long run for us, a different run than Leicester's, our run was the Europa Conference League since day one and day one was very, very difficult.
"So, 14 matches later we have the chance to play the final and we have to do anything we can."
Leicester boss Brendan Rodgers bought Mourinho a £500 bottle of his favourite wine last week but said he will settle for a cup of tea in return, with the Portuguese joking he will now keep the present he has for his opposite number.
"I bought him a very nice gift but, because he wants tea, I'll keep the gift for me. No problem," he said.
"Brendan's (success) doesn't surprise me. With Liverpool people forget what he did with much less resources than they have now. He did an amazing job and, the Scottish history, people forget because people don't focus on the SPL.
"They (Rodgers and Leicester) are the perfect fit but I hope tomorrow is for us, not them."