Vera Pauw will reach a little milestone with the Republic of Ireland on Tuesday evening but it's one that leaves her with a nagging feeling of annoyance.
The Dutchwoman has spent the last few weeks prepping her charges for a huge test against the world's No 2-ranked team Sweden, who need a point at the Gamla Ullevi stadium to seal World Cup qualification. It'll be Pauw's 20th match as Ireland manager.
And yet the gnawing feeling for the Dutchwoman when that milestone was brought up was frustration.
If Ireland are to harbour any ambitions of consistently getting to the heights Sweden occupy, she warned, they're going to need to start playing a lot more than 20 games over a 32-month period.
"Two and a half years in charge - 20 games," said Pauw. "I'm proud of it and it's fantastic, but how many games have Sweden played in the last two and half years? Fifty-five or so? That says it all.
"UEFA, I hope you're listening!
"I'm really, really proud - we are all proud, the players and the rest of the staff, that every single game we became better under these circumstances. That shows the talent we have in the squad and the determination we have in the squad. That is so contagious to us staff. We are growing - even though we've only played 20 games in two and a half years."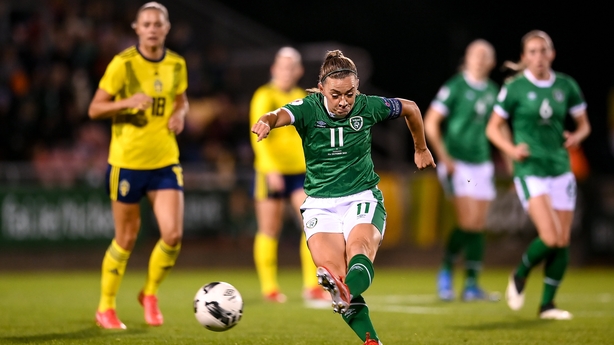 Pauw has often aired her concerns that football's governing bodies are not taking care of the second-tier nations in the women's game. She raised the point after Ireland thumped Georgia 11-0 last November and it was even more pertinent this week as the dust settled on Sweden's 15-0 destruction of the Georgians in Tblisi.
Even Kosovare Asllani, Sweden's Real Madrid attacker, described the win as "not fun".
Sweden haven't actually been as ferociously dominant as some may think. Take out the two Georgia games and they've only won one other match by more than a goal - a 3-0 win against Slovakia in Malmo last November.
In November Finland made them work hard for a 2-1 win and the Slovaks were only edged out 1-0 in the group opener last September.
Meanwhile Ireland came away from their clash in Dublin feeling unlucky - it took a Louise Quinn own goal to settle that contest.
Sweden are very, very good, but Ireland don't feel like the gap is completely insurmountable.
"We definitely have the calibre of players to be up there," said captain Katie McCabe.
"We want to be a team that are difficult to play against, that teams hate playing against, giving that fight. In October, we showed good glimpses of how we can play as well.
"Yes we can defend in a low block but we can show how exciting we are going forward with the Denise O'Sullivans and Heather Paynes to be able to do that going forward. We know our qualities and what we are good at and we will take that into Tuesday."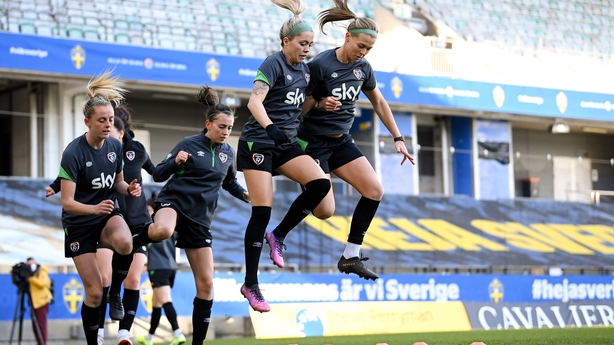 Ireland are without centre-halves Savannah McCarthy (ACL) and Diane Caldwell (thigh), while Megan Campbell returned to her club Liverpool last week due to some swelling on the knee.
Pauw has a big call to make in that regard; Claire Walsh could slot into a central three beside Niamh Fahey and Louise Quinn, or Ireland could move away from three at the back and adjust to a 4-5-1.
Either way, you can expect them to try and frustrate the Swedes as much as possible with a low defensive block, while the likes of McCabe, O'Sullivan and Payne aim to offer potency on the counter.
There might just be a bit of physical bite to their play too. Sweden had a bit of a grumble after the clash at Tallaght Stadium about some Irish challenges they believed were overly robust.
"We had only five free-kicks, of which two we didn't think were," Pauw protested. "I don't know what they were talking about, there is no opponent in this position who gives few free-kicks away.
"We know we play with passion but we always play within the rules. Three times we just couldn't make it but none of the fouls were deliberate in the whole game."
McCabe kept the theme going when she said: "Yeah for sure we play with passion and hard work. We play for each other. If someone misses a challenge, someone can gain it back.
"But we also play with composure and we have really grown that in the last year, playing highly-ranked opposition which has prepared us well. We will be familiar playing in front of this sold-out crowd. So we're ready for it."
"We know the difference was clear but it was encouraging we can give them a game."
Ireland need fire and ice. Such is Sweden's strength in depth that quality trio Amanda Nilden, Fridolina Rolfo and Fikippa Angeldahl - who all missed training on Sunday with illness and are being monitored - could drop out and still the starting XI would look formidable.
Asllani and captain Caroline Seger both missed the match in Dublin; boasting 382 caps between them, they return tonight.
Ireland's campaign will not be defined by what happens in Gothenburg because even if they lose, three wins from their last three games against Georgia, Finland and Slovakia would ensure a play-off spot. But a positive result here would be a major statement.
"The mood is very good," Pauw said. "We are ready to go, we are ready for the game within the time frame we have been given and what we can do.
"Everyone saw we gave a good game and had resistance [in Dublin]. We also know that if the own goal wasn't scored, they would have maintained the pressure until that goal went in.
"We know the difference was clear but it was encouraging we can give them a game."
The Republic of Ireland are in situ and ready for a crack at group powerhouses Sweden in tomorrow night's big World Cup qualifier - @Corktod reports from Gothenburg #RTEsoccer pic.twitter.com/oukb1PDg9Z

— RTÉ Soccer (@RTEsoccer) April 11, 2022
---
Listen to the RTÉ Soccer podcast on Apple Podcasts, Spotify or wherever you get your podcasts.
Republic of Ireland squad
Goalkeepers: Courtney Brosnan (Everton), Grace Moloney (Reading), Megan Walsh (Brighton & Hove Albion), Eve Badana (DLR Waves)
Defenders: Harriet Scott (Birmingham City), Niamh Fahey (Liverpool), Louise Quinn (Birmingham City), Claire Walsh (Glasgow City), Chloe Mustaki (Shelbourne), Claire O'Riordan (MSV Duisburg), Éabha O'Mahony (Boston College), Áine O'Gorman (Peamount United)
Midfielders: Katie McCabe (Arsenal), Denise O'Sullivan (North Carolina Courage), Megan Connolly (Brighton & Hove Albion), Ruesha Littlejohn (Aston Villa), Jamie Finn (Birmingham City), Ciara Grant (Rangers), Jess Ziu (Shelbourne), Lily Agg (London City Lionesses), Lucy Quinn (Birmingham City), Isibeal Atkinson (Celtic)
Forwards: Heather Payne (Florida State University), Kyra Carusa (HB Hoge), Amber Barrett (FC Koln), Leanne Kiernan (Liverpool), Ellen Molloy (Wexford Youths), Abbie Larkin (Shelbourne)