If Shamrock Rovers are to retain their title, perhaps they will look back on the final game in the first series as especially pivotal, Aaron Greene's rasper deciding a riveting Dublin derby against Shelbourne.
Rovers might have had the game all wrapped up by the hour-mark, Andy Lyons having scored one but nearly two or three, before an inspired Damien Duff substitution helped to change the game thanks to Shane Farrell's leveller.
But Stephen Bradley had a few tricks of his own on a star-studded bench and substitute Greene decided matters in front of an ecstatic Rovers away support after being teed up superbly by Danny Mandroiu.
Derry might have had the chance to extend their gap over the Hoops to eight points if they beat Finn Harps tomorrow – instead it will be six at most. That concludes the first series of games and there is, it seems, a genuine title race.
This was a proper Dublin derby played in cold conditions that never but enthralled. Amongst the crowd was Stephen Kenny, Ireland and former Rovers' boss; Irish under-21 manager Jim Crawford, who was a firm fans' favourite in his playing days in Tolka Park, was also among a sold-out crowd. Ruaidhri Higgins, Derry boss, was in attendance.
There was one change in the Rovers starting team from their 3-0 win at Finn Harps last weekend, with Seån Gannon coming in for Roberto Lopes. Shels were unchanged from the team that prevailed in Sligo.
So powerful is the Hoops squad, they could start without two of the league's most talented players in Dylan Watts and Mandroiu.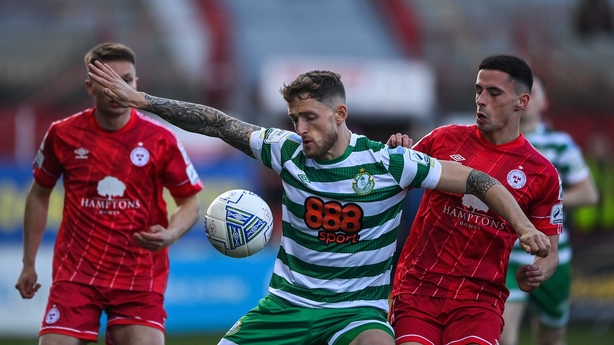 Hoops led within two minutes. The ineffective Jordan McEneff was robbed of the ball, Ronan Finn found Richie Towell who fed Lyons and the player continued his remarkable run of goals with a really tidy finish.
It was striking how both Lyons on the left and Ronan Finn on the right were exceptionally high up the pitch on either wing – Rovers obviously wanted to push back the Reds' wing-backs.
Shels had a fine chance on nine minutes. JR Wilson's cross was met by Dan Carr who ought to have fashioned a shot with far more power. At the other end, Graham Burke had Brendan Clarke momentarily worried.
Rovers were pulling all the strings by the 26th minute when Burke hooked over after a one-two with Finn. At this stage, Shels were desperate to get on the ball.
They would have reached near-total desperation had Jack Byrne's strike on 34 minutes not been superbly saved by Clarke. At 1-0, there was some hope for Duff's charges.
Towell, who had an outstanding first half, combined with Lyons for what might have been a contender for goal of the season seven minutes shy of the break. Towell's dink was delicious but Lyons pulled his effort just wide, almost the fitting conclusion to a superb sequence of passes involving most of the Rovers team.
Lyons' attacking threat is quite the revelation this term, and he glanced a header wide early in the second half from a lovely Rory Gaffney cross.
Neither Conor Kane nor McEneff had a good night for the Reds and both were replaced on 58 minutes, moments before the equaliser, which would have delighted Duff as Kameron Ledwidge had just been switched to wing-back.
Shels finally found some space on the counter and Ledwidge's cross was directed in by an unmarked Farrell at the back stick. Game on – somehow.
Shels were full of hope now but Rovers remained the more threatening, Gaffney swivelling but not getting enough power into a shot Clarke duly smothered.
Byrne had a relatively quiet night and Watts came in for the Ireland international with 18 minutes to go. Towell went over in the box shortly afterwards but, with no Rovers players looking for a penalty, he still seemed offended when Luke Byrne offered his hand to help him to his feet.
If Duff were delighted with his subs, Stephen Bradley can be thrilled with his own as Greene finished with a rocket after being set up by another substitute, Mandroiu, with a minute left.
Rovers will need the depth of their squad if they are to win the league again – and there is every chance they will. For Shels, this was a sickener; another learning post on an intriguing road under Duff.Shelbourne: Clarke; Wilson, O'Driscoll, Byrne, Ledwidge, Kane (Griffin 58); Coyle, Dervin, McEneff (Hawkins 58); Farrell (Anaebonam 87), Carr (Boyd 78).
Shamrock Rovers: Mannus; Gannon, Hoare, Grace; Finn (Farrugia 83), O'Neill, Byrne (Watts 72), Towell (Greene 83), Lyons; Burke (Mandroiu 77), Gaffney.
Referee: D McGraith.