Liverpool boss Jurgen Klopp says he is "happy" with Mohamed Salah's contract situation.
It was reported at the weekend that the Egypt forward, currently on a deal running to 2023, was close to agreeing a new one that would keep him with Liverpool until the end of his career.
Klopp was asked about the contract situation at his press conference ahead of Tuesday's Champions League quarter-final first-leg trip to Benfica.
And he said: "I'm happy with it because there's nothing new to say.
"It is just good. The decisive parties are talking to each other and that's all I need."
While Salah is Liverpool's top-scorer this season with 28 goals in all competitions, he has only netted once – with a penalty – since February.
And Klopp added: "He might not have scored from open play, but it's not too important. The performance level is, for me, important.
"In moments, he could decide sometimes in a better way, no doubt, but it is a tough gig for Mo and Sadio (Mane), with the Africa Cup (of Nations), coming back, being immediately for us available again. That was really, really special.
"We see him every day in training and playing and there's nothing to worry about, apart from that we have to manage the physical part as well."
Liverpool – injury-free going into Tuesday's match – play Benfica away and home either side of Sunday's crunch Premier League clash with Manchester City, who they trail by a point at the top of the table.
The Reds then meet City again on Saturday, 16 April in the FA Cup semi-finals.
Klopp, whose side won the League Cup in February, said – when asked about the mental side for his players of dealing with big game after big game: "We are used to it and we enjoy it.
"At the moment it's very exciting and interesting. There's no problem with that, it's all good. It's the situation we dreamed of if we would have dreamed before the season. So now we are here, let's try to get the most (out) of it."
In Lisbon, Klopp this week returns to the city where he was on holiday in 2015 when he received a phone call about the Liverpool job and decided to take charge.
The German on Monday said the moment was "life-changing definitely" and that it "just felt right from the first second".
He has subsequently overseen Liverpool winning trophies including the Champions League in 2019 and the Premier League in 2020.
And the German said: "I would love to say we were (league) champions in 2019 as well and that we won the Champions League final in 2018 (they finished runner-up in both), so that all would have been great. But I don't judge my time here about the trophies too much.
"I know everybody else is doing that, but for me it is the way we play and develop and the way the club is, the position the club is in is much more important. It is a healthy club in a good situation.
"I know the stories on us are very positive in the moment and rightly so, the boys deserve it, but we all know one failure, one little wrong step and at least one competition could be gone so we have to make sure.
"We just feel ready for the next challenge and that's all I need.
"There is no big celebration about the development of the club in the last few years, it's just really serious work and I am very, very happy about that."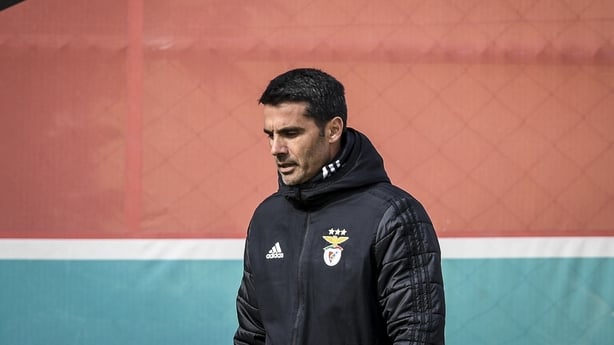 Benfica caretaker coach Nelson Verissimo is under more pressure than his counterpart.
He took over on a temporary basis in December when Jorge Jesus was sacked but the team are still nine points behind second-placed Sporting and 12 behind Porto – whom the Reds hammered 5-1 in Portugal and 2-0 at Anfield.
It has been reported in Lisbon he has held talks with the club president but Verissimo insisted the team is more important than his future, with the club having not gone past the quarter-final stage since 1990, when they were beaten in the final by AC Milan.
"Everyone seems to be very concerned about whether I will be here next year," said Verissimo.
"Before the Braga game (which they lost 3-2 on Friday) I already said I am not concerned. If I am here, I'm here, if I am not I'm not.
"The most important thing is six upcoming games in the Portuguese League and at least two games in the Champions League. That's my main concern until 15 May when we play the last match of the league.
"My future is the least important thing right now. The most important thing is we reach the semi-finals of the Champions League.
"We haven't done this (reach the quarter-finals) for six years. We may reach the semis of the Champions League, which we have never done in this format and we need to cling onto that.
"We just hope this comes true and we will fight to make it happen."
Meanwhile, Klopp said Liverpool's women's team have not been treated "outstandingly well" by the club in recent years as he congratulated them on promotion to the Women's Super League.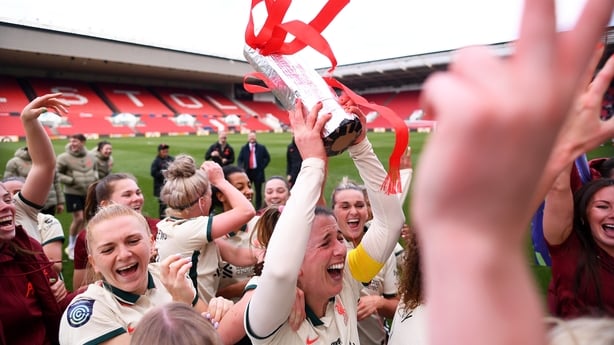 Matt Beard's side secured their return to the top flight following two seasons away after clinching the Championship title with two games to spare courtesy of Sunday's 4-2 win at second-placed Bristol City.
The Reds won back-to-back WSL titles under Beard in 2013 and 2014 before a turbulent period culminated in relegation on a points-per-game basis at the end of the coronavirus-affected 2019-20 campaign.
Liverpool are captained by Galway native Niamh Fahey and also have Ireland internationals Leanne Kiernan and Megan Campbell in their ranks.
Klopp, who is preparing for Liverpool's men taking on Benfica in the Champions League quarter-finals, punched the air when asked about the achievement of the women and hopes they can continue on an upward curve.
"Congratulations – I sent messages yesterday, I was really happy, I was following it all the time, looking at the results always after our games, around our games, looking when they play, who they play," the German said at his press conference ahead of Tuesday's first leg in Lisbon.
"After the result last week, it was clear they needed a draw against Bristol to make it and they won. I'm really happy for the girls and for Matt, it is a big, big thing.
"Obviously, Liverpool was in the last years not famous for treating or dealing with the women's football outstandingly well. They didn't go down to the Championship for no reason.
"But now they are back and now we have to make sure that we use the situation."
Watch Benfica v Liverpool live and highlights of Manchester City v Atletico Madrid on RTÉ2 and RTÉ Player from 7.30pm Tuesday, and follow the Champions League action with our live blog on RTÉ Sport Online or the RTÉ News app