Keith Long says he must shoulder responsibly for Bohemians' sluggish start to the season but believes he remains the right man to turn things around.
Bohs slipped to a 2-1 defeat at home to Derry City on Friday when substitute James Akintunde pounced in injury-time to snatch a come-from-behind victory.
The loss extended Bohemians' winless run to five games, leaving then seventh in the table with one victory from seven matches.
Not sure our hearts can keep up with these late late goals 😍pic.twitter.com/gU4XjKKZ6e

— Derry City FC (@derrycityfc) April 1, 2022
"Basic errors are costing us at this minute," said Bohs boss Long. "It's too easy for us to concede goals at this moment in time.
"That's obviously a collective responsibility but ultimately it's mine, as manager. I select the team, I recruit the players. We're working extremely hard to try and get things right.
"Unfortunately we didn't hang on for a point [against Derry] which I felt we would have deserved overall. We've got to get ourselves ready for Sligo on Tuesday."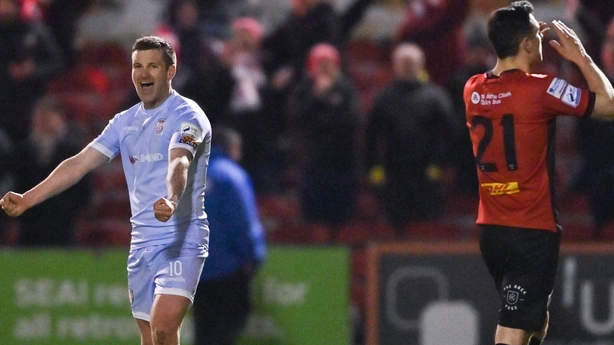 Slow starts are becoming a common occurrence for Bohemians, who lost five of their first nine matches last season. But given the turnover of players in the close season, Long says it is unfair to make comparisons.
"It's a different group, different set of circumstances, different attributes and personalities," he said. "We've lost a couple of leaders and that void has been tough to fill.
"We're working with the group, they're low on confidence at the moment. We've had a poor start to the season, we can't dress that up any other way.
"We have to continue to try and work hard. The only answer is to continue to be honest, to come in and work, and to try and get better. That's what we're trying to do.
"Am I up for the battle? There's no point in being in competitive sport if you don't want to roll up your sleeves and fight.
"I've been at this club for eight years, we've had many good moments but equally some low moments. We've got to keep an even keel and focus on what we think is important.
"We've to try and rally the players. The games are coming thick and fast, we're up in Sligo on Tuesday. It's an unforgiving league and it's a cruel game."
🤩 Here's the goal from Liam Burt that has us ahead at Dalymount Park pic.twitter.com/FlMO3LxmNC

— Bohemian Football Club (@bfcdublin) April 1, 2022
Liam Burt gave Bohemians a 25th-minute lead against Derry but they were punished for failing to extend their lead during a bright first-half display.
Ronan Boyce drew Derry level on the hour mark before Akintunde came off the bench to secure a last-gasp win.
"It undoes all the good work that went on previously in the game, particularly in the first half," said Long.
"We've conceded two bad goals in the second half. We don't defend the back post well enough for the first goal and then, the concession of a cheap free-kick, we don't do our jobs at set-piece.
"We're suffering a bit tonight, we probably should get something out of the game."
The win was Derry's fifth in seven games, which keeps them three points ahead of Shamrock Rovers at the Premier Division summit.
"We clawed our way into the game at the back end of the first half, that gave us momentum and we continued it for the next 45 minutes," said Derry boss Ruaidhrí Higgins.
"We pinned them in, they struggled to get out of their own half.
"We've deserved to win the game, there's no doubt about that."