Keith Andrews stood in for Stephen Kenny at the pre-match press conference for the Lithuania game, and the assistant manager made it all the way to the penultimate question of the extended media session before one of his predecessors' names was mentioned.
The former Blackburn Rovers midfielder was named as assistant manager when Kenny took over the national team, having worked with him already with the Under-21s, and Andrews has remained a constant member of the backroom staff, while coaches like Damien Duff, Anthony Barry and Alan Kelly have come and gone throughout the last 18 months.
Andrews admitted that he did not know the new manager very well, but once it was suggested that they meet for coffee, they struck up an immediate bond, chatting about football for four hours on that first occasion.
The former Ireland international, who played for his country during the Giovanni Trapattoni era, said that his footballing philosophy was very similar to the current manager's outlook on the game, and while he pondered that he would have enjoyed playing under Kenny if he'd got the chance as a player, he admitted that he might not have been picked.
"So, no, it didn't affect me. When you go into a new job, players pretty quickly suss you out, if you are not up to the level."
Andrews spoke from the heart at the media briefing, appearing open, honest and insightful, offering a rare look into how the manager was feeling throughout the tough days early in the regime, most notably on the night that Ireland lost to Luxembourg in Dublin.
"Not as good as we're feeling now, funnily enough," said Andrews, when asked how Kenny and himself were feeling after the Luxembourg game. "And they were tough times, there's no doubt about it.
"You look back at the games which we always analyse, you go back and see the empty stadiums, and they weren't particularly nice times anyway for football people, but when we look at that day, that was obviously a really poor day at the office, we said that at the time, and it doesn't feel any different now.
"I don't think it was a case of underestimating the opposition, I don't think that's ever really been a case for Irish teams, and it certainly wouldn't be from our part.
"[Stephen] was very composed, always very much sticking to the principles and the belief he has in what the players are capable of achieving.
"Of course, we make little tweaks here and there, but he's a very strong individual and I thought he dealt with it remarkably well because there were some not very nice days that we had to endure.
"During that process, I thought he stood really firm. It would be very, very easy as the manager to maybe take a step back, to sacrifice, maybe, some of your values, your principles for a short-term view, but he stood by it and obviously I was in full support of that."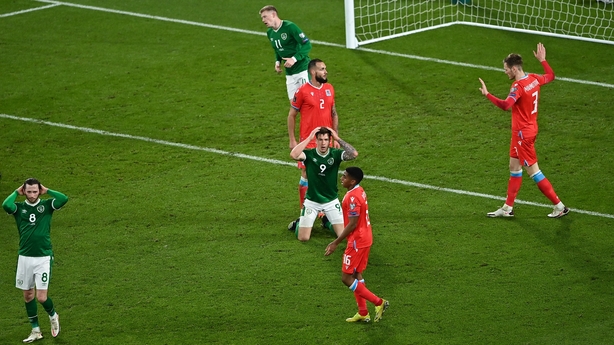 Andrews spoke out in the manager's defence when Kenny was under increasing pressure, and he said that he felt that it was something that was needed at the time, as he knew that the manager was trying to do the right thing and he was certain that it would succeed.
"At the time, I was very comfortable where we were, the process that was in place and the re-building we were trying to do with the squad, and how we were trying to get the team to play, so I suppose that's where it came from.
"Even though the results hadn't been amazing to that point, I did feel we were in a good place and it was coming, I could feel it, I could sense it.
"You see it every time you go on to the training pitch with the players that we've got, such a humble and ambitious group of players that we have, I just felt that was probably it, it just needed a different voice at the time."
Yet Andrews accepted that there was pressure on the manager's future, as football is a results' game and that if things hadn't improved, decisions would have been made.
"Football being football, it's always results-dependent and you're always beholden to the powers that be," said Andrews.
"It's not development football, we're in big boys' football here, that's the nature of the business that ultimately if results didn't come, then decisions have to be made.
"Like I said, we felt we were in a good place even though the results hadn't been good, we were comfortable with what we were putting in place and the results did come."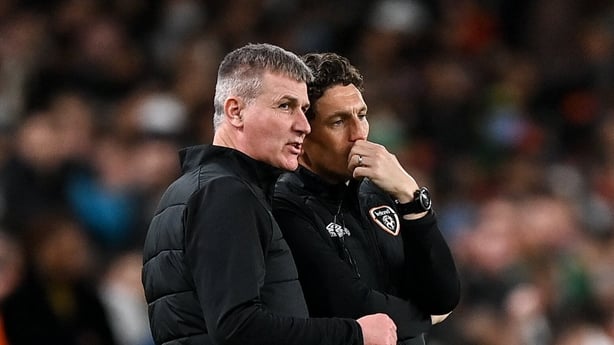 Following the Luxembourg game, Ireland played two friendly internationals during a summer tour in Spain, and while Kenny's side secured their first win of his tenure, albeit against Andorra, it has been widely reported that the time the squad spent together over the two-week camp was hugely important.
"I know the lads have spoken last week, I've heard little bits and bobs about the summer trip when we got to spend time together," said Andrews.
"They were very, very difficult times, as we all know, during the pandemic to try to create a team environment in such difficult circumstances, even back at the hotel when players weren't allowed in rooms together.
"It's a big part of what we do and obviously introducing so many, not so much young players, but players full-stop into the squad, that takes time to come together, both socially and also in terms of football and what you're trying to do.
"The summer started it and over the autumn, it certainly took major steps forward."
Andrews has given up all of his media commitments, where he has worked as both a television pundit and a match co-commentator, to fully focus on his role with the Ireland team, "the only team I care about".
"I'm very, very fortunate to be in this position and have the input that I do have and have that working relationship with Stephen that he allows me to crack on and do what I do, and we work very much as a team and it's something I'm very, very passionate about."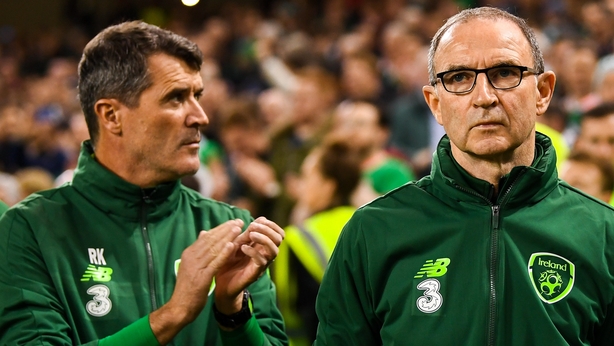 And as for fellow former Ireland assistant manager, Roy Keane, who was pretty vocal regarding Andrews' appointment to the senior side, stating "I've heard a lot of bulls***ters over the last 10 years, and Keith Andrews is up there with the best of them".
"You might have to ask him why [he said that]," said Andrews, when he was reminded that Keane had more or less called him a spoofer.
"In terms of how it affected me, it didn't affect me in the slightest.
"I touched on it before about how passionate I am about this role. My conscience would be very, very clean in terms of what I put into it because, apart from family life, it is actually the only thing I care about, in terms of making this team better, in terms of making Irish football better, in terms of giving us a team we are proud to watch.
"I have obviously been a fan, I've been a player, it is my only team. It is the only team I care about.
"So, no, it didn't affect me. When you go into a new job, players pretty quickly suss you out, if you are not up to the level. So in terms of the preparation going into it was obviously of a high level.
"In terms of previous regimes, that was their bag. I was very much a fan at that stage. I travelled to the Euros as a fan or a player in a certain period.
"That was their bag. This is our regime, and this is how we see fit to put things into place, and hopefully we can just continue to work and continue building to keep that momentum going."