John Egan is ready to answer the call if asked to captain the Republic of Ireland against Lithuania in Tuesday night's friendly international at the Aviva Stadium.
Stephen Kenny is expected to make changes from the side who drew 2-2 with Belgium on Saturday, in what was a high-intensity encounter despite also arriving under the "friendly" banner.
Senior players like current captain Seamus Coleman may sit this one out and Egan is happy to put up his hand if asked to take the armband for the final game of this month's double header.
The Sheffield United defender spoke about the influence that current captain Coleman brings to the squad, while he also referenced other players like Shane Duffy and James McClean who are natural leaders within the international set-up.
Egan was brought out for the pre-match press conference, which is usually an indication that the player will feature in the relative fixture, and due to the non-competitive nature of the game, the question was posed as to whether he was going to captain the team.
"I don't have a clue," said Egan, who previously captained the side against Andorra and Hungary last summer when Coleman was out injured.
"I see myself as a leader both at club level, and I think I have grown into a leader here now the more games I've played.
"We have a lot of experienced lads in the team; Seamus Coleman is an unbelievable man and an unbelievable captain.
"He has got so much respect from everyone in the camp, so for us looking at him, and looking at the way he conducts himself, kind of gives a great example to the rest of the squad to carry yourself in a professional manner.
"And I think the likes of Seamus, Duffy, McClean, they've been around a long time in the squad and it's great for the younger players especially, to have these guys to look up to."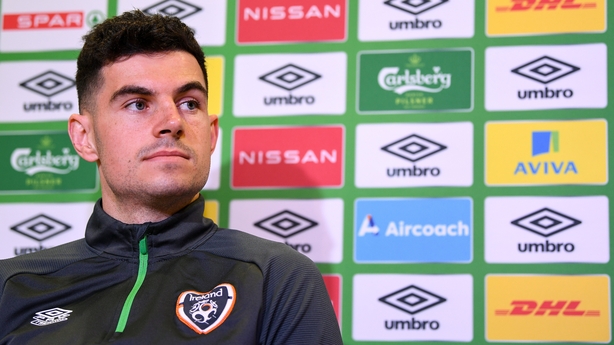 Egan was widely commended for his individual performance against Belgium on Saturday, most notably by the manager who credited the defender's positive approach as key to Ireland getting back into the game late in the first half.
And the Cork native felt that it was a game that Ireland could easily have won thanks to a great team performance, which he credits to the recent form that has helped to build momentum in the side.
"It was a very pleasing performance," said Egan. "I think we can take a lot of confidence from it. They are obviously a top side, we went toe to toe with them and on another day we could have got the win. It was a very good performance and one we have to build on now.
"I felt I played well, and the manager obviously gives me a lot of confidence to go out and play well, so I enjoyed the game and throughout the team there were some huge performances and as a team we played really well, so it was an enjoyable game to be a part of, and it definitely didn't feel like a friendly.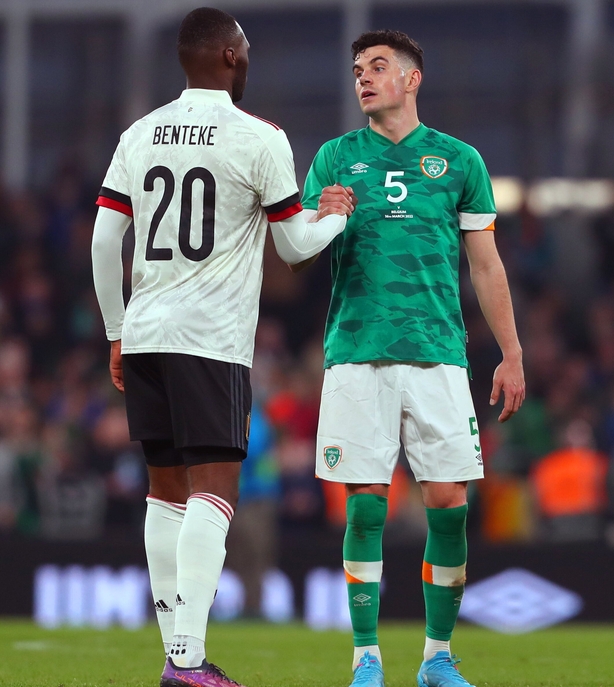 "I feel that we are in a very good place, I think the improvement is there to see for everybody from even a year ago to now. We are obviously on a good run now where we have only lost one game in however many games, and every player that is coming in is doing really well and it's a really good squad to be a part of at the moment."
Egan was also asked how far the momentum could take this team in the future but he stressed the importance of the next game and that short-term focus would create the long-term progress.
"Obviously, that is long term thinking. But in the short term, we want to keep improving game by game," said Egan.
"The game tomorrow night, we want to win it. Even though it's a friendly, we want to win it and put a good performance in.
"Over the last number of games, we have found a settled formation, and when you have things like that, you can really start building things.
We pride ourselves on defending, especially defending set-pieces
"It's up to us to keep improving. The manager, Keith [Andrews] and all the staff have put everything in place for us to try to get better and it feels like, internally, we are going int the right direction anyway."
The only set-backs from Saturday's game were the two goals conceded, and while the manager said that he had no concerns with set-piece defending, Egan admitted that the second goal was a "negative from our point of view".
"We have looked back on it," said Egan. "Obviously, we pride ourselves on defending, especially defending set-pieces, we haven't conceded a lot of goals so that was a negative from our point of view.
"[It's] definitely something we look back on and analyse to make sure it doesn't happen again.
"Belgium overloaded the box a bit, pulled Chieo out of the six-yard box, on the pitch senior players, senior defenders, we should have been more alert to it and made ourselves a bit better, so it was hugely disappointing to concede from a corner in a game where we could have gone on to win, it's something we have to learn from."