Cork City enhanced their title claims after putting Treaty United to the sword at the Markets Field, notching three Munster derby victories in the space of a week.
A three-goal opening-half performance from the visitors basically confirmed the result by half-time, with Colin Healy's charges outclassing the hosts throughout.
Tommy Barrett's approach is to downplay his achievements and constantly reaffirm that his Treaty side are effectively an amateur outfit who shouldn't carry much expectation, but after a play-off spot last year and opening the season with a 5-1 hammering of Wexford, Shannonside had been struggling to temper its enthusiasm.
A loss to Galway United on Monday should indeed indicate to them that they're still a rung below the full-time sides in the division, but their underdog mentality stood them in good stead last year - and they're certainly trying to retain that tag for 2022.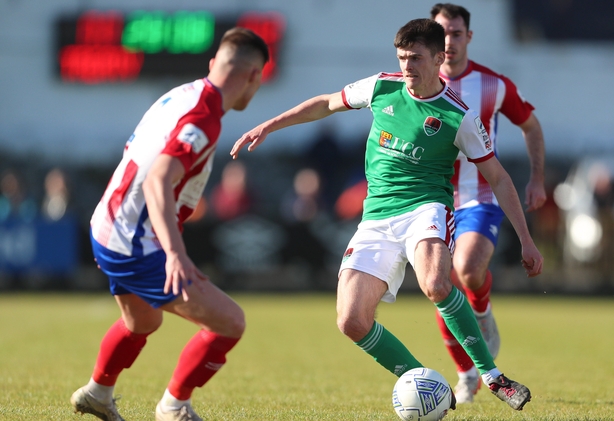 On the other hand, a 2-0 win over Waterford four days ago has shown that this Cork City unit aren't quite as naive as their 2021 early-season selves. They, rather understandably, named the same XI for this clash.
The Rebel Army were winless in their three games against Treaty United last year - a badge of honour for Barrett's men - but new seasons bring new dynamics.
While a Munster derby should whet anyone's appetite, the focus in the build-up was more on the Markets Field surface. Hosting football for the first time since the First Division playoff last year, there was a sense from the players after the postponement against Longford Town that the pitch itself wouldn't be playable for a while.
And despite a massive chunk on the cathedral end being heavily sanded, it passed inspection much to the relief of club officials and those in attendance.
The area just in front of the semi-circle on the 18-yard box is the worst-affected, so it's just as well the visitors attacked towards the Garryowen end in the first half as Barry Coffey struck from this exact spot after just three minutes.
Treaty lost possession cheaply before backing off the ball-carrier and the Nenagh native took aim, finding the bottom corner with a gorgeous guided effort.
Another strike from outside the box doubled City's advantage midway through the first half when Cian Bargary's rocket flew past Jack Brady in the Treaty goal, much to the delight of the sizeable away support.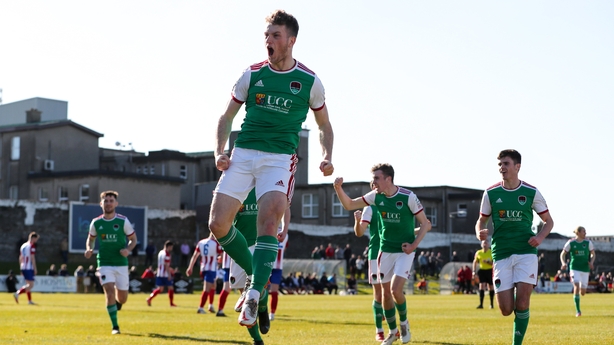 And the game was all but ended as a contest when even more hesitant defending led to Bargary doubling his tally before the break, tapping in from close range after a call for handball was waved away by referee Alan Patchell.
If Cork City were naive and untapped in 2021, their 2022 reversion featuring Messrs Coffey and Bolger from the off have them in far better stead going forward. The former takes incredible positions between the lines while the former is always looking up when play breaks down around him in order to move the ball quickly.
Their dominant display would be capped by a deserved fourth goal, too. After the ball hit the Treaty crossbar, none of the Treaty back four showed any urgency to clear, leaving City defender Jonas Hakkinen to tap home from inside the six-yard box.
Treaty United: Jack Brady; Charlie Fleming (Matt Keane, 46), Joe Gorman, Sean Guerins, Marc Ludden; Joel Coustrain (Willie Armshaw, 77), Callum McNamara, Lee Devitt (Joe Collins, 46), Stephen Christopher; Dean George (Mark Walsh, 81), Kieran Hanlon (Jack Arra, 77).
Cork City: David Harrington; Jonas Hakkinen (Josh Honahan, 85), Ally Gilchrist, Kevin O'Connor; Darragh Crowley (Uniss Kargbo, 85), Aaron Bolger, Barry Coffey (Matt Srbely, 78), Matt Healy, Cian Bargary; Cian Murphy (Mark O'Mahony, 78), Ruari Keating (Ronan Hurley, 7).
Referee: Alan Patchell.
---
John Caulfield's Galway United kept touch with Cork at the top of the table, though were made to sweat slightly for the three points by struggling Athlone Town in the midlands.
Still goalless at half-time, Galway made the breakthrough shortly before the hour mark, Manu Dimas putting the visitors in front with Wilson Waweru doubling their lead eight minutes later.
Success Edogun made it an edgy last five minutes for Galway after grabbing a late goal for the hosts but Caulfield's side held out for victory.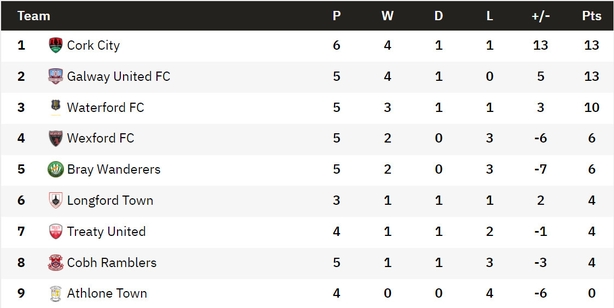 Longford Town registered their first victory of the season with a commanding a 3-0 away win against Wexford Youths in Ferrycarrig Park.
Gary Cronin's side suffered a 2-1 loss at home to Bray Wanderers last week but bounced back strongly tonight, Dylan Barnett and Ryan Graydon putting them 2-0 in front inside 20 minutes. Aaron Robinson added a third eight minutes from time.
Bray Wanderers grabbed their second successive win on the road, Darragh Lynch scoring the winner against Cobh Ramblers ten minutes from the end.
After a rocky start and a 6-0 humbling at home to Cork, Pat Devlin's recently merged Bray-Cabo outfit are off and running.