Dundalk head coach Stephen O'Donnell says he can understand St Patrick's Athletic fans' disappointment over his departure at the end of last season but dismissed the "conspiracy theories" he felt abounded about his decision.
The Galway native led the Saints to FAI Cup glory and second place in last season's SSE Airtricity League Premier Division.
Three months on, he was on the sideline for his first league game as boss at Dundalk, who he starred for as a player, and spoke to RTÉ Sport after the Lilywhites opened their campaign with a 2-2 draw at home to Derry City.
"I can understand the disappointment but ultimately I just had a decision to make and I went with my gut. There was lots of nonsense being spoken, conspiracy theories and I think you can see now there was no cloak and dagger stuff. I just made a decision," he said.
"I'll always be grateful to Pat's for giving me my first job in coaching but I'd like to think I've repaid that. It's not as if we've left them in the lurch. We left them in a healthy position, came second in the league and won the cup and they're in Europe this season. From my point of view, there's zero animosity but I can understand the disappointment but I think it's time now everyone got on with it."
His first competitive match as head coach at Oriel Park was an emotional one for O'Donnell.
"It's been brilliant to be back. I thought the atmosphere at the game was brilliant. It was a little bit of a throw-back to a few decent memories a few years ago as a player," he said.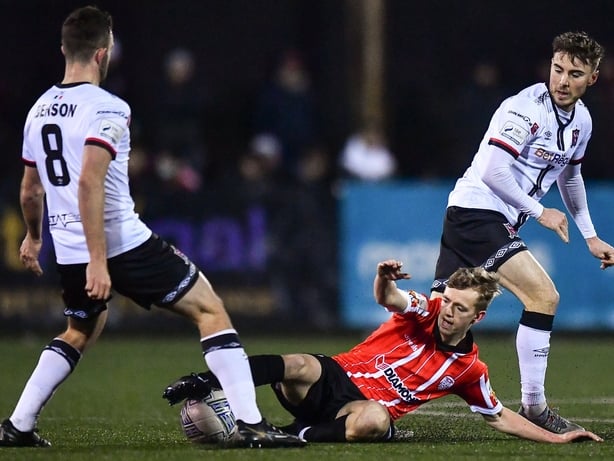 The match itself against a revitalised Derry proved to be thrilling with the sides sharing four goals.
"For the neutral, it was an entertaining game. There were chances at both ends," he said.
"I'm happy with our attitude and our endevaour in the way we went about it. There's still loads we can improve on from a fluidity point of view and being a little bit more cohesive.
"But in regards a lot of new players and the way they went about the task, I was very happy with them.
"We've given ourselves a good foundation, a good starting point but it still is a new group.
"Ultimately we've only drawn the game. We don't want to be celebrating draws but there's still loads for us to work on. But lots of positives also."
O'Donnell's Derry City counterpart Ruaidhri Higgins felt the draw was a fair result, having watched his side fight back twice.
"We had good periods, we had not so good periods and if we've hit the crossbar a couple of times in the second half and could have won it but I think if I'm being brutally honest, probably a point apiece was fair," he said, adding that his side did not have a natural wide-player available on the night.
"We've got good players here but I think you can see tonight on chances created, we're going to be a good attacking team."