Republic of Ireland defender Megan Campbell is in line for a return to the national team after an injury nightmare that kept her out of the international team for more than two years.
Campbell last lined out for Vera Pauw's side in Ukraine back in October 2019 but a series of ankle and knee problems left her considering whether she should walk away from soccer.
The Liverpool player went under the knife in August after an ankle ligament injury sustained in pre-season for her club but while her return to fitness has been a long time coming, she's already making up for lost time.
Campbell was named the Liverpool player of the month for January after starring in a defence that conceded just once in five games as the Reds stretched their lead at the top of the FA Women's Championship and she's hoping to bring her club form into the Irish set-up.
The 27-year-old is in line to feature against Russia in the semi-final of the Pinatar Cup tournament, with Ireland manager Vera Pauw expected to make wholesale changes from the side that beat Poland 2-1 in their opening game.
"My aim is to be available for the game on Saturday," Campbell said. "I've been working with Vera, the squad and the staff to try and make sure I'm in the best position for that.
"It's been a long process and it's not easy when you go from club to international and then to do it on the back of a long-term injury, it's even harder. I'm just trying to manage my load and fingers crossed I get some minutes on Saturday."
The two years spent in the international wilderness have given Campbell a unique perspective on the changes that have occurred in that time.
Her last game for Ireland was Pauw's first in charge of the national squad and coming back into the fold, she sees a lot of positive change.
"Obviously it's going to be difficult for me and I'll never back away from a challenge but I'm also here to help anyway I can."
"The progression since I've been in last has come on leaps and bounds," she said. "It's great to see we're getting on the ball, we're confident on the ball and we're not afraid to create those passes under pressure.
"I think the professionalism within the girls has always been there in terms of fitness and the drive to be as fit as possible when you come into camp but I think technically and tactically the girls are very far ahead now compared to when I was in last.
"The confidence to be on the ball when you're under pressure, it's not really been known to us previously to now.
"It's good for the girls to see that even if we come up against tougher opposition that we can still play through it.
"We still stick to our principles that Vera has instilled in us and be confident and obviously you are taking risks but it's risk versus rewards and if the reward comes off, you're winning games."
Campbell acknowledges that her time out with injury has seen her slip down the pecking order in the national side but she remains eager to prove herself and fight for her place in the set-up, whether that be in the first team or the wider squad.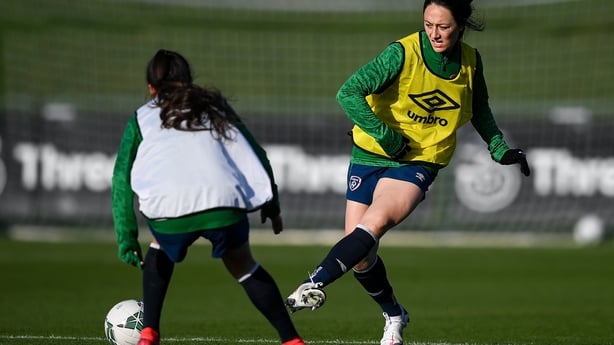 "Obviously it's going to be difficult for me and I'll never back away from a challenge but I'm also here to help any way I can," she said.
"At the end of the day you play your best 11 when you're playing for your national team because you need results.
"If there's a case where I'm on the side or in the stands then I obviously need to work harder but the girls have done incredibly well so it's not going to be easy to come back into the starting eleven or to come off the bench.
"I've just got to keep my head down and work hard."
That hard work is the reason that Campbell has been able to force her way back into the Ireland squad and Pauw's thoughts, but she admits that there have been times when she considered walking away from it all.
When asked if she ever considered retirement, she replied: "I'm not going to lie and say those thoughts didn't go through my head, some days they do when I'm still struggling.
"I don't want my body to be the reason I stop. I've always said that I want to be able to choose when I finish my career and I know that means managing now that I'm older and have had a few injuries.
"But hopefully it's on my terms when I do finish. I'm Irish at the end of the day and you don't give in easy or pack things in, you always fight, so I'm going to do that for as long as I can."
Watch Shelbourne v St Pat's this Friday live on RTÉ2 and the RTÉ Player or follow it via our live blogs on rte.ie/sport and on the RTÉ News App.
Listen to the RTÉ Soccer podcast on Apple Podcasts, Spotify or wherever you get your podcasts.