Leicester manager Brendan Rodgers admits he is under pressure but believes he still has the full support of the club's board.
The Foxes' injury-hit squad have struggled this season and criticism of Rodgers and his players increased after Sunday's disappointing FA Cup exit at the hands of East Midlands rivals Nottingham Forest.
When asked if he still had the board's full backing, Rodgers said: "I've never felt I haven't, but I also understand football.
"I've got a great relationship here with the people at the club, a very close working relationship with everyone, but I understand you have to get results.
"Whatever happens to me in the future, those relationships don't change, they're great people here, have always supported me.
"This year has been a challenge after challenge and primarily because of the players we have missing, but of course the weekend's result wasn't great, so you can't mask over that and I would never try to."
Leicester will bid to bounce back from Sunday's 4-1 defeat at Championship side Forest against Rodgers' former club Liverpool at Anfield on Thursday.
Rodgers, who will mark three years in charge of the Foxes later this month, admitted the manner of his side's cup defeat had turned up the heat on him.
He added: "Certainly when you lose you're always open to criticism, so I'm pretty sure that would have been the case on the Monday and that's part of the job.
"For me, you'll always be under pressure when you're not getting results, you can't deny that.
"We've had a great run here for a period of time, but when results (are not good), especially like the one at the weekend, that will always put you under pressure as a manager. I get that and understand that. It's not something I shy away from."
Leicester, who have been serious top-four contenders for the last two seasons, have won only one of their last five Premier League games as an injury crisis at the King Power Stadium takes its toll.
The likes of Wesley Fofana, Jamie Vardy, Jonny Evans and Timothy Castagne remain sidelined for the trip to Anfield.
Rodgers said before Sunday's loss that "big changes" were needed in the summer to "freshen up" his squad and he added that, although this week had been time for "reflection", there was still plenty to play for this season.
The Foxes' last league win was against Liverpool in December and Rodgers said: "We want to finish as high as we possibly can in the league, we're still in a cup competition (Europa Conference League), so we want to go as far as we can in that.
"I hope that we can get players back and show our true level at some point before the end of the season, and not just the true level, but the consistency of that. That would be the aim."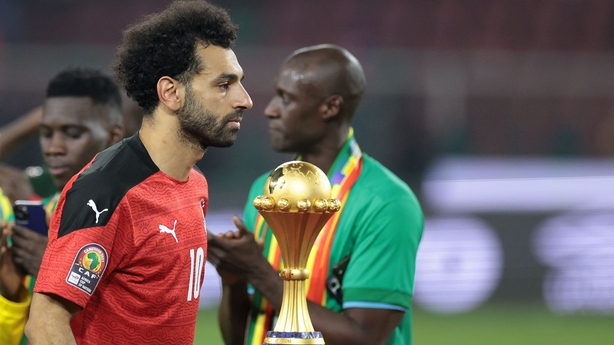 Liverpool manager Jurgen Klopp hopes both the club and Mohamed Salah can benefit from the Egypt international's Africa Cup of Nations heartbreak.
However, the Reds boss does not believe it is possible for the 29-year-old, who has scored 148 goals in 229 appearances for the club with whom he has won the Champions League and Premier League, to have a greater determination to succeed.
Salah's side lost to club-mate Sadio Mane's Senegal on penalties in Sunday's final, with the current Premier League top-scorer not even getting the chance to take a spot-kick.
He returned to England the following day and was training with the Liverpool squad on Tuesday as he looks to get straight back into action against Leicester.
"Yes, he is happy to be back but he is disappointed as well, massively so," said Klopp.
"Losing a final is always really hard – I can sing that song – but losing the way they lost it was especially hard and that is what he felt as well.
"We spoke obviously and we will see. He will deal with that, of course, and I hope today will already be better, but yesterday everyone could see he still has the final in his mind."
Klopp was asked whether the positive to come out of Salah's disappointment may be a renewed focus on Liverpool's current challenge on four fronts.
"Greater determination than Mo already had? I am not sure that is human," he said. "Yes, that all helps in the long-term, but I don't think there is a lot of space for more determination in Mo's mind.
"He is very determined. Using these kind of things is the job of all of us.
"When you lose a final, which we are obviously the best example for, it is really, really hard, but if you use it for the next big game or next big tournament then it can at least still be helpful, even if it was really hard.
"He will benefit from it, we will benefit from it, but which kind exactly I don't know."
While Salah could be thrust straight back into the fray against Leicester, Mane's reintroduction will take longer.
"It's such a big thing – everyone could see the celebrations in Senegal – and we didn't want to stress anyone there and ask for Sadio back early, so just enjoy it and come back as early as possible, I think it will be tonight," added the manager.
The Champions League restarts next week, there is the Carabao Cup final against Chelsea at the end of the month and an FA Cup last-16 tie at home to Norwich in early March, while there remains an outside chance of catching Premier League leaders Manchester City, who hold a nine-point advantage.
While it has started to be mentioned elsewhere, Klopp is not even considering the word "quadruple".
"If we talk about the maximum it is winning all four but it doesn't look really likely," he said.
"We are not to know what will happen at the end of May. Leicester is for us the next big challenge and the outcome in the end I couldn't care less in this moment.
"We want to squeeze out everything in this season whatever that means. I don't know any other way than to give it a proper try."